Ana & The Changes predstavljaju pesmu "Tu"
"Tu" je čista čežnja, godinu dana života spakovanih u šest minuta pesme, eskapizam ugrađen u zvučni zid i vera u to da muzika može da pomogne u svakoj situaciji"
Ana Ćurčin i njena grupa Ana & The Changes predstavljaju novu pesmu "Tu", prvu koju je Ana napisala i otpevala na srpskom jeziku. Singl "Tu" dostupan je na svim relevantnim digitalnim platformama (Spotify, Deezer, Apple Music…) i bandcampu, a video u režiji Marine Uzelac pogledajte na zvaničnom YouTube kanalu Ana & The Changes.
Tokom godina Ana je s vremena na vreme pevala na srpskom jeziku tradicionalne pesme i obrade, a veliku popularnost doživele su "Lastavice, lasto," "Oj, Savice", "Ako humrem danas bebo"…"Tu" se pojavila sasvim iznenada posle jedne neprospavane zimske noći ove godine, a sada kada premotavamo film pesma je zaista nastala u transu. "Tu" je orkestrirana čežnja, godinu dana života spakovanih u šest minuta pesme, eskapizam ugrađen u zvučni zid i vera u to da muzika može da pomogne u svakoj situaciji. Što se muzičkih asocijacije tiče uticaji su brojni, a možda su među njima i Elton John, The Beatles, Mercury Rev, London Grammar, The Beach Boys, Laura Marling…
"Pesma "Tu" nastajala je ove zime i za mene je bila veliki kreativni oslonac tokom ovog posebno stresnog perioda u kome se nalazimo – iz osećanja otuđenosti, neizvesnosti i usamljenosti koje se toliko pojačalo u proteklih godinu i po dana. Istovremeno, ovo je pesma čežnje. Drago mi je što je i bend zavoleo "Tu" i što smo uspeli da ostvarimo zvuk koji gradimo od prvih albuma, iako nismo svirali zajedno od oktobra 2019. godine, a pesmu smo stvarali tokom izolacije. Snimanje i postprodukciju maestralno je uradio Goran Antović, sa kojim sam uvek dovoljno opuštena i slobodna da i u studijskim okolnostima izrazim emociju i muzički pružim ono malo više nego što sam mislila da mogu," kaže Ana Ćurćin.
Roadtrip video za pesmu "Tu" snimila je Marina Uzelac, a pratimo potragu za delićima života od Zagreba do Rijeke i to putujući preko Gorskog Kotara, Fužinskog jezera, nacionalnog parka Risnjak, Broda na Kupi, sela Razloge, Karlovaca…
"Moja ideja je bila da krojimo značenje u pozadini koja ne mora biti tačno definisana. Ali, kako se putovanje odvija, shvatamo da je u pitanju ženska priča: da susret s osobom na drugoj strani može da bude ljubav, ali da isto tako to može da bude i član porodice, prijatelj… Ovakvoj vizuelizaciji pomaže sama pesma i njene reči da svako treba da pronađe svoje tumačenje čežnje," smatra rediteljka Marina Uzelac.
Ana & The Changes na poziv Doma omladine Beograd nastupiće u Velikoj sali u petak 28. maja od 19h i to će biti prvi koncert benda od oktobra 2019. godine. Uz stare i nove Anine pesme i specijalnu gošću flautistkinju Milenu Jančurić premijerno će biti izvedena i pesma "Tu".
---
Ana & The Changes – Tu (official video)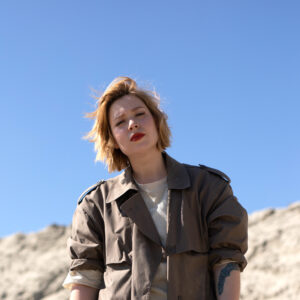 Cast : Nataša Majstorović
Directed by Marina Uzelac
Screenplay: Nevena Stanić, Marina Uzelac
DP: Goran Nježić
Edit: Marina Uzelac, Goran Nježić
Asisstant directors: Nevena Stanić, Goran Nježić
Postproduction: Goran Nježić
Map illustration : Siniša Re Janjić
Ana Ćurčin – lead vocal, back vocals, acoustic guitar, electric guitar
Goran Antović – keyboard, Hammond, piano
Marko Cvetković – bass
Filip Mratinković – drums
Recorded, mixed, mastered by Goran Antović
---