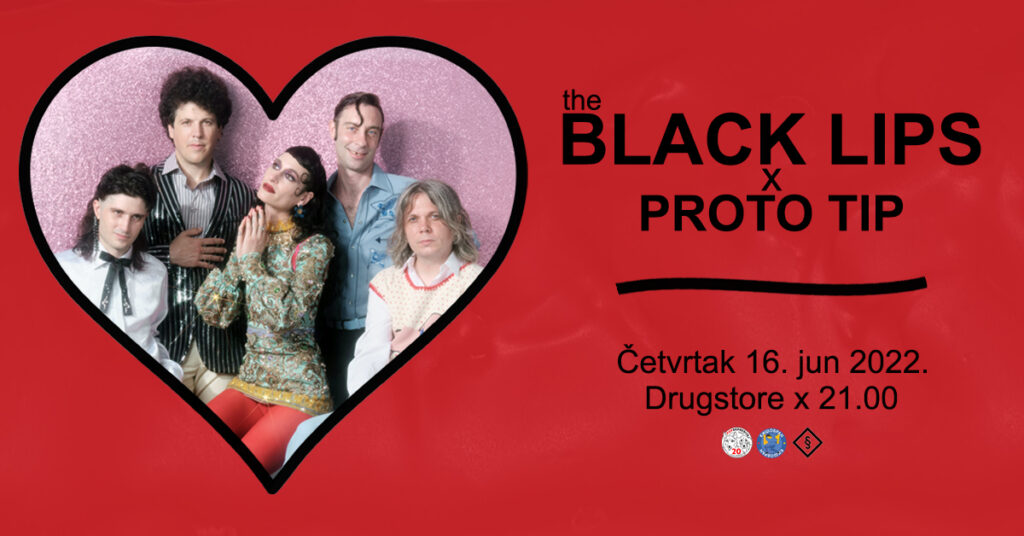 U četvrtak 16. juna u Beograd se posle tri godine vraćaju The Black Lips, američki šampioni garaže i psihodeličnog rokenrola. Koncert će se održati u klubu Drugstore, a specijalni gosti će im biti beogradska četvorka Proto Tip. Ulaznice su u prodaji od 9. maja preko Tickets mreže i online na www.tickets.rs po ceni od 1200 dinara u pretprodaji i 1500rsd na dan koncerta. Ograničen broj karata po promo ceni od 1000rsd biće u prodaji u Zaokretu.
Na svojoj beogradskoj premijeri u "Amerikani" u junu 2019. godine Black Lips bili su nadahnuti i energični, a sada se vraćaju u Srbiju da budu još bolji! Njihova diskografija i stilske metamorfoze jednako su zloglasni kao i njihovi nastupi uživo, a poslednji album "Sing In A World That's Falling Apart" izašao neposredno pre početka pandemije, rezultirao je najmračnijim i najopasnijim albumom u karijeri.
Koncerti ove petorke iz Džordžije ranije su bili prava orgija egzibicionizma, jedna tinejdžerska žurka koja se otrgla kontroli, ali posle dve decenije tumaranja po svetu naučii su da se pomalo kontrolišu i zvuče bolje nego ikad. Posle devet studijskih albuma i nebrojeno singlova, EP izdanja i ploča uživo spremni su da vas napadnu sa svih strana i zvučno i vizuelno. The Black Lips jedan su od najdivljijih i najurnebesniji pank-rok bendova na planeti. Iako već odavno nisu klinci, ekipa koju predvode osnivači benda – Kol Aleksander i Džared Svili – uporno čuva eksplozivnu energiju srednjoškolskih "propaliteta", koju su uspeli da transformišu u savršen rokenrol nastup. I to sve uz skoro pa raštimovane gitare, plemenske mantre, vrištanje, falširanje, distorziju i sve one stvari koje čine da rokenrol ostane mlad i živ, sposoban da nekome promeni život.
Beogradska grupa Proto Tip tokom 2022. godine objaviće svoj prvi album. Bili su učesnici Hali Gali kompilacije i festivala, objavili su EP "Strah od izvesnog" i par singlova, a sa budućeg dugosvirajućeg debija otkrili su dva spota "Krećem se" i "Kako ovde" – treći se očekuje za koji dan. Grupu čine Nikola Čučković, Damjan Nedelkov, Danilo Ilić i Nikola Bugarčić, a ta ekipa na svakoj pesmi otkriva nove inspiracije i osećanja i svira koncerte koji se pamte i prepričavaju.