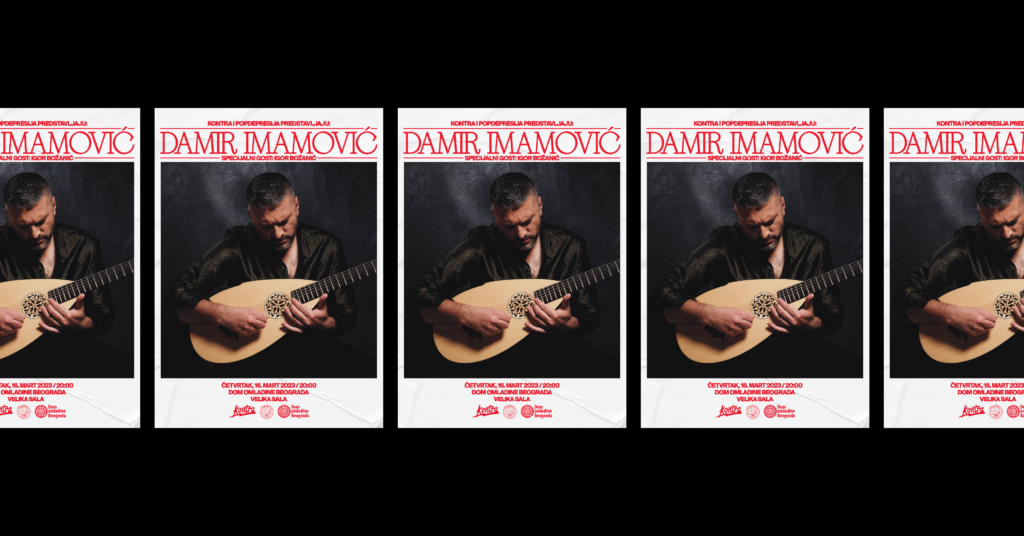 Kontra rights i Pop Depresija imaju čast da vas pozovu na koncert Damira Imamovića u Domu omladine Beograda u četvrtak 16. marta od 20h. Specijalni gost na koncertu biće mladi banjalučki muzičar i pesnik Igor Božanić. Ulaznice su u prodaji na svim punktovima tickets.rs i gigstix, online, kao i na blagajni Doma omladine. Prvih 100 ulaznica prodavaće se po promo ceni od 1200rsd, druga cena karte je 1500, a poslednji kontingent karata prodavaće se po 2000 dinara.
Tu negde, na prelasku sevdaha u bluz ili folka u soul, tradicije u futurizam, istorije u mitove i snova u maštanje Damir Imamović stvorio je svoj muzički svet. Moćan, uzbudljiv i prepun običnih ljudi koji se bore za sebe i svoju porodicu, prijatelje i zemlju na kojoj žive. Ova muzika leči i nadahnjuje, a svaki koncert je prilika da se obnovimo energetski i ljudski.
Damir Imamović jedan je od najznačajnijih predstavnika sevdalijske scene Balkana. Odrastao je u muzičkoj porodici, prvi album snimio je još 2006. godine, a nastupao je po celom svetu – od Balkana i Evrope, preko Kine, SAD-a, Meksika, Japana i Indije.  Radio je sa producentima kao što su  Kris Ekman  (Chris Eckman – "Dvojka") i Džo Bojd/Andrea Gertler  (Joe Boyd, Goertler – "Singer of Tales"), dobitnik je nekoliko bitnih domaćih i međunarodnih  nagrada i priznanja, proglašen je  "Najboljim evropskim umetnikom u oblasti world music-a" (Songlines Magazine, 2021), a njegov poslednji album  "Singer of Tales"  dobio je prestižnu nagradu nemačkog  Udruženja muzičkih kritičara  (2020).
Na proleće Damir će objaviti novi album, koji je nastao u saradnji sa fantastičnim piscem Aleksandrom Hemonom i koji će u isto vreme biti saundtrek romana "The World And All That It Holds" i muzičko delo za sebe. Sarajevo i tradicionalna muzika ovog grada čine bitan deo radnje novog romana autora koji je stvorio dela kao što su "Pitanje Bruna", "Ljubav i prepreke", "Knjiga mojih života", "Čovek bez prošlosti", "Projekat Lazarus", "Kako su nastali Ratovi zombija" i koji je bio koscenarista serije "Sense8" i filma "The Matrix Resurrections". Izdavač albuma je prestižni Smithsonian Folkways Recordings.
Damir Imamović u Beograd dolazi na prelasku "Singer of Tales" turneje u promociju novog albuma, a uz njega na bini će biti istanbulski maestro Derija Tirkan  (Derya Türkan) i slovenački kontrabasista  Žiga Golob.
Igor Božanić je muzičar i pesnik iz Banjaluke, koji studira i živi u Beogradu. Muzikom se bavi od 2016. godine, a možda ste ga primetili kada je nastupao pod imenom Sir Croissant, pošto je svirao na brojnim regionalnim festivalima – MENT, Indirekt, Americana Night, Novi Val… ali i kao gost na koncertima Marisse Nadler i Passenger-a u Zagrebu i Ljubljani. Kao Sir Croissant objavio je nekoliko EP izdanja, a za prvo predstavljanje svetu kao Igor Božanić objavio je "Runo" u martu 2021. godine.