Dugo nisu svirali u Beogradu, a sada su odlučili da udruže snage i održe dva koncerta za jedno veče. Ana & The Changes i Ljubičice održaće koncerte 6. aprila u Domu omladine Beograda u sali Amerikana. Dva fantastična benda će premijerno izvesti pesme sa novih albuma – "Susret" i "Dok čekamo pad", ali i prošetati kroz više od deset godina duge karijere.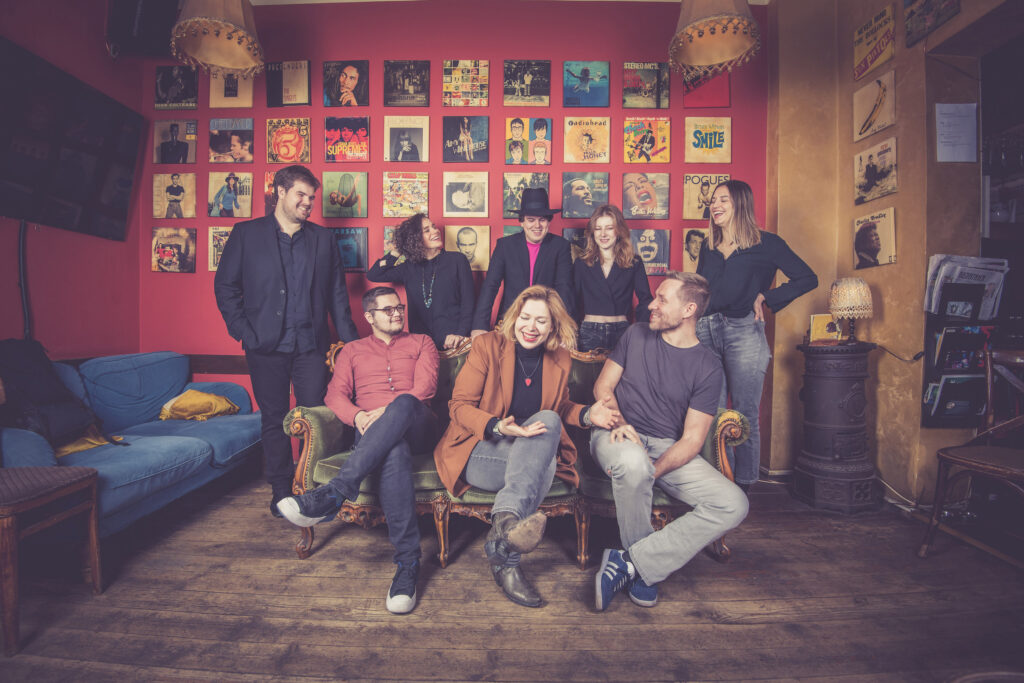 Ulaznice su u prodaji na svim prodajnim mestima i preko online platforme tickets.rs, kao i na blagajni Doma omladine. Promo cena karte za oba koncerta do kraja februara je 1.000 dinara, regularna cena je 1.200, a od 1. aprila ulaznica će koštati 1.500 dinara.
Poslednji koncert Ana & The Changes u Beogradu su održali pre dve godine. U međuvremenu su za pesmu "Tu" dobili nagradu Zadužbine Milan Mladenović za najbolju pesmu 2021. godine, a ove godine očekuju brojne gejmerske hitove kao rezultat saradnje sa studijom Demagog i Igorom Simićem. Sa flautistkinjom Milenom Jančurić Ana je komponovala muzike za predstavu Olge Dimitrijević "Drama o kraju sveta" (Atelje 212), a tokom marta će izdati EP "Susret" na kojem su sve pesme na srpskom jeziku. Prošireni sastav Ana & The Changes čine Ana Ćurčin i klavijaturista Goran Antović, Ana Protulipac – bas i vokal, Aleksa Milijanović – bubanj i Milena Jančurić – flauta. Kuriozitet je da će ovim koncertom biti obeleženo deset godina od objavljivanja prvog singla "Cut Loose" i prvog koncerta koji je Ana održala u KC Grad.
Pančevačke Ljubičice su posle višegodišnje hibernacije, prošlog leta predstavile novi zvuk i oduševili ceo region singlovima "Opet" i "Možda je vreme". Posle trogodišnje koncertne pauze, vratili su se na spektakularan način i pred domaćom publikom, 20. januara u Kulturnom centru Pančeva, zajedno sa pijanistkinjom Olgom Petrović, predstavili su prva dva izdanja izdavačke kuće Krokodil, albume "Slow Rag" i "Dok čekamo pad". Ljubičice su sada trio, u kome uz famoznu braću Stevanović, Petra i Vuka, Olga svira klavijature i peva i ta neobjašnjiva kombinacija lepote, ljubavi, gruva, zapitanosti i odlučnosti dobija sasvim novu snagu na bini, bez obzira da li pevaju stare hitove ili potpuno nove pesme. "Dok čekamo pad" je album koji će Ljubičice izdati tokom marta, a njegovo objavljivanje će ih staviti na mesto na muzičkoj sceni na kojem je odavno trebalo da budu. Pored novih pesama koncert će svakako obeležiti horsko pevanje njihovog hita "Jedva čekam rat ljudi protiv mašina"!
Svakako, sve ljubitelje dobre muzike 6. aprila u Domu omladine očekuju dve grupe koje uživaju u tome što rade, osam vrhunskih muzičara na sceni, dva nova albuma, dobro znani hitovi, specijalno dizajnirano svetlo, velika bina i prostrana sala.