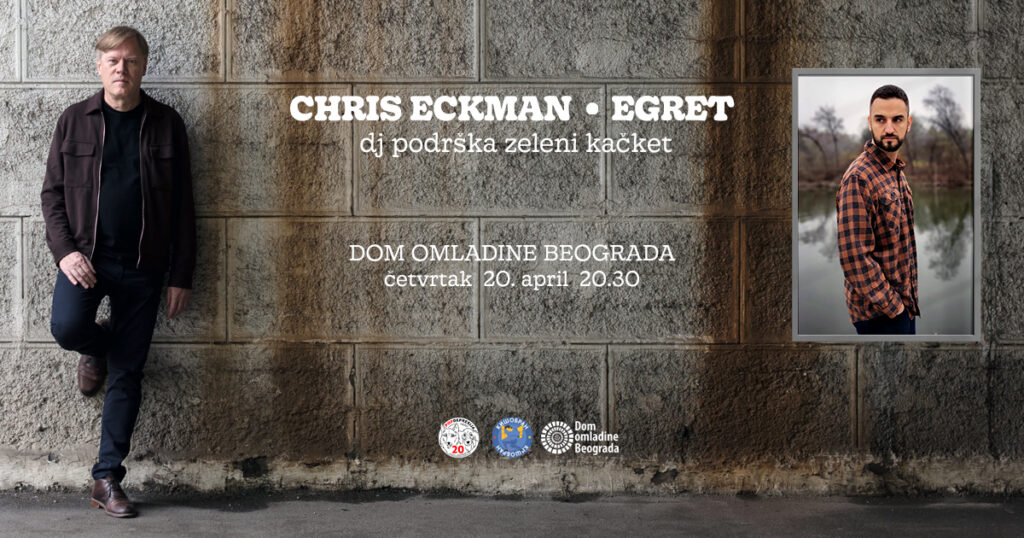 Muzičar i njegov instrument i publika na par metara od njih, tako se stvara magija. Imamo tu čast da vas pozovemo na koncert američkog čarobnjaka Krisa Ekmana i pančevačkog virtuoza Egreta. Mesto je Klub Doma omladine Beograda, a vreme četvrtak 20. april od 20.30. Ulaznice su u prodaji na svim tickets mestima, online na tickets.rs, kao i na blagajni DOB-a po ceni od 1200 dinara, na dan koncerta cena ulaznice će biti 1500rsd. DJ podrška na koncertu – Zeleni kačket tim.
Kris Ekman je legendarni muzičar i producent, nekada lider kultnih The Walkabouts, posle toga zapažen kao solo autor ili član The Strange, The Frictions, Dirtmusic, Distance, Light & Sky… ili kao omiljeni saradnik ili producent svima – u rasponu od Brajana Inoa, preko The Tindersticks do Stiva Vina. Tokom cele karijere Kris je uvek bio izuzetno kreativan i otvoren za eksperimente i izazove. Karijeru je počeo kao član uticajnih The Walkabouts, koji su među prvima potpisali za Sub Pop, posle čega su ostvarili i značajnu međunarodnu karijeru i nastupali i u Beogradu. Pored toga, Kris je jedan od vlasnika izdavačke kuće Glitterbeat Records, najznačajnije world music izdavačke kuće na svetu koja je objavila više desetina zapaženih albuma i konstantno dobijala priznanje za najbolju diskografsku kuću na svetu.
Egret ili Petar Pupić je muzičar i producent iz Pančeva. Krajem 2022. godine objavio je debitantski EP "Silent Turns", pre toga i dva singla "Knot" i "My Isle". Ovu godinu obeležila je njegova prva pesma na srpskom jeziku, "Ako shvatim kasno", sa kojom je nastupio na Pesmi za Evroviziju i tako se predstavio široj publici. Petar je jedan od kreatora hit pesama i albuma za izvođače kao što su Buč Kesidi, Ljubičice, Iva Lorens… Zamislite svetove Sufjana Stivensa, Džejmsa Blejka, Nika Drejka, Četa Bejkera, koji se preklapaju u jednoj tački, u jednom gradu, u jednoj osobi. To je Egret.
Zeleni kačket je (primarno) radio emisija nastala 2018. godine, a tim trenutno (uglavnom) čine Kristina Milosavljević, Pavle Banjac i Mladen Ilić. Tokom proteklih godina su prešli dug put, počevši od organizovanja poetskih večeri, žurki, emitovanja na RadioAparatu i Radio Bruškinu (2021), kreiranja ogranka 'zeleni kačket drami' (2022), do ZK lajv sešna (2023). Iz emisije u emisiju kačket menja svoju funkciju, osobu koju štiti, prestaje da bude kačket i postaje zaštitini znak emisije (teme) u kojoj se nalazi. Zelenim kačketom manipuliše grupa muzičkih, filmskih, književnih, likovnih i pivskih entuzijasta koja raspolaže velikom željom za razmenom dragulja u sferi gorepomenutih tema, ali i šire od toga.