Ej Marks, fluidni rokenrol bend širokog zamaha, predstavlja debitantski album "U Luci čudesne zgode" koji je dostupan na svim digitalnim servisima, YouTube-u i bandcampu. Album najavljuje i treći singl s animiranim videom Veljka Kuzmana i to za naslovnu temu albuma koja je napisana u jednom dahu i koja pokazuje širinu izraza, spontanost i toplinu duha ovog neuhvatljivog benda.
Ej Marks je muzički alter-ego pevača i gitariste Nebojše Marića koji razne muzičke i životne situacije uz pomoć brojnih prijatelja i saradnika pretvara u rokenrol vinjete. Posle dva singla u godinu dana, "Balada o slonovima" i "Gde počinje", Ej Marks je konačno stavio majmuna na rame i krenuo u svet sa kompletnim albumom. Na albumu "U Luci čudesne zgode" muzički uticaji su brojni i raznovrsni – od psihodelije i prog-roka, preko big band uticaja i hardroka do break beat ritmova i bluza.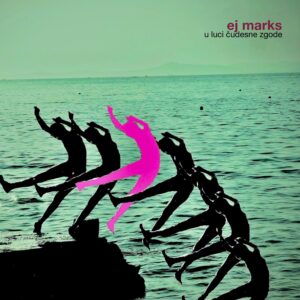 "U Luci čudesne zgode je istovremeno posledica tvrdoglavosti jednog čoveka i nesebičnog zalaganja prijatelja. Par muzičkih ideja mi nije izbijalo iz glave i prstiju i 2016. sam odlučio da ih snimim. Ivan Petrović je podržao, trpeo, savetovao i ispratio neobičan tempo rada – prerastanje demo snimaka u prave pesme, brojna nezadovoljstva, lutanja i traganja za dobrim rešenjima. Nekoliko pesama, među kojima je i završna "Sve što je potrebno", nastalo je tako što je tokom pauze na snimanju ostavljenjo upaljeno to prokleto crveno dugme… Ideje rađaju ideje, pa su brojni drugari i saborci odreagovali i nesebično doprineli aranžmanima. Iz takve situacije je proizišao album koji svoju celovitost ne gradi na stilskoj ujednačenosti, već insistira na sviračkom temperamentu, duhovitim detaljima, menjanju dinamike, promenama tempa… Važno je napomenuti da muzičarima koji su pomogli nikada nije bilo naznačeno šta tačno treba da odsviraju, zbog čega su pesme dobile dodatnu širinu," kaže Nebojša Marić.
Pesme su snimljene u saradnji sa guruom i producentom Ivanom Petrovićem, koji je i producent albuma, a gosti muzičari su bili Miladin Stojković (kontrabas, Kralj Čačka), Rastko Uzunović (saksofon), Miloš Milosavljević (bubanj), Jelena Martinović (saksofon) Dragan Jovanović (bubanj, Nežni Dalibor), Aleksandar Šišić (bas, Herz), Milica Mitić (vokal, Anja Štark) i svako od njih je uneo deo sebe u Ej Marks univerzum.