Dan Stuart & Sacri Cuori u Gun Clubu: Sitnice koje život znače
Akcija "deset godina koncertne aktivnosti POP Depresije" počela je koncertom čoveka koji je za mnoge "više legenda nego čovek" – Dena Stjurta. Lider Green on Red i Dastijev Deni u Beograd je došao pojačan fascinantim "Italikana" bendom Sacri Cuori koji predvodi virtuozni Antonio Gramentijeri. Da sam maštao o tome, šta bi bio najbolji način da se obeleži PD godišnjica – ovako nešto ne bih smislio: prepun Gun Club (PD rekord što se tiče posete u prostoru koji doživljavamo kao "naš" – hvala Peđi, Lavu, Canetu…), puno prijatelja i poznanika, fantastičan bend i on, koji kao da je izašao direktno iz Žikicinih opisa desperadosa koji prkose svetu – sjeban, lud, romantičan, nadahntu, besan, genijalan, iscrpljen, raspoložen i svakakav… kao nekakva suluda kombinacija Fila Alvina, Nila Janga, Nika Kejva i Elvisa… Jedan i jedinstven, Den Faking Stjuart, ili Marlou Bilings, nikad se s njim ne zna – PD intervju sa svima njima pročitajte ovde.
Sacri Cuori su svoj kaleidoskopski set filmske muzike bez filma, obogatili šumovima i šapatima, iskrenom Antonijevom pričom, virtuoznim sviranjem i tizerom "da ovo nije sve što mogu i umeju". Biće prilike da ih vidimo opet i duže, siguran sam u to…
Den je na binu izašao sam i na akustičnoj gitari počeo 90 minutni set tokom kojeg je predstavio sebe, svoju muziku iz svih faza, poglede ne život i ko zna šta još. Kao neki stendap komedijaš on je mleo sve pred sobom i gotovo bez trenutka pauze razgolotio sebe pred ljudima koje prvi put vidi. Bilo je puno vrhunaca i svako je mogao da izabere nešto za sebe – od početne "Death and Angels", do završne genijalne "Little Things In Life", koja je zvučala kao njegova verzija "Always Look On The Bright Side Of Life"…
Možda bih izdvojio "Can't Be Found", koja je – iako klasična DS balada sa tvistom, zvučala kao neka zagubljena Tvidijeva (najbolja) pesma koju niko još nije čuo. Ili pub-rockerska "Never Change" ili bluzoidna himna iz davnih vremena "16 Ways". Atmosfera tokom tex-mex verzije "Two Lovers Waiting To Die" bila je neverovatna – neke pesme tako lepo stare, a solo na harmonici je bio maestralan… Tokom "What Are You Laughing About?" Den je izgledao kao pobesneli Nil Jang koji proziva ceo svet sa Crazy Horseom iza sebe – za mene je ovo bio antologijski trenutak u istoriji PD koncerata. Koliko samo strasti i energije je uneo Den u ovu pesmu – "to je problem kada napišete ovakvu pesmu – posle treba da je svirate…"
Na prvim taktovima "Zombie For Love" publika je počela da glasno odobrava, ali šta se desilo sa pesmom tokom sledećih pet minuta, to niko nije mogao da pretpostavi: Roki, Nil i Fil zajedno – sve njih je propuštao kroz sebe Den Stjuart, uz razne sulude face i režanje i horsko pevanje Italijana "I'm a Zombie"- kao da je neko tu, ispred nas, snimao neki Kormanov horor. Totalno ludilo!
Pa onda neverovatna gitarska himna – "Gringo Go Home", toliko moćnija u odnosu na studijsku verziju sa "The Deliverance of Marlowe Billings". Klasik "Hair of The Dog" dobio je svoju novu "Italikana" šminku, a "Time Ain't Nothing" je prošao uz horsko pevanje sa publikom i još jedan nadahnut Antonijev solo…
Kakvo je to isceliteljsko veče bilo, za priču i pamćenje. Hvala svima, idemo dalje 🙂
[juicebox gallery_id="3″]
POP DEPRESIJA I GUN CLUB PREDSTAVLJAJU
Dan Stuart Band with Sacri Cuori :: 4. OKTOBAR – ČETVRTAK 21:30H – GUN CLUB
"legendarni lider Green On Red svira pesme GoR i promoviše novi album"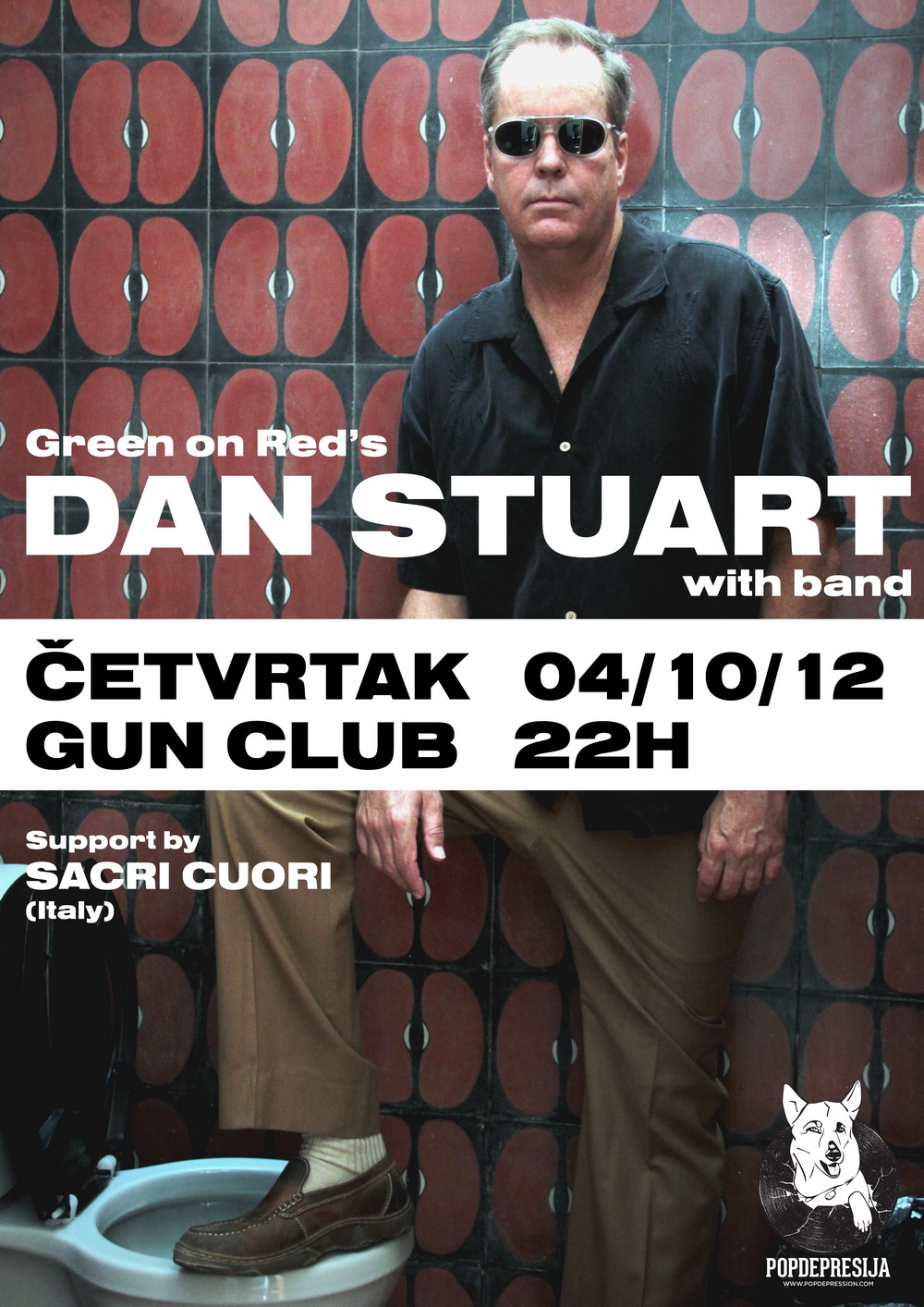 Den Stjuart, Poor Old Dan, Marlowe Billings, Dan Fucking Stuart… kakogod da mu je ime ovih dana – rokenrol ikona vratila se na scenu. Legendarni pevač, gitarista i autor besmrtnih Green on Red objaviće prvi solo album u ovom veku "The Deliverance of Marlowe Billings" (Cadiz Records, 20. avgust) i u tu čast krenuće na prvu solo turneju u novom milenijumu. Posle gostovanja Krisa Kakavasa (Chris Cacavas) 2004. godine i Čaka Profeta (Chuck Prophet) pet godina kasnije, ovo je treći dolazak nekog od članova Green On Red u Srbiju.
Njegov stari bend, Green on Red, bio je perjanica Los Anđelesa osamdesetih i "Paisley Underground" pokreta (zajedno sa Dream Syndicate, Bangles, Long Ryders…) pre nego što je "sasvim slučajno" inspirisao alt-country/Amerikana geto i Wilco, Ryan Adams, Calexico… Zajedno sa Stivom Erlom (Steve Earle) jednom je izazvao "pola Londona" na tuču u baru u kojem su satima ubijali vreme. Njegove pesme obrađivali su "svi": Travis, Vivian Girls, Richmond Fontaine, Jim Dickinson, Manic Street Preachers… Imao je tu čast da zajedno piše pesme sa legendama Memfis-soula Denom Penom i Spunerom Oldamom (Dan Penn, Spooner Oldham), kao i sa Rufusovim i Martinim ocem, Laudonom (Loudon Wainwright III). Sa Stivom Vinom (Steve Wynn) objavio je dva albuma kao "Danny and Dusty" u razmaku od 22 godine ("The Lost Weekend" (1985) i "Cast Iron Soul" (2007)), a planiraju i treći – za jedno dve decenije… Genijalni producenti, kao što su Al Kuper i Glin Džons (Al Kooper, Glyn Johns) pokušavali su da ga zauzdaju, ali ni to uglavnom nije uspelo…
Album "The Deliverance of Marlowe Billings" je anatomija raspada braka, bekstva iz Njujorka, životnih padova i ponekog dizanja i nalaženja novog smisla u južnom Meksiku i povratka muzici… Ovo je ploča o prelasku granice, kako one prozaične "zemaljske", tako i one nevidljive, između razuma i kompletnog ludila… Ploča je snimljena u Los Anđelesu i Italiji, prateći bend mu je bila italijanska super-grupa Sacri Cuori, koja će ga pratiti i na turneji po Evropi. Tokom poslednje decenije Sacri Cuori su svirali sa muzičarima kao su Ričard Bakner (Richard Buckner), Mark Ribot (Marc Ribot), Dejvid Idalgo (David Hidalgo), Izobel Kembel (Isobell Campbell)…
Karte za koncert Dana Stuarta u pretprodaji su u kafeu Šikarica (Skadarska 22) i muzičkoj prodavnici Pinball Wizard (TC EUROCENTAR, Makedonska 30, lok. 15) od 27. avgusta, a prvi tiraž prodavaće se po ceni od 1000 dinara.