Dođite da zajedno promišljamo o vremenu za nama, da maštamo o vremenu pred nama, i prepustimo se čaroliji jedne nesvakidašnje proletnje večeri.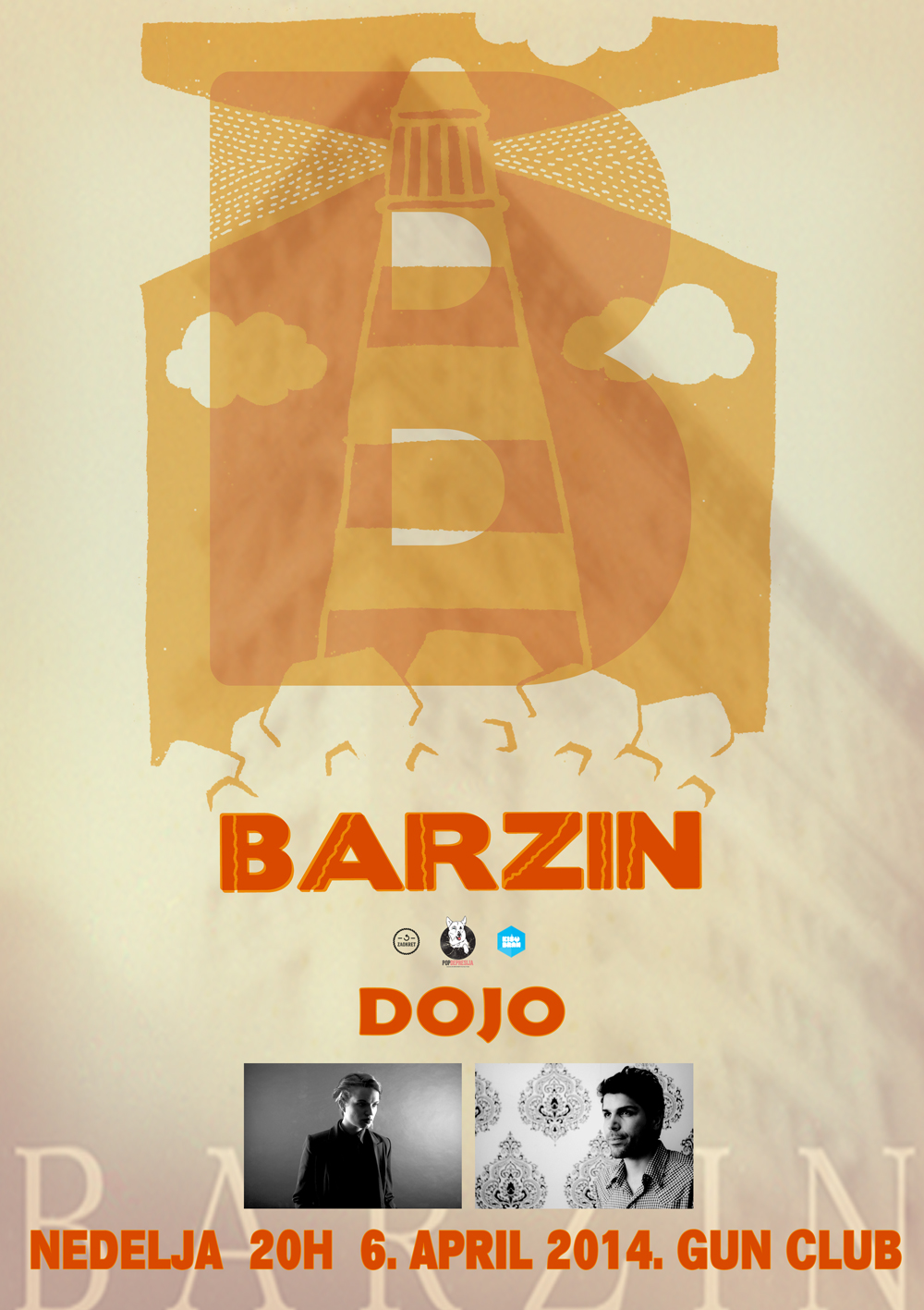 U nedelju 6. aprila u Gun Club dolazi kanadski singer-songwriter Barzin sa bendom. Njegov senzualni i melanholični stil prijaće ljubiteljima Sparklehorse, Leonard Cohen-a, grupe Low ili Beck-a. Gošća na koncertu je mlada novosadska pevačica Dunja Dačić, koja nastupa kao Dojo (Dođo). Muzike pre i posle koncerta puštaće Zaokret DJ tim.
Ulaznice su u pretprodaji po ceni od 800 dinara u kafeu Šikarica (Skadarska 22) i prodavnici ploča Pinball Wizard Records (Makedonska 30). Na dan koncerta cena karte biće 1000 dinara.
Barzin Hoseini obitava na kanadskoj sceni skoro dve decenije. Na svoje muzičko putovanje krenuo je samostalno 1995. da bi usput ipak shvatio da "grupna terapija" daje bolje rezultate. Sa bendom koji čine iskusni kanadski muzičari snimio je tri albuma, od kojih je pretposlednji "Notes To An Absent Lover" iz 2009. dobio naročitu pažnju publike i kritike, kao istaknuti predstavnik melahnoličnog, "tihog" popa koji suptilno flertuje sa kantrijem, džezom i akustičnim ambijentalnim stilovima.
Ovog februara stigao nam je izvrsni novi album "To Live Alone in That Long Summer", koji nastavlja put trasiran "beleškama", sa još upečatljivijim melodijama i stihovima, raskošnim aranžmanima i zavodljivom atmosferom grada koji sija u daljini kao glavna inspiracija.
Barzinova muzika je elegantna i kontemplativna rabota, voli pažnju i strpljenje, kao, uostalom, sve dobre stvari u životu. Dok mračne žice violine plešu sa nemirnim klavirskim dirkama, dok vibrafon i bendžo smišljaju neku psinu, a metlice bubnja u stopu prate "zavijanje" pedal stil gitare – smenjuju se upečatljive i intimne urbane slike – priče o samačkom životu, stidljivim novim počecima, noćnim zabludama, jutarnjim samospoznajama, čežnji na praznim ulicama, propuštenim prilikama, novim generacijama… bezbroj nijansi sete, kroz koju promiče ponekad žaljenje, ponekad gorčina, ali nikad čemer, nikad očajanje. Baš kao na slici sa omota novog albuma – Barzin nam se poverava gledajući grad kroz sanjarsku izmaglicu, kao ultimativno romantično mesto, mesto okrutne lepote, mesto iskupljenja.
Dojo stvara muziku koja je duboko lična, uglavnom lo-fi, a često potpuno filmska – na vama je "samo" da izaberete film. Počela je da nastupa 2010. godine, a uz pomoć prijatelja, Dunja je vremenom razvila specifičan zvuk i stil, puštajući da uticaji koje je godinama konzumirala zajedno isplivaju i kreiraju njen glas kroz poeziju. Dojo svojom gitarom, glasom i mešavinom zvukova iz prirode pokušava da ostvari ambijent nekad davno zaboravljene veze sa prirodom, a elektronika je tu da pojača uticaj modernog na naš svakodnevni život.