Beogradski noise pop duo je u subotu 8. novembra 2014. objavio svoj debi album pod nazivom "MORE".
VVhile je bend koji su 2011. godine osnovali Stevan Ćirović i Andrija Spičanović. Posle dve evropske turneje na kojima su promovisali evropsko i kasnije američko vinilno reizdanje "VVhile is Vanity" 7″ EP, snimili su album koji sa svojih 10 pesama čini presek rada benda u poslednje tri godine.
8. oktobra prvi singl pod nazivom "Wrong Face Wrong Palm", najavio je izlazak albuma sa tri remixa koje su uradili jedni od trenutno najzanimljivijih imena elektronske muzike u Srbiji, HETEM, Thinker i Mars Flowers. Video spot za pesmu potpisuju Marija Radosavljević, Marija Ninković i Veljko Stojanović.
Album "MORE", za sada je digitalno izdanje i moguce ga je kupiti i/ili slusati preko muzičkih platformi poput iTunes-a, Amazon-a, Deezera i Spotify-a. Pored toga, preko bendovske bandcamp stranice moguć je download po principu "plati koliko želiš". U februaru 2015. godine "MORE" će biti dostupan i na vinilu i to posredstvom Dirt Cult Records-a iz Amerike. Twintoe Records-a iz Nemačke, Numavi Records-a iz Austrije, dobro poznate POP Depresije i bendovske izdavačke kuće Jazz Chairs. Vinil je već sada moguće naručiti preko bandcamp strane.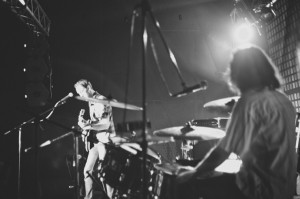 "Šta se dobije kada se ispred vas udruže gitara, efekti, pedale, bubnjevi, dva glasa, buka, šumovi i pop melodija? Iskreno, jedini pravi odgovor bi bio – to zaista niko ne zna. I baš ta neizvesnost je ključni adut grupe VVhile. Andrija i Stevan jesu "veterani" brojnih bendova sa DIY reputacijom, ali ovo putovanje na kojem se sada nalaze može da ih odvede u neki potpuno novi svet. Taj njihov put mogao bi da se opiše kao "od No Age do No Fun", ali i "od Ragged Glory do Teenage Riot", sve je moguće i zavisi od ugla gledanja. 
Posle skoro dvocifrenog broja koncerata VVhile koje sam imao priliku da pogledam od kada su počeli da sviraju zajedno, iskreno navijam da pop muzika pobedi "noise", ili da psihodelija nadjača analogno-digitalno nadmudrivanje, ili da pesme počnu da liče na Bitlse na speedu.
A onda se zapitam zašto bi uopšte neko trebalo da zvuči kao što bih ja možda želeo? Njihov napredak i kao muzičara i kao autora evidentan je na svakom koncertu i svakom deliću nove pesme koja nekako dođe do nas. Posvećenost vežbanju i rad u studiju čini da to što naprave u isto vreme zvuči "moderno" i kao da je neki zagubljeni vinil iz "Sub Pop Singles Club" serijala. Pored ljubavi i iščekivanje može da "ubije", zar ne?
VVhile se nalaze na korak do nekih velikih stvari. Omiljeni "lokalni" bend već su postali."