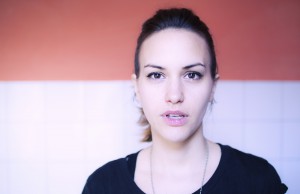 Zagrebačka kantautorka Irena Žilić, dragulj regionalne "Amerikana" scene, u kojoj su zapaženi predstavnici Stray Dogg, Lovely Quinces, Ana Ćurčin, Nina Romić, Ika, Svemir, Went, Wooden Ambulance, On Tour… održaće svoj prvi koncert u Beogradu u subotu 7. marta u 21h u prostoru Treehouse Centra (Botićeva 1, pored Muzeja istorije Jugoslavije). Pop depresija i Zaokret/Kišobran vas pozivaju da prisustvujete koncertu koji će vas odvesti na jedno magično putovanje u sopstvene snove i u kojem ćete uživati, smejati se, možda i plakati, ali sasvim sigurno – koje nećete zaboraviti.
Irena Žilić /Treehouse Centar, subota 7. mart 21h/
Karte su u pretprodaji u Pinball Wizard muzičkoj prodavnici po ceni od 300rsd. Na vratima kluba na veče koncerta cena karte će biti 400rsd.
Ako postoji neko ko će vas začarati od prvog tona, od prvog stiha, od ovlaš pogleda na njeno lice… onda je to Irena. Poslednjih meseci ona putuje Balkanom, Evropom, svetom i predstavlja debitantski album. "Travelling" budi uspomene s putovanja i vraća ono dobro poznato uzbuđenje kad napokon radiš ono što si svaki dan radio kao dete, putuješ i svaki dan otkrivaš nove stvari koje su uvek uzbudljivije od onih već poznatih.
Priča o Ireni Žilić verovatno je jedna od najlepših priča ispričanih na regionalnoj muzičkoj sceni u poslednje vreme. Pre nešto više od dve godine pojavila se iznenada i predstavila svojim EP-em "Days Of Innocence" i u rekordno kratkom vemenu oduševila i kritiku i publiku. Od potpuno nepoznate muzičarke koja je nenametljivo i gotovo sramežljivo javnosti ponudila svoje pesme, Irena postaje kantautorka o kojoj se priča, proriče sjajna budućnost i, ono najvažnije, koja se sluša. Sve brojniji fanovi sa nestrpljenjem su iščekivali njen prvi album, a 30. septembra 2014. čekanju je došao kraj. Na vlastitoj etiketi Cuckoo, Irena je objavila debitantski album "Travelling", na kojem je 11 predivnih, toplih i melanholičnih pesama. Onih pesama koje nepogrešivo pogađaju direktno u srce. Reakcije kritike ponovo su bile jednoglasne pohvale, a mnogi Irenu svrstavaju uz bok najboljim svetskim izvođačima na kantautorskoj sceni i predviđaju joj uspeh van granica regiona. Album "Travelling" našao je svoje mjesto na vrhovima praktično svih izbora najboljih albuma godina u regiji.
Koncertna promocija albuma "Travelling" odvela je Irenu i do Waves Vienna festivala, svirala je rasprodat koncert u zagrebačkoj Tvornici kulture, a posebno treba istaći i nastup na tradicionalnom božićnom koncertu u Hrvatskom narodnom kazalištu u Zagrebu.