HUTENENI Fest: Chuck Prophet and The Mission Express, The Bambi Molesters, Rebel Star i Jonah Tolchin u Beogradu!
Beograd, 18. maj 2015.
---
Možda je stvarno prošlo vreme u kojem je rokenrol mogao da "menja svet". Možda su stvarno društvene mreže ubile svaku inicijativu u ljudima, čak i za pitanja koja nam direktno utiču na život. I možda je stvarno smisao života imati mišljenje o svemu na fejsbuku i oštro protestvovati pred svojim prijateljima na nepravde koje nas okružuju? Nisam srećan kako živim, šta radim, kakva mi je budućnost. I bunim se na način na koji mislim da to ima smisla. Uz pomoć prijatelja pokušavamo da napravimo sat, dva ili pet nekog izmišljenog života, u kojem smo srećni i u kojem nema briga. I da izvučemo ljude iz kuća. Odličan hrčak, Kišobran, Zaokret i Pop Depresija vam se zahvaljuju šta ste izašli iz kuće, došli u Amerikanu i prisustvovali prvom Huteneni Festu. Bez vas ovo ne bi bilo moguće i hvala svima neizmerno. Huteneni je uspeo zahvaljujući Čaku i momcima, Bambijima, Džoni i Rebelima, ali ponajviše svima vama koji ste ostali do sitnih sati. Naklon do zemlje svima koji su došli i kupili kartu. Huteneni!
---
Chuck Prophet & The Mission Express vraćaju se u Beograd ovog proleća i ne dolaze sami! Odličan hrcak i Pop Depresija uz podršku Zaokreta pozivaju vas na celovečernji HUTENENI Fest u petak 15. maja u Domu omladine Beograda na kojem učestvuju i The Bambi Molesters, Rebel Star i Jonah Tolchin.
Cena ulaznice za HUTENENI Fest u pretprodaji je 1500 dinara, a karte se mogu kupiti na svim prodajnim mestima Gigstix i Eventima, na blagajni Doma omladine Beograda i u kafeu Šikarica (Skadarska 22). Uz prvih 50 ulaznica koje su u prodaji u Šikarici ide i specijalni poklon, CD "Kalifonija" grupe Rebel Star!
Pre dve godine Čak Profet je doveo svoj prateći bend The Mission Express prvi put u Beograd i održao rokenrol masterklas za brojnu i egazaltiranu publiku. Na početku šeste decenije života i dalje sa istim žarom živi rokenrol, svira svoj verni Telekaster i igra sa se svim stvarnim i izmišljenim podžanrovima popularne muzike – indi, folk, pop, kantri, soul…
Karijeru je počeo 1985. godine u kultnim Green on Red rokenrol šamana Dena Stjuarta, sa kojima je snimio albume koji su osnova onoga što se danas zove "Amerikana". Za mnoge aktuelne muzičare Čak Profet je uzor, učitelj i inspiracija. Od 1990. godine Čak je počeo da objavljuje solo albume i nastupa sam ili sa bendom. Tokom godina sarađivao je sa "svima", od grupe Cake i Solomona Burka do Džima Dikinsona, Dena Pena i Alehandra Eskoveda preko Ejmi Men, Vorena Zivona, Lusinde Vilijams, Džonatana Ričmena, Kelija Stolca, do doživotne odanosti genijalnom Aleksu Čiltonu i njegovom nasleđu.
Sa svojim pratećim bendom The Mission Express i suprugom Stefani Finč na klavijaturama proputovao je celu Evropu, Severnu i Južnu Ameriku i nastupao u popularnim TV emisijama kao što su "The Late Show With David Letterman" i "The Carson Daly Show". Poslednji, trinaesti studijski album "Night Surfer" Chuck Prophet objavio je krajem septembra 2014. godine.
Posle neverovatne turneje po Brazilu kojom su obeležili 20 godina postojanja, u Beograd se vraća najbolji rokenrol bend iz Hrvatske, gospodari talasa i rifova The Bambi Molesters!
Krajem 2014. The Bambi Molesters obeležili su veliki jubilej benda festivalom "Sonic Bullets", održanom u velikom pogonu zagrebačke Tvornice kulture. Uz goste: B & the Bops, My Buddy Moose, Krisa Ekmana i The Flaming Sideburns, proslavili su prve dve decenije rada u dvorani prepunoj dobro raspoložene publike. 2015. godinu započeli su neverovatnom dvonedeljnom turnejom u Brazilu, gostujući, osim u klubovima i kulturnim centrima, i u programu brazilske TV Culture, jednog od najgledanijih televizijskih programa iz područja kulture na svetu. Osim toga, fanovi iz drugih delova sveta mogli su koncert u Sao Paolu da prate putem live streama. Posle koncerta u Beogradu The Bambi Molesters, pored ostalih aktivnosti, najavljuju nastupe na velikim surf festivalima u Valensiji u Španiji i italijanskom Livornu.
"Rekom" će se spustiti sa severa do Beograda i učiniti da opet, baš kao i na antologijskom koncertu u Klubu DOB-a u oktobru prošle godine, pevamo, skačemo, smejemo se i uživamo. Bez grupe Rebel Star ovaj festival nije kompletan, a popularni internacionalni rok bend upravo završava rad na svom četvrtom studijskom albumu.
Milan Glavaški, Atila Prikler, Ešli Bris, Majk Kentiš i Čaba Marinka opet u našem gradu, a naša je želja da "ovaj sivi grad iznad kog su sateliti" bude tehnikolor oaza. Bar na jedno veče.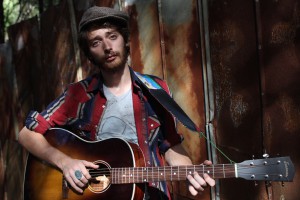 Nema dobrog festivala, a da se ne promoviše i neko potpuno "nov" našoj publici. Jonah Tolchin (Džona Tolčin) svira folk i bluz sa pank energijom i Amerikana senzibilitetom. Za uzore navodi sve putnike "Tajanstvenog voza" Žikice Simića: Tauns Van Zandt, Džon Prajn, Bob Dilan, Leonard Koen, Džoni Keš, Nik Drejk…
Objavio je dva studijska albuma, a "Clover Lane" koji je izašao prošle jeseni prvi je za prestižnu izdavačku kuću Yep Roc Records za koju trenutno objavljuju Pol Veler, Čak Profet, Dejv Alvin, Stiv Vin, Andre Vilijams, Nik Lou…