Rebel Star i Ana Ćurčin u Miksalištu 6. avgusta
Ako se ignorišu termini kao što su posao, "industrija", izgubljeno vreme, uloženi trud i koznaštajoš, koncert Rebel Star i Ane Ćurčin sinoć u Miksalištu je ono zbog čega i volim koncerte i zbog čega se time bavim. Ana Ćurčin i momci su mi bili savršeni i ta njena transformacija od devojke sa gitarom do lidera benda bilkalahanovskog tipa je uzbudljiva i na korak da bude završena. Milanovo gostovanje na dve pesme je bilo genijalno, "Expectations" polako postaje svet za sebe, čak i u konkurenciji "I Can't", "Alone" ili "Remain Calm".
Rebeli se nisu osećali komforno u velikom prostoru Miksališta i tu nije bilo pomoći. Tehnički problemi na stranu, bend je uspeo da ignoriše tu nelagodu i da energijom i strašću još jednom predstavi sebe i svoje pesme u dva sata znoja, krvi i smeha (bez suza). Gosti Vlada, Mrle, Ana i Ivana – su svoju minijature odigrali korektno, Ivana na "Anđelima" možda i najbolja i najopuštenija, Vlada fokusiran i precizan.
Rebeli nisu savršeni, nikada nisu bili i nikada neće biti. Milan će uvek da pita da li se čujemo, nešto će uvek da umire od opreme, uvek će neko da zaboravi da uključi klavijature, udaraće struja, monitoring će da se gasi iz čista mira, crkavaće kanali… ali Rebel Star su čist rokenrol i životna radost za one koji žele da ih nešto obraduje i gledanje svakog njihovog koncerta je privilegija i praznik sam po sebi i uživao sam i otpevao i ovaj njihov koncert od početka do kraja (u sebi naravno). Kompletna "Reka" odsvirana je u jednom dahu, drugo poluvreme koncerta – "best of rs" je bilo fantastično, a ova verzija "Ptica" je bila spektakularna.
Hvala svima koji su bili i podržali ovaj avgustovski slet, biće još druženja i sa Rebel Star i Anom Ćurčin uskoro 🙂
Rebel Star + Ana Ćurčin /Miksalište, 06.08.2015. Foto: Andrea Vajda/
---
Pozivamo vas na dupli koncertni program u znaku letnje melanholije sa gitarskom aromom, uz hitove, stare i nove pesme, balade, obrade, druženje i puno osmeha. Rebel Star i Ana Ćurčin sa bendom zajedno na bini Miksališta u četvrtak 6. avgusta u 21h. Muzička podrška Zaokret DJ tim!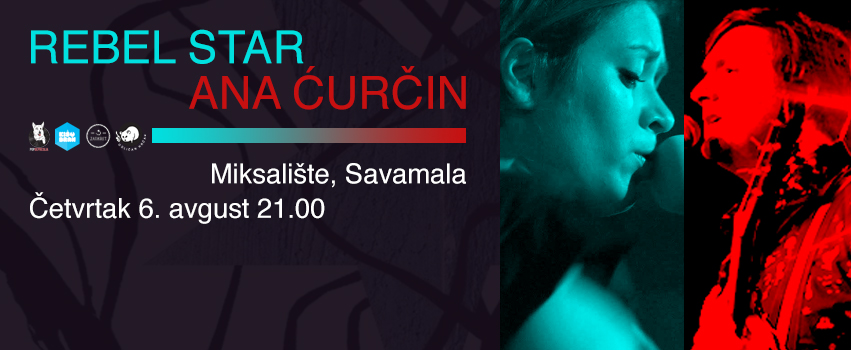 REBEL STAR + ANA ĆURČIN
Četvrtak 6. avgust 21h
Miksalište, Mostarska 5, Savamala
Ulaznice su dostupne na svim GIGS TIX prodajnim mestima, u Mikser House-u (Karađorđeva 46), prodavnici ploča Pinball Wizard Records i u kafeu Šikarica (Skadarska 22) po pretprodajnoj ceni od 500 dinara. 
Rebel Star, internacionalni bend Milana Glavaškog, pravi pesme za svoju dušu i za dobro raspoloženje svih koji to žele. Upravo su završili i ponudili na preslušavanje svoj četvrti studijski album "Reka", na kojem se nalaze pesme o slobodi, ljubavi, traženju sebe, putovanjima, njoj i njemu, prirodi…

"Reka" je rokenrol kakav nam je potreban – čist, direktan, nežan i moćan. Ovo će biti prvo predstavljanje novog albuma pred publikom, a tokom avgusta bend će nastupiti na prestižnom festivalu Sziget. U godini kada u Srbiji ukidaju radio stanice dekretom, prvi singl sa "Reke", pesma "Radio" ima potpuno eskapistično značenje. Dođite da slavimo "Radio" zajedno!
Ana Ćurčin sa bendom nastupa treći put ove godine, a prisustvovati formiranju zvuka benda koji je drugačiji i koji je na korak do "velikih stvari" je prilika koja se ne propušta! Anina muzika uglavnom se kreće u okvirima indie-rocka i američkog folka, uz brojne druge uticaje koje na specifičan način meša i pravi autentičnu zvučnu sliku. Aktivno svira od decembra 2012. godine, nastupala je u Srbiji, ali i u Evropi (Austrija, Italija, Švajcarska, Rusija), sama, sa bendom ili u tandemu sa frontmenom grupe Stray Dogg, Dušanom Strajnićem ili neponovljivim Ilijom Ludvigom.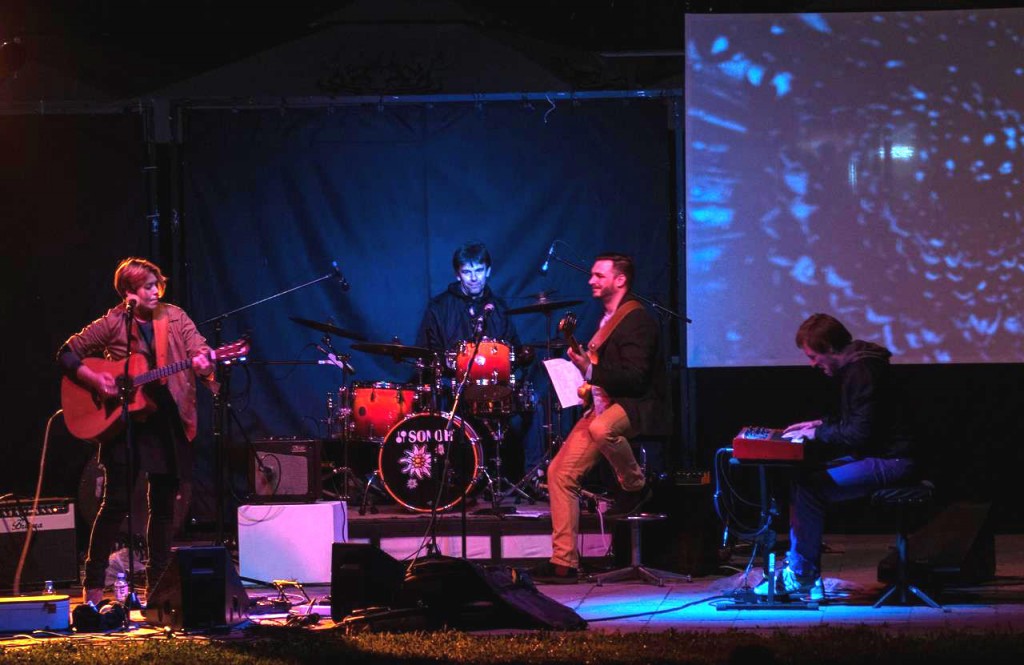 Ana je tokom 2014. godine nastupila na prestižnom Waves Festivalu u Beču, kao i u rasprodatoj zagrebačkoj Tvornici kulture, gde je bila specijalna gošća na koncertu hrvatske kantautorke sličnog senzibiliteta Lovely Quinces. U januaru ove godine je otvorila novu sezonu koncerata u legendarnom Studiju 6 Radio Beograda u kojem je predstavila nove pesme i bend i najavila prvi studijski album koji je u završnoj fazi miksa i koji će pred slušaocima biti krajem leta.