Steve Wynn se posle sedmogodišnje pauze vraća u Beograd! U okviru mini ex-YU "solo-electric" turneje posetiće i Novi Sad i Zagreb krajem oktobra. Beogradski koncert zakazan je za sredu 28. oktobar, mesto dešavanja je KC Grad.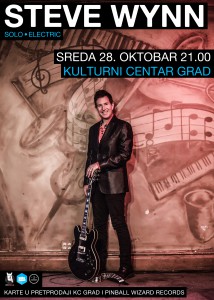 Za mnoge Steve Wynn je dobri duh Beograda, ambasador Srbije, princ rokenrola. Za druge je legenda američkog nezavisnog rokenrola, lider ponovo okupljenih The Dream Syndicate s kojima je početkom osamdesetih definisao ono što će mnogo kasnije neko nazvati "Americanom", motor ubitačnog Steve Wynn and The Miracle 3 orkestra, jedan od nekoliko trenera/igrača The Baseball Projecta…
Sredinom devedesetih Steve Wynn održao je dva legendarna koncerta u KST-u u – od sveta – izopštenoj Srbiji i Beogradu. S bendom The Miracle 3 je svirao 2003. i 2005. dva antologijska koncerta u Pogonu Doma omladine Beograda, poslednji put nastupio je 2008. u Living Room-u SKC-a sa gitaristom i prijateljem Robertom Lloydom. Posle punih sedam godina Steve Wynn se vraća u naš grad naoružan elektičnom gitarom, osmehom i talentom da ispriča priče koja se ne zaboravljaju.
Pretprodaja ulaznica počeće u septembru.