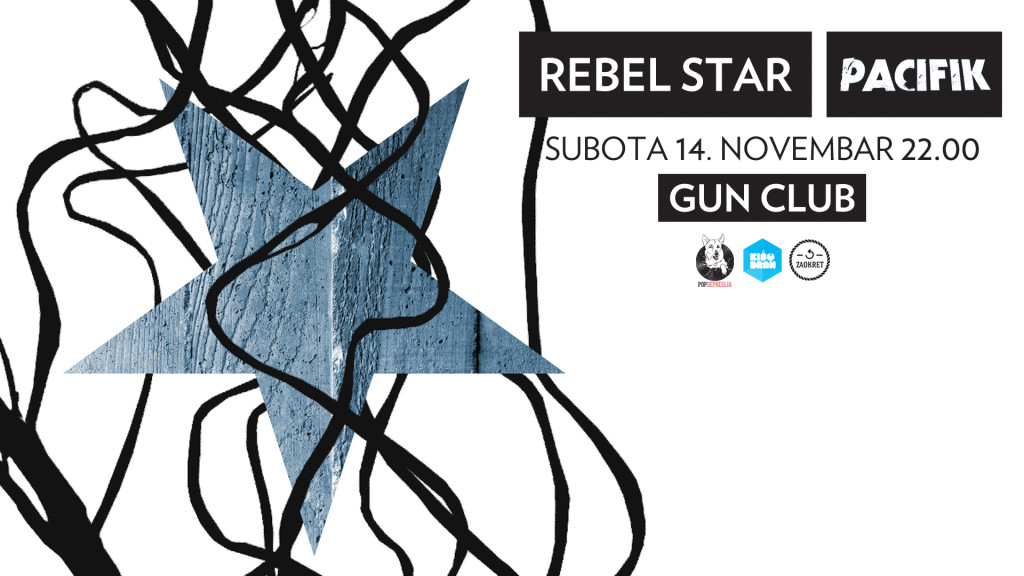 Rebel Star i Pacifik vas pozivaju na jedno nezaboravno rokenrol veče! Ako bismo rokenrol poredili sa alkoholom, bio bi to burbon sa ukusom amerikane, uz dve kocke brit-popa i jednim točenim psihodeličnim pivom iz mikro-pivare u Lorel Kanjonu, sa strane. Mesto dešavanja je Gun Club, očekujemo vas od 22 sata. Karte su u pretprodaji u Pinball Wizard Records muzičkoj prodavnici i Kafeu Šikarica po ceni od 400RSD. Na dan koncerta i na vratima kluba cena karte će biti 600.
Pre koncerta, od 15.30 u Pinball Wizard prodavnici ploča održaće se promocija "Reke" na vinilu :: Magdalena kaže: Prva dugosvirajuća ploča za  Rebel Star! Ako to nije povod za slavlje, ja stvarno ne znam 🙂 Četvrti album benda, "Reka", izašao je u junu za Pop Depression // Pop Depresija i pobrao lovorike gde god je to bilo moguće. Posle par meseci album se pojavio na vinilu i imaćemo tu čast da ga zavrtimo prvi put u subotu.
Ploča će se prodavati po promotivnoj ceni od 2000 dinara, a Milan Glavaski i njegovi veseli saborci iz benda će sa zadovoljstvom pisati posvete na vaše primerke. Samo sto ploča je presovano, što znači da je tiraž vrlo ograničen. Očekuje nas i akustični set izabranih pesama sa albuma. Istog dana, od 22h, Rebel Star i Pacifik održaće koncert u Gun Club-u. Život je reka 🙂
Rebel Star je 2015. godinu obeležio fantastičnim albumom "Reka" (Pop Depresija), koji je jednoglasno od recenzenata u regionu proglašen albumom godine. Strasno, nadahnuto, poetično, fantastično odsvirano i sjajno aranžirano – ukratko takva je "Reka", četvrti studijski album internacionalnog benda Milana Glavaškog. Uživo, ta reka ume mirno da ide svojim tokom, a onda začas zna da podivlja, zavrti vrtloge i zaljulja talase, te da vas odnese na potpuno drugi kraj sveta. Svirali su Rebeli ove godine i na Szigetu, Huteneni Festu, Zrenjaninu, Zagrebu… a sada vas zovu da još jednom horski pevamo pesme s kojima život nije lakši, ali koje nam pomažu da preživimo.
Gosti na koncertu 14. novembra biće grupa Pacifik, koju predvodi pevač i gitarista Željko Markuš. Njihov debitantski album "Susret" (Menart) prava je pop-rock enciklopedija, koju su momci znalački sklapali od brojnih slika iz života, sa puno ljubavi i umeća.