Beogradska muzičarka Ana Ćurčin objavila je svoj prvi studijski album "Sketches of Belonging" koji se besplatno do 8. januara može preuzeti sa njene bandcamp stranice.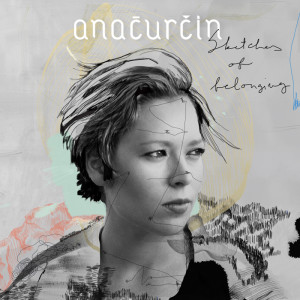 Na albumu se nalazi 13 pesama, a kao bonusi dodati su prethodni singlovi "I Can't" i "Cut Loose". Prvi singl sa albuma, koji je objavljen i kao video je pesma "Remain Calm".
Ana je autorka i kompozitorka svih pesama, a na snimanju su učestvovali muzičari iz njenog benda – Goran Antović, Marko Cvetković, Goran Grubišić i Blagoje Nedeljković. Pesme je miksovao Marko Milatović, a producent je klavijaturista benda Goran Antović. Kao specijalni gost na pesmama "Remain Calm" i " Anxiety" pojavljuje se lider Rebel Star i gitarista Milan Glavaški. Za dizajn omota pobrinuo se kreativni tandem Teyosh.
"Ovaj album se u procesu snimanja promenio. Naišle su neke nove pesme koje su izgurale neke stare. Neke pesme su napisane pre više od desetak godine, neke su nešto mlađe, neke su nastale dok smo snimali album. Iako su starije i razbacane po vremenu bilo mi je bitno da budu zabeležene," rekla je povodom objavljivanja albuma Ana Ćurčin.
"Sketches of Belonging" je trenutno dostupan na bandcampu Ane Ćurčin i izdavača Pop Depresije, a za par nedelja biće i na svim ostalim digitalnim platformama. Fizičko izdanje albuma na CD-u (objavljeno u sradnji sa Odličnim Hrčkom) biće u prodaji krajem januara, a promotivni koncert u Beogradu zakazan je za 10. februar. Pre toga Ana Ćurčin i bend nastupiće u Zagrebu 21. januara u "Vintage Industrial Bar-u", na MENT festivalu u Ljubljani 4. februara, kao i u Mariboru i Trstu.
---
ANA ĆURČIN – Sketches of belonging /PD006/

1. Unknown
2. Alone
3. Remain Calm
4. Keep Quiet
5. Princess
6. Anxiety
7. Yield
8. Communicate
9. Someday
10. Silence
11. Grow
Bonus tracks:
12. Cut Loose
13. I Can't

All songs composed and written by Ana Ćurčin.
"Princess" – written by Ana Ćurčin and Maja Pelević.
Arranged by Goran Antović, Marko Cvetković, Goran Grubišić, Blagoje Nedeljković & Ana Ćurčin.
Ana Ćurčin – vocals, back vocals and acoustic guitar & harmonica.
Goran Antović – piano, hammond, wurlitzer, keyboard & percussions.
Marko Cvetkovic – bass.
Goran Grubišić and Blagoje Nedeljković – drums.
Milan Glavaški – electric guitar (Remain Calm and Anxiety).
Mixed and co-arranged by Marko Milatović.
All songs are produced and recorded and mastered by Goran Antović.
I Can't & Cut Loose:
Produced by Nemanja Mosurović
Drums: Marko Kuzmanović
Guitar: Ana Ćurčin
Bass: Marko Cvetković
Mixing: Luka Slavić
Published by Pop Depression
Design by Teyosh.
Photo by Marija Strajnić.
anacurcin.com
Popdepresija.com
Contact:  popdepresija@gmail.com /  info@anacurcin.com