SeaRock festival iz Kotora sa ponosom predstavlja: Wilco, jedan od najvećih rock'n'roll bendova na svijetu u Kotoru, 24.06.2016.


Šesto po redu izdanje festivala koje se održava 24.06.2016 u prostoru parkinga Benovo, u neposrednoj blizini bedema starog grada, biće realizovano kroz jednodnevni koncert benda Wilco, alt-country legendi iz Chicaga koji danas predstavljaju jedan od najvećih live bendova na svijetu. Koncert počinje u 21h. Ulaz za publiku, i ove godine će biti besplatan!
Wilco je osnovao 1994 Jeff Tweedy nakon razlaza benda Uncle Tupelo, koji je napravio veliki uticaj na buduću alt-country i americana scenu. Tokom godina, Wilco je mijenjao postavu i pored Tweedya, koji je glavni autor, pjevač i gitarista, iz prve postave ostaje basista John Stirratt. Ostatak današnje postave, koja je uzajedno više od deceniju čine gitarista Nels Cline, multi-instrumentalist Pat Sansone, klavijaturista Mikael Jorgensen, i bubnjar Glenn Kotche. Bend je objavio 9 studijskih albuma, nekoliko kompilacija i uživo izdanja. Sa Billyjem Bragom snimaju trostruki album "Mermaid Avenue", koji sadrži do tada neobjavljene pjesme američkog barda Woodiea Guthriea, koji je bio inspiracija i Bobu Dylanu. Sa Bobom Dylanom išli su 2013 na zajedničku turneju Americanarama. Godine 2005 dobijaju GRAMMY za " A Ghost is Born", kao najbolji rock album godine, a 2009 drugi GRAMMY za "The Album" kao najbolji Amerikana album.
Muzički stil benda Wilco je širok, obuhvata alternative country korijene započete još u Uncle Tupelo, preko uticaja The Beatles i Television sa eksperimentalnim i indie rock uplivima. Za najvažniji album ovog benda po mišljenjima publike i kritičara smatra se Yankee Hotel Foxtrot iz 2002. Turneja u sklopu koje se održava kotorski koncert promoviše aktuelni album Star Wars, objavljen iznenada na intrenetu 16.07.2015 koji se takođe publika i kritika smatraju izuzetnim ostvarenjem.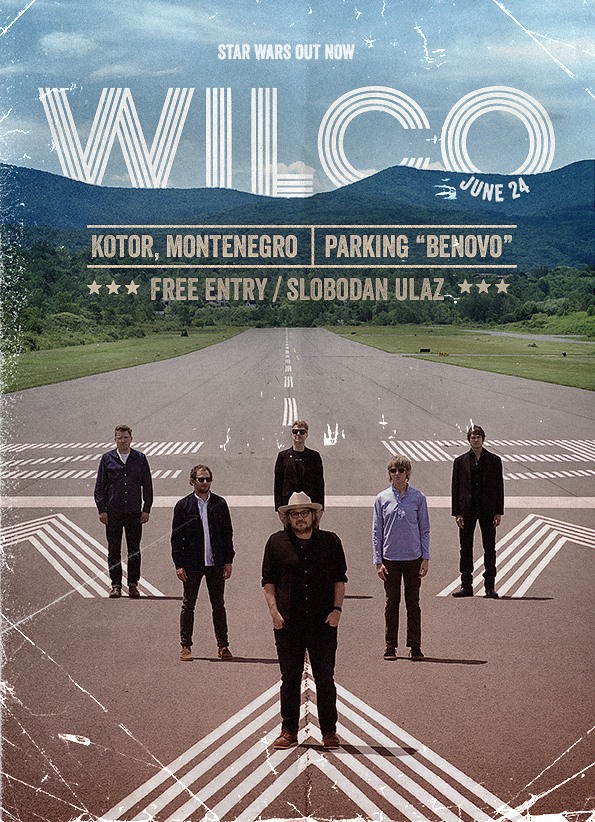 Pored uspješnih albuma i snažnog autorskog stila, Wilco su prepoznati, kao možda i najveća uživo rok atrakcija današnjice, poznati po kreativnim i inspirativnim nastupima uživo. Do sada su na teritoriji ex-YU gostovali samo u Zagrebu, 2012 godine.
SeaRock festival je od svog osnivanja 2010, Kotor postavio na svijetsku koncertnu mapu, a do sada su na festivalskim aktivnostima nastupali: Autumn for free (Crna Gora), My Buddy Moose (Hrvatska), The Bambi Molesters (Hrvatska), Fantodrom ( Crna Gora), Salongorkesteret (Norveška), Goribor (Srbija), Comaneci (Italija), Chris Eckman & The Frictions (SAD , Slovenija), Vrpca (Crna Gora), The Penny Black Remedy (Velika Britanija), Gustafi (Hrvatska), The Backyard Sinners (Srbija), Izae (Hrvatska), Steve Wynn ft Chris Cacavas (SAD), Solid Ground (Crna Gora), Stray Dogg (Srbija), Dan Stuart ft Antonio Gramentieri (SAD / ITA), Lovely Quinces (Hrvatska), Howe Gelb with band (SAD), Lyenn (Belgija), Duke Garwood (Velika Britanija), Mark Lanegan Band (SAD), Light Under The Black Mountain (Crna Gora ), Keine Angst (Norveška), Sacri Cuori (Italija), Lambchop (SAD), Antonio Sanchez i kurvini sinovi (Crna Gora), Irena Žilić (Hrvatska), Chuck Prophet (SAD), William Fitzsimmons (SAD), oduševili su više od 17000 posjetilaca svojim nastupima.
SeaRock je specifičan po svom neprofitnom karakteru. Ulaz je slobodan, a čitav festival je u potpunosti organizovan zahvaljujući volonterskom radu članova udruženja SeaRock.