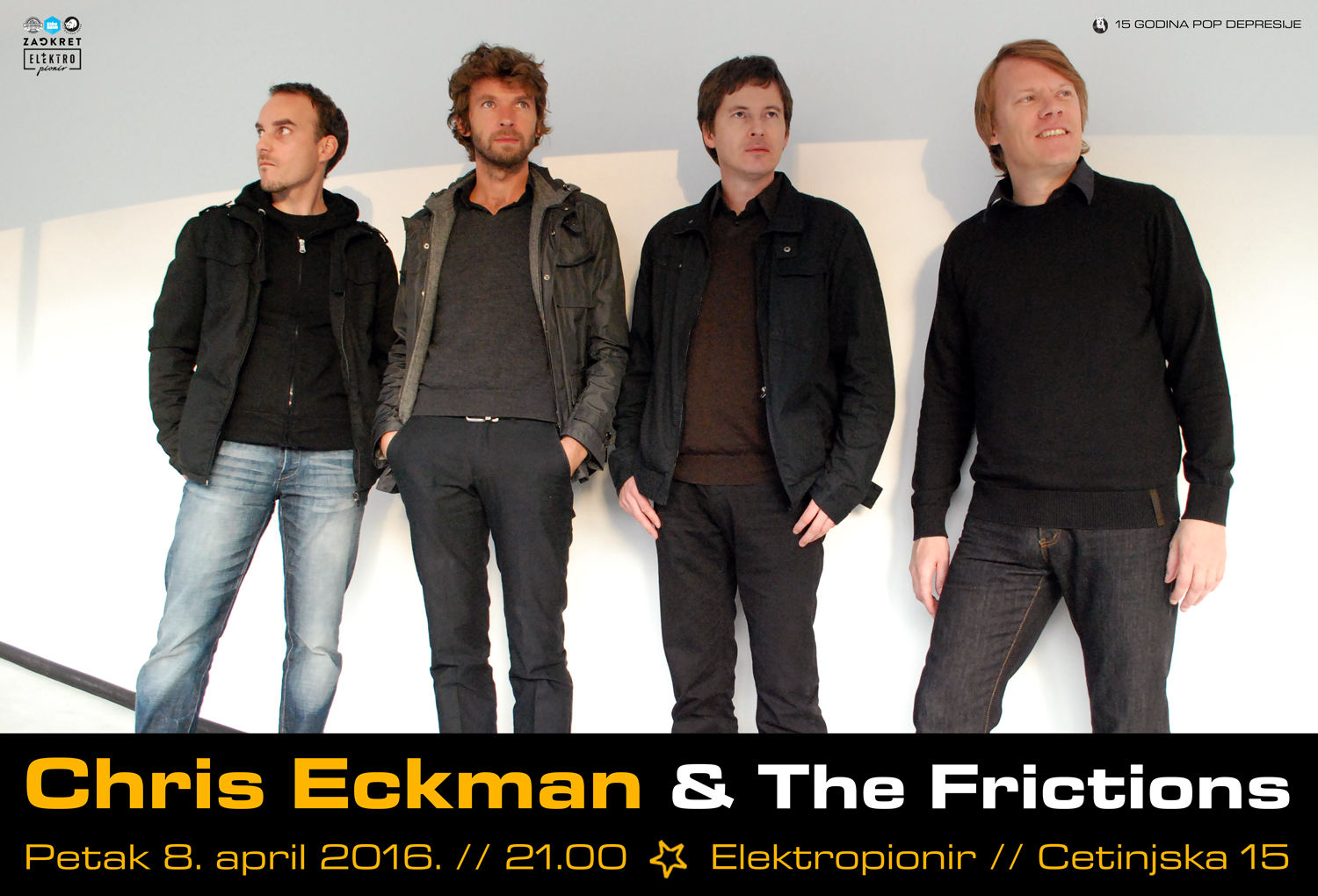 Viša sila je uticala da zbog bolesti Chrisa Eckmana otkažemo koncert The Frictions u Elektropioniru. Kupljene ulaznice možete da vratite i dobijete svoj novac nazad na mestima gde ste ih kupili – Šikarica ili Zaokret. Chris Eckman & The Frictions će najesen imati novi studijski album i eto nove prilike da ih vidimo u Beogradu. 
---
Chris Eckman & The Frictions nastupiće u beogradskom klubu Elektropionir u petak 8. aprila od 21h. Ulaznice mogu da se kupe u pretprodaji u kafeu Šikarica i Zaokretu po ceni od 800 dinara.
Svaka generacija ima svog lidera, onog koji vidi celu sliku i koji zna da prepozna trendove, želje publike i senzibilitet muzičara koji ga okružuju i to sve zapakuje u pesme i albume koji će biti "uputstvo za upotrebu" za generacije koje dolaze. Chris Eckman je taj, onaj koji spaja Neila Younga i Toma Verlaina, Boba Dylana i Stevea Wynna, afrički bluz sa sevdalinkom, slovenački pop sa "amerikanom".
U Beograd se vraća ovog proleća sa svojim slovenačkim bendom The Frictions, koji čine Bernard Kogovšek (gitara), Tomi Popit (bas) iz benda Hic et Nunc kao i Luka Salehar iz benda Silence. Njihov prvi studijski album "Halogen Sky" objavljen je 2012. godine, a novi bi mogao da nas obraduje do kraja ove.
Kada su nastupili u Gun Clubu 2012. godine, Žikica Simić je za njihov koncert napisao: "Superiorni trip kroz rok mitologiju. Kris Ekman i momci iz benda The Frictions su se predstavili kao Montezumini sinovi – ako prihvatimo Jangovu mitologiju. Bez mane i straha šibaju glavnom rokerskom ulicom."
Chris Eckman je osnivač, multi-instrumentalista, glavni vocal uz Carlu Torgerson kao i autor svih pesama u kultnom indie/folk/rock bendu The Walkabouts. Od nastanka 1983. godine do danas The Walkabouts su objavili dve desetine albuma za ugledne izdavače kao što su Sub Pop, Glitterhouse i Virgin. Eckman je Srbiju često posećivao tokom poslednje decenije, a nastupao je i sa The Walkabouts ili samo sa Karlom Torgensen – kao Chris & Carla – ili sa nekim od svojih balkanskih projekata ili muzičkih partnera (The Frictions, Žiga Golob). Ekman je radio i kao producent sa grupom Bambi Molesters, a sa članovima tog kultnog benda, imao je/ima zajedničku grupu The Strange. Producent je bio nekoliko vanserijskih albuma svojih prijatelja Stiva Vina (Steve Wynn) i Willard Grant Conspiracy. Član je i Dirtmusic, koji pored njega čini i Hugo Race (ex-Bad Seed ).
I ovim koncertom obeležavamo 15 godina Pop Depresije, u saradnji sa Kišobranom i Odličnim hrčkom.