Beograd, Četvrtak 7. jul 2016
---
Hvala svima. Na svemu. Koki i Demjan su srca dva, ali bez publike koja učestvuje na onakav način, sve ovo nema baš nekog smisla. Hvala što ste bili i jeste tu <3
Idemo u nove avanture sa žutim čarapama i tufnama!
---
---
---
Foto: Andrea Vajda Bauk
Mesto:  Dom omladine Beograda, Velika sala
Event: https://www.facebook.com/events/754424767991384/
Tags: Damien Jurado, Heather Woods Broderick, Josh Gordon, Vladimir Kolaric, Studio Baukova Soba, Jovan Jocic,  Kišobran, Odlican hrcak,  Pop Depression // Pop Depresija

---
Pre koncerta posetila nas je i ekipa Kulturnog dnevnika RTS-a. Demjan je dao mali intervju i snimili su deo tonske probe.
---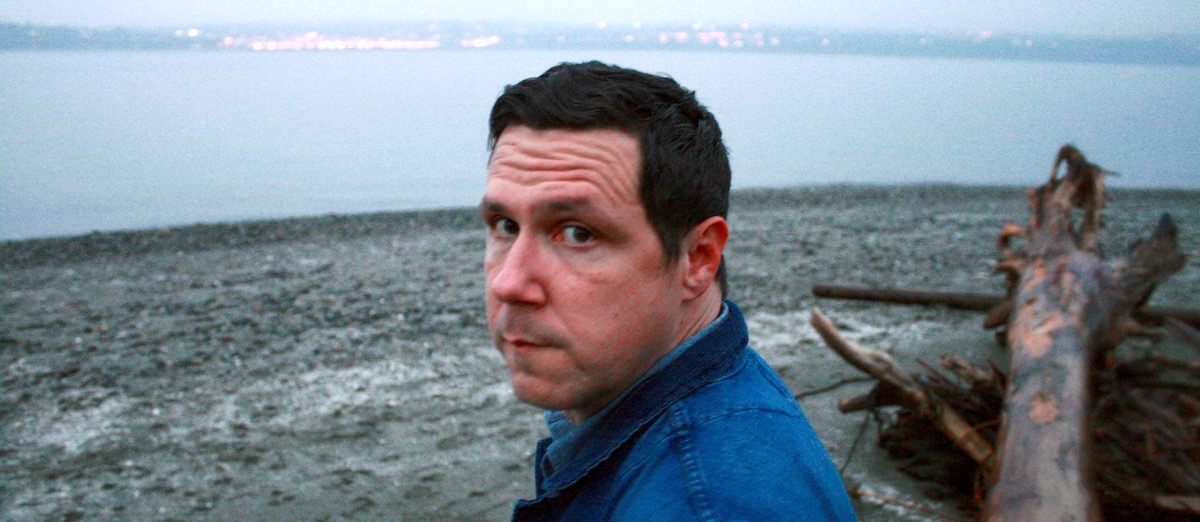 Posle dve godine jedinstveni Damien Jurado se u sredu 6. jula vraća u Beograd. Muzičar, pesnik i slikar iz Sijetla u Srbiju dolazi da promoviše svoj novi studijski album, "Visions Of Us On The Land", kojim je kompletirao "Maraqopa" trilogiju. Album će uživo predstaviti mali akustični bend, koji uz Jurada čine Heather Woods Broderick (klavir i vokal – bivša članica Efterklang i Horse Feathers) i Josh Gordon (gitara). Specijalni gost na koncertu će biti Vladimir Kolarić Kole, lider Velikog prezira, koji će svoj magični muzički svet predstaviti u akustičnom aranžmanu uz poneku novu pesmu.
Rasprodate su sve karte za koncert Damiena Jurada mesec dana ranije i u skladu sa tim koncert se prebacuje iz Elektropionira u Veliku salu Doma omladine Beograda i u prodaji je od 6. juna dodatnih 100 ulaznica po ceni od 1500rsd. Ulaznice su u prodaji u Zaokretu i kafeu Šikarica, na svim prodajnim mestima Eventim Serbia, kao i blagajni DOB-a, a karte mogu da se kupe i na svim punktovima DD Tickets (WinWin radnje), kao i online preko www.ddtickets.rs. Ako nešto od ulaznice ostane, na dan koncerta cena karte će biti 1800. Više neće biti proširivanja kapaciteta. Vidimo se 🙂
U sredu 6. jula imaćemo priliku da uživo vidimo i čujemo umetnika koji je u stanju da očara tako različite ljude: od genijalnog italijanskog reditelja i pisca Paola Sorentina (Sorrentino), ili uvek spremnog na eksperimente Mobija (Moby), preko neumornog Džulsa Holanda (Jools Holland) ili emotivnog "Džona Mistija" (Father John Misty), do harizmatičnog Džejsona Izbela (Jason Isbell)… Bez obzira na godine, iskustvo, emociju svi oni na Džuradove (Jurado) pesme reaguje srcem, a to je i dalje jedini način da se muzika sluša.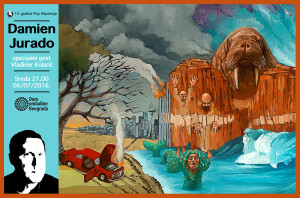 "Visions Of Us On The Land", Juradov 12. studijski album, nastao je u saradnji sa producentom i multi-instrumentalistom Richardom Swiftom, sa kojim je stvorio i albume "Maraqopa" (2012) i "Brothers and Sisters of the Eternal Son" (2014), a kompletira priču o autsajderu koji je prinuđen da napusti civilizaciju kako bi otkrio neke univerzalne istine.
Kao i svako veliko umetničko delo, "Visions Of Us On The Land" je priča o ljubavi i smrti, putovanje u podsvest, zvučna mapa bez tačno ucrtanih lokacija, puteva i orijentira, koja svakim novim slušanjem ili putovanjem otkriva svoj novi deo.
Damien Jurado kaže da oni koji mogu da vam pomognu u tom otkrivanju sebe i tajnih lokacija na mapi su: Syd Barrett, The Twilight Zone, Zabriskie Point, Blade Runner, The Martian, Captain Beefheart, The Cramps, Bo Diddley, The West Coast Pop Art Experimental Band, Linda Perhacs i Gordon Lightfoot.
Ovo je poslednji koncert u okviru obeležavanja jubileja "15 godina Pop Depresije".