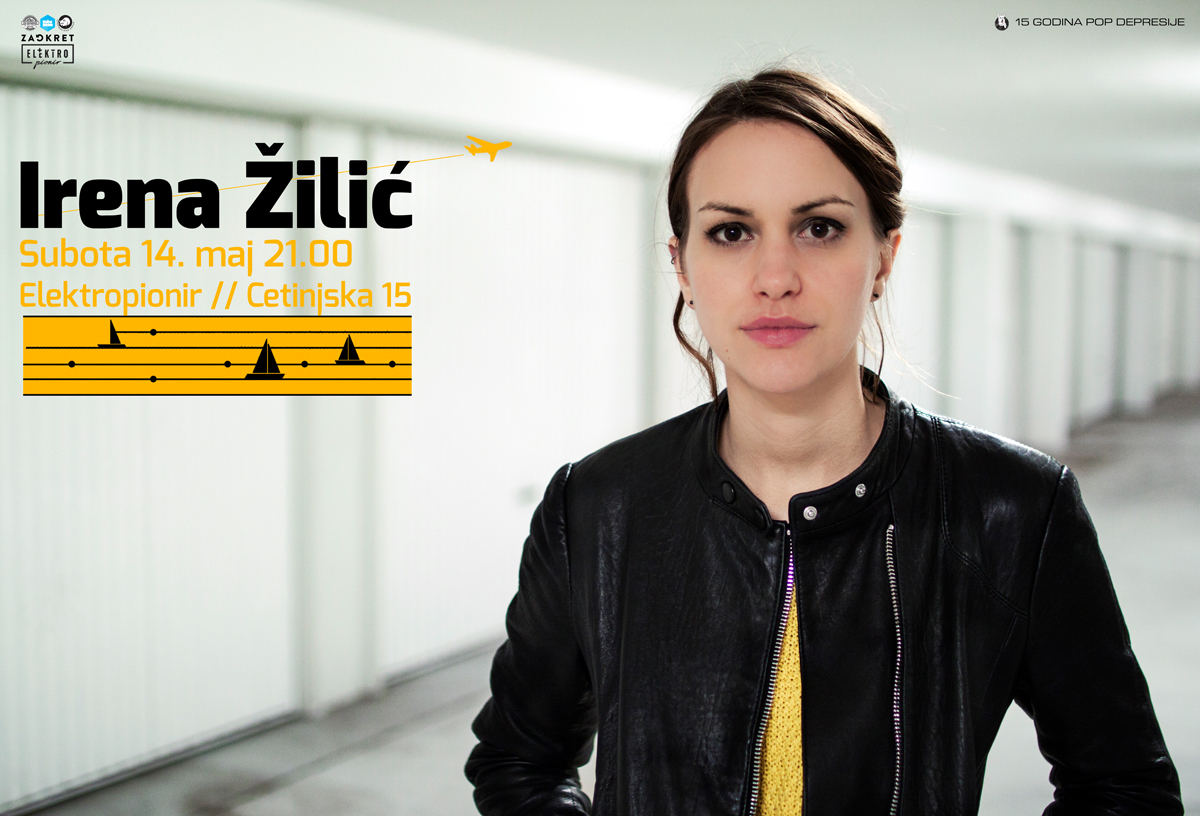 U subotu 14. maja u 21h u klubu Elektropionir nastupiće talentovana kantautorka iz Zagreba Irena Žilić. U društvu Ane Ćurčin, Nine Romić, Sare Renar, Ike, Lovely Quinces… Irenine pesme i glas zrače posebnom energijom i toplinom, a ovo će biti prilika da premijerno čujete nove pesme koje će se naći na njenom drugom studijskom albumu.
Specijalni gost na koncertu je Jovanovic. Njegov anti-folk, anti-pop, anti-blues i anti-sve muzički izraz je pravi izvor lepih slika i osećanja. Jovanović samo što nije objavio drugi album, biće anti-hitova, sigurno 😉
Pop depresija i Kišobran vas pozivaju da prisustvujete koncertu koji će vas odvesti na jedno magično putovanje u sopstvene snove i u kojem ćete uživati, smejati se, možda i plakati, ali sasvim sigurno – koje nećete zaboraviti.
Ulaznice za koncert će biti u prodaji u drugoj polovini aprila.
Pre godinu i po dana Irena Žilić je objavila fantastični debi album "Travelling", pre toga publici se predstavili EP izdanjem "Days of Innocence" koji je takođe naišao na jako dobre reakcije kritike i publike.
Početkom 2016. godine "Travelling" je objavljen i na "crystal clear" vinilu, i ovo će biti idealna prilika da častite sebe i svoju kolekciju ploča.
Ovo je treći Irenin koncert u Beograd, tokom 2015. godine nastupila je u Treehouse centru, a potom i kao headliner na festivalu Americana Night.
Priča o Ireni Žilić verovatno je jedna od najlepših priča ispričanih na regionalnoj muzičkoj sceni u poslednje vreme. Pre nešto više od dve godine pojavila se iznenada i predstavila svojim EP-em "Days Of Innocence" i u rekordno kratkom vemenu oduševila i kritiku i publiku. Od potpuno nepoznate muzičarke koja je nenametljivo i gotovo sramežljivo javnosti ponudila svoje pesme, Irena postaje kantautorka o kojoj se priča, proriče sjajna budućnost i, ono najvažnije, koja se sluša. Sve brojniji fanovi sa nestrpljenjem su iščekivali njen prvi album, a 30. septembra 2014. čekanju je došao kraj. Na vlastitoj etiketi Cuckoo, Irena je objavila debitantski album "Travelling", na kojem je 11 predivnih, toplih i melanholičnih pesama. Onih pesama koje nepogrešivo pogađaju direktno u srce. Reakcije kritike ponovo su bile jednoglasne pohvale, a mnogi Irenu svrstavaju uz bok najboljim svetskim izvođačima na kantautorskoj sceni i predviđaju joj uspeh van granica regiona. Album "Travelling" našao je svoje mjesto na vrhovima praktično svih izbora najboljih albuma godina u regiji.
https://www.facebook.com/irena.music/
https://irenazilic.bandcamp.com/