.:: Pop Depresija predstavlja "Kosmičku američku muziku" ::.
Četvoročlani sastav iz Portlanda Richmond Fontaine došao je do kraja svog neverovatnog puta posle 22 godine postojanja. U tu čast objavio je početkom proleća 2016. svoj poslednji – jedanaesti – studijski album "You Can't Go Back if There's Nothing To Go Back To" (Fluff & Gravy Records/Decor). Još jedno remek-delo dobilo je brojne pohvale, a prestižni engleski muzički magazin Uncut Magazine mu je dao ocenu 9/10. U okviru oproštajne turneje Richmond Fontaine jedan od poslednjih koncerata u karijeri održaće u Beogradu, u sredu 2. novembra u Elektropioniru. Ulaznice za koncert će biti u prodaji od 19. septembra.
https://www.youtube.com/watch?v=8mBnMVA2WnA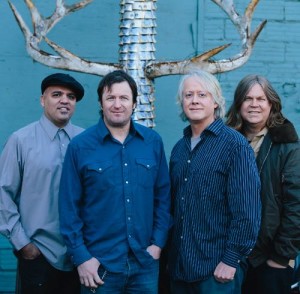 Richmond Fontaine predvodi jedan od najtalentovanijih pesnika i pisaca Amerike Willy Vlautin, koji je do danas objavio četiri romana, a po njegovom književnom debiju "The Motel Life" snimljen je film u kojem su glavne uloge imali Emile Hirsch, Stephen Dorff i Dakota Fanning. Muzika koju RF sviraju je mešavina The Rolling Stonesa, Greatful Dead, Neila Younga, Boba Dylana… ali sa potpuno drugačijim senzibilitetom i stihovima koji iz ponekad običnih priča iz života stvaraju pop hitove ili kantri soul valcere. Beskrajni putevi, pustinja, jeftine motelske sobe i usamljeni ljudi koji u njima odsedaju su krajolik i protagonisti pesama Richmonda Fontainea.
Vlautin, koji je pevač, gitarista, tekstopisac i romanopisac, odrastao je uz muziku Husker Du, The Replacements, The Blasters… čiju je energiju i pankerski stav znalački spojio sa svojim urođenim talentom za melodiju i na sve to dodao svoje iskrene "karverovske" priče o životu američkog severozapada.
2012. godine Willy i Dan su kao Richmond Fontaine Duo posetili Gun Club, a sada u punom sastavu dolaze da se oproste od svoje publike uz kantri-rok zabavu koja će se dugo pamtiti.
Recenzije poslednjeg albuma: http://www.metacritic.com/music/you-cant-go-back-if-theres-nothing-to-go-back-to/richmond-fontaine
https://www.youtube.com/watch?v=QAzVhyOB4y4