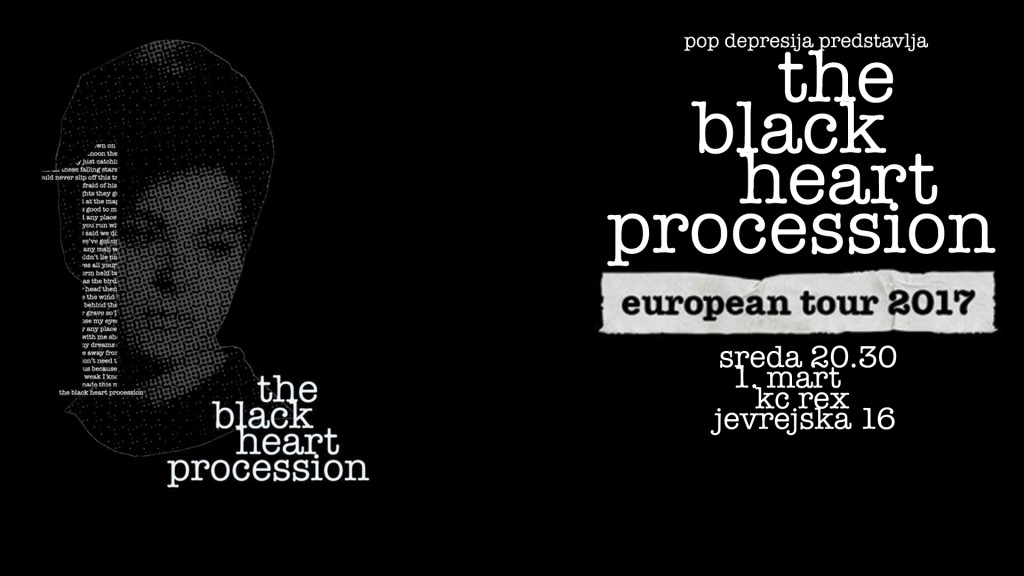 Pop Depresija
vas poziva na koncert američkih indie veterana
The Black Heart Procession
, simbola izdavačke kuće
Touch and Go
, koji će veliku evropsku turneju u čast godišnjice izlaska debitantskog albuma početi koncertom u Beogradu, u KC Rex, u sredu 1. marta.
Ulaznice će biti u prodaji po promo ceni od 1000 dinara od srede 25. januara u
Zaokret
u (Cetinjska 15).
Tokom godina postava The Black Heart Procession se menjala baš kao i njihova muzika, proširivala i smanjivala po potrebi, ali uvek je u srcu svega ostajala hemija između Pola Dženkinsa (Pall Jenkins) i Tobijasa Natanijela (Tobias Nathaniel). Ta hemija je stvarala muziku koja prkosi vremenu i žanrovima, ali i koja je duboko emotivna, uzbudljiva i inspirativna.
Za one koji vole istoriju sve je počelo od grupe Three Mile Pilot, koja je 1997. odlučila da ode na produženi odmor, a pevač/gitarista Pol i multi-instrumentalista Tobijas su krenuli dalje mračnijim, eklektičnim putem kao The Black Heart Procession. Tokom tog puta BHP su za jedanaest godina, kao putokaze drugima, usput ostavili šest studijskih albuma i više EP izdanja.
Danas, dvadeset godina kasnije, Pol i Tobi i internacionalni bend specijalno okupljen za ovu priliku, kreću na turneju u čast izlaska prvog albuma BHP, koji će svirati od prve do poslednje pesme, plus još poneku pesmu sa kasnijih ploča.
The Black Heart Procession vas pozivaju na jedinstveni događaj: "Pridružite nam se da se zajedno smejemo, plačemo i da se oslobodimo svih grehova bar na trenutak. Zajedno, mi možemo da ozračimo čitav svet."