Looking for Mr. Goodbar (1977)
Drugi broj filmskog mesečnika "Kinoteka" objavljen je tokom februara 2017. Svetlana Đolović je pisala o muzici iz filma "Looking for Mr. Goodbar", koji je bio na repertoaru Kinoteke u vreme izlaska broja.
---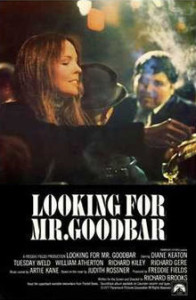 LOOKING FOR MR. GOODBAR (1977)
Režija: Ričard Bruks
Originalna muzika: Arti Kejn
Piše: Svetlana Đolović
Sedamdesete su bile izuzetna decenija za film, to znaju i vrapci na grani. Ali kad krenemo da analiziramo svaku godinu pojedinačno, teško je ne biti deprimiran aktuelnim stanjem u sedmoj umetnosti. Srećom, tu je Kinoteka! Te lude sedamdesete: kakvo nadahnuće, kakva raznovrsnost tema i žanrova, kakva dovitljivost u realizaciji priča, kakvi vrhunski glumački dometi, kakve snažne autorske ličnosti, kakva nesputanost i kakav izuzetan komercijalni potencijal – neponovljivo! No, previše bi bilo za jedan tekst da i približno obuhvati grandioznost sedamdesetih na filmu, zato ćemo se ovog puta pozabaviti samo jednom godinom i samo jednim, i to kultnim filmom iz nje.
Te 1977. na blagajnama su vladali Džordž Lukas i Stiven Spilberg, Dejvid Linč je snimio svoj prvi, a Luis Bunjuel poslednji, Robert Altman najenigmatičniji, a Vudi Alen svoj najbolji film, i delovalo je da nema priče koja ne može da se ispriča, a da ne bude originalna i uspešna. Naučna fantastika, horor i filmovi katastrofe su dominirali, ali bilo je mesta i za 'tople ljudske priče' u režiji Herberta Rosa. 1977. prikazala je sami vrhunac disko ere trijumfom 'Groznice subotnje večeri', a sa njom zagolicala i neke značajne fenomene tog vremena.
U senci svih ovih izuzetnih i popularnih dometa 1977., ili bolje reći, između dva konkretna, već spomenuta filma (Eni Hol i Groznica subotnje večeri), nalazi se jedan ništa manje sjajan, koji, kada uzmemo u obzir današnje stanje sveta i ljudskih odnosa, tek dobija na težini i aktuelnosti, potvrđujući onu staru, da je i pored najmaštovitijih scenarija 'život čudniji od fikcije'.
Film 'Looking For Mr. Goodbar' spada u kultne klasike sedamdesetih, kao jedan od onih uznemirujućih, provokativnih filmova koji su pre svega atmosferom, ali i beskompromisnim pristupom priči, savršeno dočarali epohu post-seksualne revolucije u Americi, najavljujući njene dramatične posledice – emotivnu konfuziju i otuđenost pojedinca, te epidemiju seksualno prenosivih bolesti, naročito AIDS-a. Iskusni holivudski reditelj Ričard Bruks prihvatio se, posle odbijanja Majka Nikolsa, Sidnija Polaka i Romana Polanskog, da adaptira i režira istoimeni književni bestseler Džudit Rosner, inspirisan stvarnim događajima, kada je dvadesetsedmogodišnja nastavnica Rozen Kvin brutalno ubijena u svom stanu u Njujorku, tokom novogodišnjih praznika 1973. Uverljivosti Bruksove verzije priče doprinela je i temeljna priprema koja je uključila intervjuisanje 600 žena koje su pročitale knjigu, da bi stekao što bolji uvid u to šta je svakoj od njih bilo najintrigantnije u vezi sa likom i sudbinom mlade nastavnice.
Ovo je jedna od najboljih uloga Dajen Kiton, koja je u to vreme bila na vrhuncu karijere. Te godine dobila je Oskara za 'Eni Hol', ali je uloga u 'Goodbaru', prikazala još jednu stranu njenog talenta i jedinstvenog glumačkog senzibiliteta. Čak se reditelj Bruks u jednoj sceni poigrava sa njenim zvezdanim statusom – dok sedi u baru i čita 'Kuma', prilazi joj Ričard Gir sa komentarom 'Gledao sam film, Al Paćino je baš faca'. Lakoća, šarm i preciznost kojim je Dajen Kiton oživela lik jedne frustrirane, osujećene i naivne mlade žene, željne slobode od konzervativne porodice, posesivnih muškaraca i licemernog društva, nikoga neće ostaviti ravnodušnim. 'Goodbar' je praktično lansirao karijere tri mlada holivudska debitanta – Toma Berindžera, Ričarda Gira i Brajana Denehija.
Da muzika nema vrlo značajno mesto u ovom filmu ne bi bilo ni ovog teksta. Počev od špice, sačinjene od dokumentarističkih crno-belih fotografija koje prikazuju scene iz noćnog provoda, preko sjajnih sekvenci gluvarenja i 'lova' po klubovima za samce, u kojima se čuje kolaž prigodnih disko-soul hitova, do džeziranih ambijentalnih tema koje slikaju teskobu i neizvesnost urbanog preživljavanja u eri sveže ženske emancijacije, muzika je sjajno dočarala duh vremena i pratila raspoloženja i seksualni život junakinje.
Nekoliko meseci pre izlaska 'Groznice subotnje večeri', 'Mr. Goodbar' je uvrstio na saundtrek neke od najvećih disko i soul hitova tog vremena – od Done Samer (Could It Be Magic i Try Me), Telme Hjuston (Don't Leave Me This Way), Dajane Ros (Love Hangover) preko Bila Vitersa (She's Lonely), Commodores (Machine Gun), do O'Jays (Backstabbers) i Boza Skegsa (Lowdown). Muzika predstavlja svojevrsnu protivtežu turobnoj temi filma, pozivajući na beg od stvarnosti i samozaborav. Posebnu poslasticu predstavlja pesma napisana specijalno za film – 'Don't Ask To Stay Until Tomorrow' koju je otpevala velika soul pevačica Marlena Šo. Pesmu je, kao i ostatak originalne muzike, komponovao Arti Kejn uz izuzetan i prikladan tekst koji je napisala Kerol Konors, jedna od prvih saradnica Fila Spektora, jedna od prvih devojaka Elvisa Prislija i koautorka čuveke teme iz filma 'Roki' ('Gonna Fly Now'). Pesma se u instrumentalnoj verziji provlači kao lajt motiv celog filma. Gorka samospoznaja ili strah od razočarenja uvijeni u zavodljivu melanholičnu melodiju dali su jednu od najtrezvenijih (i najciničnijih) ispovesti u popularnoj muzici. 'Don't Ask To Stay Until Tomorrow' je prava anti-romantična himna.
'Looking For Mr. Goodbar', nazvan je po čokoladi poznatog američkog proizvođača Heršis, simbolišući potragu za uživanjem, bezbrižnošću, slatkim životom. Kraj filma predstavlja jednu od najdramatičnijih scena sukoba dvoje likova, u najboljoj tradiciji velikih horor filmova te decenije. 'Goodbar' je i danas , 40 godina kasnije, neverovatno moderan, angažovan, važan film, da nas podseti gde smo stigli kao pojedinci i društvo. 'Sloboda da se ode do đavola', 'svi samo traže lek protiv bolova', 'jedan je previše, milion nije dovoljno' samo su neke teme filma koji neprestalno tera na razmišljanje i razumevanje drugog i drugačijeg.
Među razlozima da pogledate ovaj film na repertoru Kinoteke ovog meseca, važan je i taj što praktično ne može da se nađe na DVD-u (prvobini jako mali tiraž je brzo rasprodat, a kopija je upitnog kvaliteta) – tako da je veliko filmsko platno i projekcija sa filmske trake nije sentimentalnost nego neminovnost. Ne propustite!