Kralja Čačka – Zemlja snova (PD008)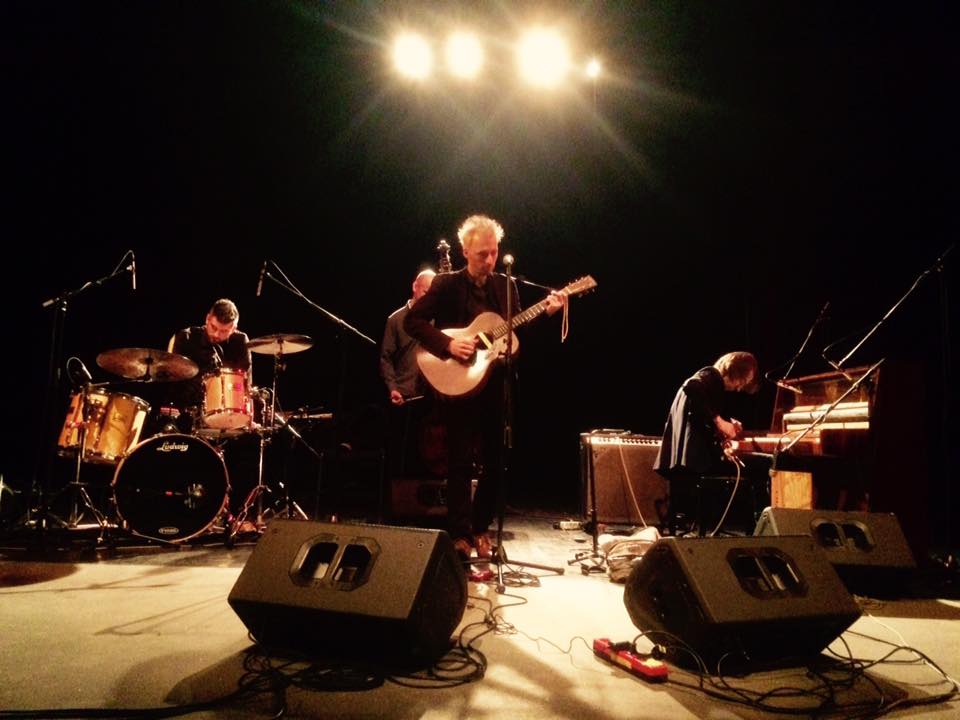 Debitantski album Kralja Čačka "Zemlja snova" dostupan je od 19. decembra 2016. za preslušavanje i preuzimanje na svim digitalnim platformama. Album je zajedničko izdanje Pop Depresije i Odličnog hrčka, a CD izdanje će biti u prodaji na velikom beogradskom koncertu u Domu omladine Beograda 22. decembra.
Od sledeće nedelje biće dostupan u svim muzičkim prodavnicama u zemlji, kao i preko sajta izdavača. Izuzetno smo ponosni zbog ove saradnje i zajedničkih planova koje želimo da ostvarimo.
Album će biti dostupan za "plati koliko želiš" preuzimanje i na bandcampu Pop Depresije.
---
Intervju sa Nenadom Marićem /"Kralj Čačka"/

---

Šta je za tebe Zemlja snova? Mesto iz mašte ili neki san koji može da se ostvari? Da li uopšte misliš da ironija i metafore mogu da se shvate na prvo slušanje pesama?
Da, to je metafora i ironija u isto vreme za mesta iz stvarnosti, a shvatanje zavisi od percepcije slušaoca. Da li će biti na prvo ili peto ili stoto slušanje, ili uopšte neće biti, ne znam, pretpostavljam da zavisi od frekvencije na kojoj se slušalac i pesma nalaze.
Pesme na albumu su žanrovski različite, ambijent ide od bluza do šansone, u kom se ti okruženju osećaš najprijatnije?
Muziku za svoje pesme pokušavam da izvučem iz samih tekstova, odatle i dolazi žanrovska šarolikost, a bluz je često prisutan kao stanje.
Kada bi morao da izabereš jednu pesmu sa albuma da se predstaviš nekome ko nikada nije čuo Kralja Čačka, koja bi to pesma bila i zašto?
Sve pesme me određuju, ali ako bih baš morao da biram onda bi to bila pesma ''Na margini'' jer odatle je sve krenulo.
Tokom poslednjih meseci bend se potpuno definisao i stabilizovao u sadašnjoj postavi. Predstavi momke i šta je emocija koju svaki od njih donosi u pesmama
Za bubnjevima je gospodin Igor Božić, svojim ritmom unosi nemir i stabilnost – kad je to potrebno. Zatim gospodin Miladin Stojković za kontrabasom, snažna harmonsko-ritmička podrška, gospodin Marko Marić za klavirom i el. gitarom, svojom šarolikom ulogom obogaćuje aranžmane i doprinosi ekspresiji pesama.
Često te porede sa Tomom Vejtsom, drugi pominju Đođa Balaševića, treći Džonija Štulića ili Boru Đorđevića… U svim tim licitacijama imenima ostaješ nekako svoj i autentičan. Kada bi ti isticao uzore, ko bi to bio i šta ti se kod njih najviše dopada.
Tom Waits, Bob Dylan, Leonard Cohen, Nick Cave, Howlin Woolf, Zvonko Bogdan, Arsen Dedić, Toma Bebić, Dado Đurić, Kurt Weill, Bertolt Breht, Louis Bunuel, Federico Felini, Ingmar Bergman, Robert Jonson, Howe Gelb, Giant Sand, Fernardo Pesoa, K.G.Jung, Žan Bodrijar, Bela Hamvaš kao i još mnogi drugi čija dela su uticala i utiču na mene.
Šta ćeš svirati na koncertu u DOB-u i da će biti i pesama koje nisu ušle na album?
Naravno, sviraćemo pesme sa prvog albuma i pesme sa narednih još nesnimljenih albuma.
Samo par meseci će deliti izlazak knjige poezije i prvog albuma Kralja Čačka. Šta se u tebi promenilo ove godine, Kralj kao da je spreman da preuzme tron koji mu se dugo nudi… Da li to znači da si sada konačno sazreo kao muzičar, pesnik i pevač?
Ove godine, izašla je zbirka pesama i konačno debi album, sa kojima sam zaokružio deo svog stvaralaštva, samim tim odnos prema onome što radim postaje zreliji i ozbiljniji, naravno, takvom procesu nema kraja.
Šta su planovi za 2017. godinu?
Više svirati. promovisati album i pripremiti se za snimanje novih pesama koje odavno čekaju da budu snimljene.
---
KRALJ ČAČKA PRESS RELEASE
---
Kralj Čačka (za neke poznat i kao Nenad Marić) rođen je u Čačku 1979. godine. Diplomirao je 2006. na Fakultetu likovnih umetnosti u Beogradu. Od 2004. godine bavi se kantautorskim radom pod pseudonimom Kralj Čačka. Kojih deset godina kasnije najzad je izašao na glavnu muzičku scenu Beograda, Srbije i sveta singlom "Moj Avatar". Dve godine i više desetina koncerata kasnije, u okviru izdavačke kuće LOM objavio je prvu zbirku poezije "Na margini", a par meseci kasnije i prvi studijski album "Zemlja snova" (u izdanju Pop Depresije i Odličnog hrčka), da podvuče crtu, obraduje fanove i oslobodi mesto za nove pesme, nove priče i sudbine.
Neke stvari se znaju i znaće se: da je Kralj Čačka u stvari Kralj blata i da je Deda mraz švorc i da vodio bih ljubav s tobom da nismo izgubili reč i da ja grlim te jako sa puno nežnosti i da ljude nije briga ni za nebo ni za cvet i da ti ne dođe isto veče već ti dođe predveče…. Ali, sada je vreme za nove avanture, nove koncerte, nove pesme i (što da ne?) novi album.
Za mnoge posetioce njegovih koncerata, dileme nema: Kralj Čačka jeste nekrunisani vladar muzike koju je teško svrstati u neku kategoriju. Istina je da se pojavljuje se u bljeskovima i svakim novim izvođenjem iznenadi time koliko je muzika u stvari i isključivo pitanje ljubavi i emocija. Njegova inspiracija leži u onom, za mnoge, savršenom skrovištu: između najdubljih emocija i umetnosti sviranja, između noći u zadimljenom baru i jutra koje menja sve, između muzike putujućih trubadura i tananih jazz melodija. Iz tog skrovišta Kralj Čačka izlazi na glavnu ulicu i vodi nas sa sobom na put oko sveta. Za one koji vole reference, muzika Kralja Čačka predstavlja mešavinu džeza, rokenrola i šansona, a nije mali broj onih koji ga nazivaju "srpskim Tomom Vejtsom".
"Kralj Čačka je, zapravo, car. Sa imperatorskom lakoćom vlada carstvom umetnosti, lepote i muzike. "Ne plačem ja da bih suzu pustio/već plačem ja da bih zlo potopio" piše na kapiji kojom se ulazi u njegovu imperiju. Opasnom magistralom – preko raskrsnica i pored stranputica – sa gitarom preko ramena, kao junak starih dobrih filmova, Kralj je stigao na rok scenu. Sa sobom je doneo mudre, lepe i gorke pesme, u kojima se iskrenost i autentičnost oštro suprotstavljaju izopačenostima ovog vremena. Pararokerske muzičke idiome – kao što su kabaretska pesma, ulični moritat, kantri lament, bluz žalopojka ili pozorišni song – prilagodio je svojoj umetničkoj viziji," napisao je Žikica Simić.