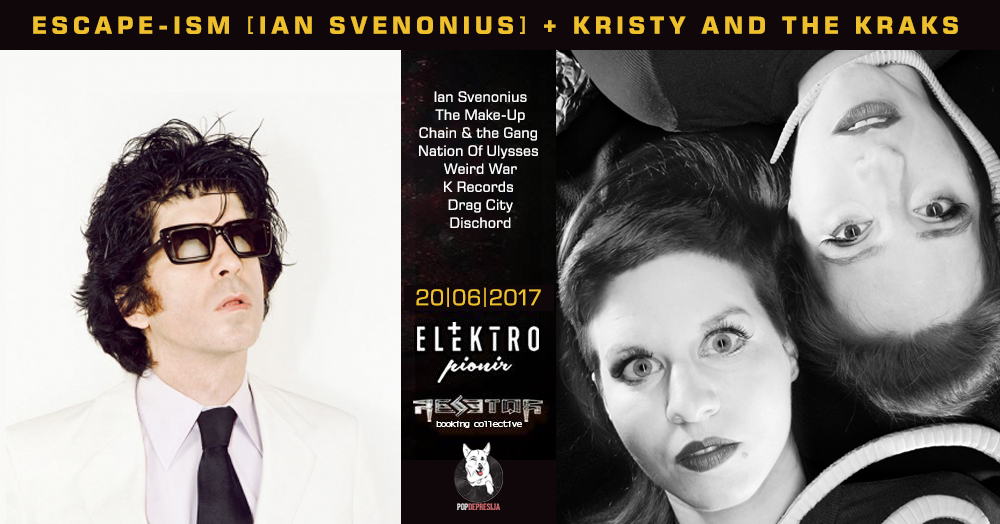 Resetor i Pop Depresija predstavljaju: Ian Svenonius as ESCAPE-ISM + Kristy And The Kraks Utorak, 20. jun 2017, 20:30h, Beograd, Elektropionir
★★★★★★★★★★★
Rokenrol božanstvo Ian Svenonius dolazi u Beograd u utorak 20. juna! Legendarni pevač grupa The Make-Up, Chain and the Gang, Nation Of Ulysses…, pisac kultnih knjiga ('The Psychic Soviet,' 'Supernatural Strategies for Making a Rock 'n' Roll Group,' 'Censorship Now!!'), filmski autor ('Launching of the Dream Weapon,' 'What is a Group?,' 'The Seduction of Paolo Hewitt') i borac za slobodu misli predstaviće svoj "live kolaž" ESCAPE-ISM, koji je ritualni lament u slavu AM-FM radija. Svenoniusu u ovom ritualu pomažu beat box, razne muzički isečci, delići sportskih prenosa, najave radio voditelja, zvuci sa ulice, spavaćih soba, škola, brojni instrumenti, efekti, semplovi… Kritičari su u oceni ESCAPE-ISM-a jednoglasni: "Nisam video ništa! Gledam samo svoja posla i ne želim probleme!"
ESCAPE-ISM je originalno dizajniran kao zvučni kolaž u okviru promocije Svenoniusuve knjige "Supernatural Strategies for Making a Rock 'n' Roll Group" (2013 Akashic), ali je od tada do danas potpuno mutirao, raspao se i ponovo sastavio i sada mu je prirodno stanište rokenrol koncerti, umetničke instalacije, razne izborne i druge konvencije i slični inspirativni događaji.
Kristy And The Kraks je (dvoglavo) dete ljubavi Kate Kristal i Ana Threat, koje samo pravi haos u glavama ljubitelja analogne muzike, klabera i vinil frikova od Beča do Čikaga. Gitara i bubanj, dva glasa, energija dovoljna da vas oduva i muzika koja u sebi spaja Fila Spektora i the Shangri La's i esenciju panka uz naklon na jednu stranu Billyju Childishu, na drugu The Cramps.
Prvi deo karata po promotivnoj ceni od samo 600 dinara možete kupiti u Zaokretu (preko puta Elektropionira, radno vreme: 9~23h). Za one koji žive VAN Beograda: preko resetorbooking@gmail.com možete izvršiti rezervaciju ulaznica po ceni od 800 dinara koliko će koštati u redovnoj prodaji. U pismu obavezno navesti ime, prezime, količinu karata i broj mobilnog.