Baobab – "Naše vreme" (PD014)
Baobab i Pop Depresija imaju tu čast da vam predstave "Naše vreme", treći studijski album grupe iz Arilja. Sedam pesama čini "Naše vreme", među njima su i zapaženi singlovi – "U gradu koji tone" i "Znak", a ova kolekcija pesama nastala je u saradnji sa muzičarima iz Arilja, Ivanjice, Požege i Užica.

Vladimir Skočajić Skoča, autor Gistro FM radio emisije za "Naše vreme" je rekao:
"Nekad me podseti na Wilco, nekad na Nila Janga, nekad na War on Drugs, a najčešće na Baobab. Da se ja pitam, stihove prvog singla "Kako sjajnih ljubavi ima / U gradu koji tone, u zemlji koje nema" promuvao bih u himnu ove nesrećne zemlje. Čisto savršenstvo."
Baobab svira muziku koju voli i koju oseća. Nekada je to klasičan pop, nekada omaž Nilu Jangu, nekada pokušavamo da ukrotimo huk Rzava, a nekada smo samo srećni što imamo priliku da radimo to što volimo. Nadamo se da ćete pronaći nešto što se i vama dopada.
Album je dostupan kao besplatno ili "plati koliko želiš" izdanje na bandcampu https://baobabarilje.bandcamp.com i https://popdepression.bandcamp.com, a tokom decembra i na svim digitalnim platformama, kao što su Deezer, Spotify, iTunes, Applemusic, Tidal, Google play…
Baobab je nastao pre više od dve decenije u Arilju, a samo dve probe bile su dovoljne da Miodrag Petrović, Vladimir Korizma, Ivan Ikonić i Dejan Đuković napišu i odsviraju prve pesme. Vreme je prolazilo, kvartet je postao trio, a zvuk se menjao od "garažne buke" do klasične pop pesme. Prvi album objavljen je 1998. godine – a "Pesme iz babine kuće" (DIY) praktično nije ni promovisan, samo su kasete podeljene prijateljima i lokalnoj radio stanici. Sledilo je par godina pauze, trio je postao duo, gitar i bubanj, mada bi se ponekad neko od prijatelja priključio. 2004. godine u grupu dolazi Goran Jevtović koji postaje stalni član. Svirke postaju češće, a onda, na neki volšeban način zaboravljeni prvi album dolazi do novih generacija. Klinci koji jedva da su bili i rođeni u vreme nastanka benda dolaze na svirke i znaju pesme. Njih nema puno, ali su uporni u ideji da motivišu bend da ponovo uđe u studio.
Baobab 2010. godine objavljuje maksi singl "Dve leve noge", koji je dospeo na skoro sve relevantne liste koje se bave domaćom rok muzikom. A onda nove personalne promene, snimanja u Digimediji, izlazak albuma "Pogled iznad" i kao reakcija puno odličnih kritika, koncerata i nastupa na festivalima.
Krajem 2012. godine bend je, još jednom u Digimediji, snimio EP izdanja "Huk", a producent i snimatelj bio je Janko Maraš. Prvi singl/spot, "Optimizam (Jedna zaboravljena pesma)" je izašao sredinom januara 2013. godine. U martu je iznenada preminuo bubnjar benda Ljubiša Golubović, udarac od koga se bend dugo nije oporavi. Ljubiša je bio ta karika koja je povezivala ostale članove. Na mesto bubnajra opet uskače Ivan Blagojević, a EP "Huk" izlazi u novembru 2013. godine.
Još par odličnih singlova, prva mesta na listama, a onda sledi period hibernacije. Frontmen Mišo Petrović je nastavio da objavljuje pesme, 2016. godine snima nekoliko solo singlova koji prolaze zapaženo kod onih koji su želeli da čuju nove pesme.
Na dan kada je objavljeno da je Bob Dilana dobio Nobelovu nagradu za književnost nastala je pesma "U gradu koji tone" i vrlo brzo je postalo jasno da ta pesma zahteva bend i cela priča je počela ponovo, stidljivije nego ikada pre – a u bend ulazi Nemanja Tomićević.
Ideja o snimanju singla sa dve-tri pesme, gde bi priču vukao "Znak", prerasla je u album "Naše vreme". Raniji albumi su snimani sa gerilskom taktikom – "ludo i brzo", a ovog puta sve je urađeno iz nekoliko sesija sa muzičarima iz Arilja, Ivanjice, Požege i Užica slagan, tako da je kao slagalica.
Prvi singl "U gradu koji tone" izašao je krajem februara, drugi "Znak" početkom maja, a onda sa prolećem i letom, neke pesme su ostale a druge došle na ovaj album.
I konačno krajem novembra 2017. je sve završeno i "Naše vreme" je tu.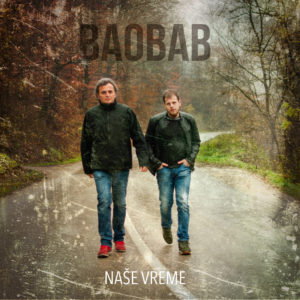 Miodrag Petrović-glas, električne i akustične gitare
Nemanja Tomićević-bubnjevi
Goran Jevtović-bas gitara i glas
Valentin Vasić-usna harmonika (1,2 i 7)
Jelica Miladinović-vokali (5)
Borko Đurić-električna gitara (5)
Nenad Božić-vokali (1,2 i 3)
Aleksandar Jovanović-klavijature (6)
muzika i reči Miodrag Petrović
produkcija Aleksandar Jovanović
snimano u studiju OFF Sevojno
fotografija Milan Obradović
omot Biljana Popović
Korisne adrese:
https://www.facebook.com/baobabarilje/
https://baobabarilje.bandcamp.com/music
https://www.popdepresija.com
https://popdepression.bandcamp.com/music