Pop Depression Piano Night mix #10 /Spring 2018/ / … April 26th 2018.
---
U sudaru tehnologije sa inspiracijom, improvizacije sa treningom, planete Island sa ostacima Zemlje, tu negde sebi svako jednom mora da postavi pitanje: Šta tačno ja radim ovde? Odgovore tražimo ili ne. Neki od nas baš vešto simuliraju zapitanost, dok neki drugi toliko iznure sebe u toj potrazi… da zaborave šta je tačno bilo pitanje. Olafur Arnalds je bio ključna inspiracija za ovaj klavirski misktejp. "Re:member" je delo čiste ljubavi uobličene primenom softvera. Nešto kao kada Bob Dilan na radiju pušta hip-hop i kaže da je to dobro za nas….
re:member || to become oneself again pic.twitter.com/b1gzr5xcHd

— Ólafur Arnalds (@OlafurArnalds) April 8, 2018
U opisu video spota za "Re:member" Olafur kaže da se on (video) bavi "elementima muškosti i istraživanjem kako muškarci izražavaju svoja osećanja". Ali, takođe i "nadom i radošću koju možemo da pronađemo jedni u drugima kada najzad uspemo da se povežemo ili kada najzad imamo nešto da podelimo." Neka osećanja jesu za poneti, a jednom ćemo naučiti i da ih iskažemo i samim tim saznamo šta nosimo sa sobom.
---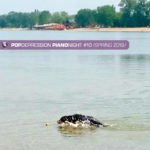 Penguin Cafe Orchestra
– Kora Kora [Union Caffe/Erased Tapes Collection IX, 1993/2018]
Ramin Djawadi – Runaway [From HBO® Westworld, 2018]
Milica Tegeltija
– Kolo [
Igra
, 2018]
Aukai – Reframe [PianoDay 2018]
Jon Hassell – Dreaming [Listening To Pictures (Pentimento Volume One), 2018]
Goldmund
– Breaking [
Occasus
, 2018]
Rival Consoles
– Be Kind [
Persona
, 2018]
Olafur Arnalds – Re:member [Re:member, 2018]
Federico Albanese – Boardwalk [By the Deep Sea, 2018]
Tim Linghaus
– Grandma's Deathbed, Pt. V (Roxy Music in the Rv) [
Memory Sketches
, 2018]
Tigran Hamasyan – Rays of Light [For Gyumri, 2018]
Mauro Canali – Rain [Canti Notturni, 2018]
Devendra Banhart – Middle Names (rework by Nils Frahm) [PianoDay 2018]
Peter Callo – Not in Words [Not in Words, 2018]
artwork photo zuma
---
Limited time DL: #10