Recenzija albuma Rib ili "kad imaš dobrog bubnjara imaš i sreću u životu"


Dve gitare i bubanj. Nešto kao Jon Spencer Blues Explosion, neko bi rekao, ali nemojte da vas taj izbor instrumenata zavara. Rib dele sa JSBX energiju i beskompromisni odnos prema muzici koju stvaraju, ali sve ostalo je potpuno drugačije. Ono što sviraju može da se opiše na milion načina, ali možda je najlakše reći rokenrol (uglavnom) bez pevanja.
Evo kako je proteklo stvaranje benda, romansirana biografija grupe Rib
"Formirali smo se u Skoplju leta 2014. Proces stvaranja išao je vrlo lako i mega produktivno. Odlučili smo nakon 10 urađenih stvari da snimimo nešto kao EP ili LP. Tada je Rib bio samo Ivica i Jane. Ivica je neposredno pre samog snimanja prvog albuma pozvao Filipa Stančevskog, bubnjara benda Siz, da usnimi bubanj na par stvari. Išlo je lako i zabavno, svirali smo nekoliko koncerta, izdali smo album na vinilu i kako je prolazilo vreme, mi smo već stvorili pesme za drugi album – "Bliss".  I ovaj album smo snimili sa Filipom, ali ubrzo potom Filip se odselio u Podgoricu. Jane i Ivica su dosnimavali gitarske delove na albumu i radili miks u istom studiju gde smo snimali i prvi album. Kada smo završili drugi album, došlo je vreme za promociju i sviranje novog materijal. Znaš da je najteže naći dobrog bubnjara! Za to ti treba više sreće nego za celi život, a kad imaš dobrog bubnjara imaš i sreću u životu 🙂 Odmah ti bend postane bolji i nemaš briga ni za šta – osim da ti bubnjar ne ode iz benda…
Pozvali smo Džana, znali smo da više nije u Bernays Propaganda i da možda može da prihvati našu ponudu od 1.000.000 denara godišnje 🙂 Na sreću svih nas, Džano je uleteo instant. Sećam se kako je na koncertnoj promociji prvog albuma bio u publici, a već na promociji drugog albuma "Bliss" bio je sa nama na bini.
Kad imaš dobrog bubnjara imaš i sreću u životu
Potpisali smo Kavanija, Džano radi sve na svakoj poziciju u bendu, 100%. To se i dokazalo na snimanju, a pre svega u kreaciji i radu na aranžmanima za pesme sa trećeg album. Oseća se ta njegova energija, kako u sviranju bubnjeva tako i u melodijskim deonicama na gitari i basu."
Rib su danas Jane Trajkovski, Ivica Dimitrijević i Džano Kuč. Dve gitare i bubanj, a Ivica svira i bas po potrebi. Svakako da kada počnete da slušate njihov treći studijski album "Rib" prvo primetite bubanj, a onda vas obuzme to zavođenje dve električne gitare, njihov dijalog, obećanja, vrištanja, smejanja i plakanja i zaboravite šta ko svira i koji je to žanr i da li je veselo ili tužno. A dobra muzika ima tu moć da vas izmesti na neko drugo mesto, da vam pobrka osećanja ili da vas natera na akciju.
Po čemu i koliko se razlikuje treći album Riba od prva dva?
"Prvi album se zove "Something Completely Different", zato što je to bilo različito i za nas same, nestandardni sastav, bez vokala. Makedonci vole da pevaju… Drugi se zove  "Bliss" zato što smo potpisali Kavanija (Džana) 🙂 Treći je "Rib" (Selftitled). Obično je taj naslov rezervisan za prvi album ili kad se nešto drastično promeni u bendu. Nama se dogodilo sve! Za nas je ovo prvi album na kojem smo posvetili dosta vremena radu na aranžmanima i pesmama. Isto tako od ovog albuma počinje da se gradi cela priča oko samog benda, našeg prijateljstva i naravno najvažnije, stvaranja muzike. Sada čekamo vinil, koj smo radili kao i prethodna dva u Nemačkoj."
Album "Rib" sniman je tokom jula 2018. godine, a ideju da snimci imaju koncertnu energiju i žestinu u pesme je pretvorio snimatelj Alen-Hadži Stefanov. Miks, produkciju i master majstorski je uradio Ben "Faz" Farestvedt.
Dobra muzika ima tu moć da vas izmesti na neko drugo mesto, da vam pobrka osećanja ili da vas natera na akciju.
"Pre snimanje trećeg albuma išli smo na turneju sa Fujiya & Miyagi – Srbija, Hrvatska i Mađarska. Koncerti su bili odlični, bili smo obostrano oduševljeni nastupima. Delili smo komplimente jednim drugima u svim mogućim situacijama. Par pesama sa trećeg albuma smo svirali na tu turneji, pa je njihov tonac, Ben Farestvedt, na jednoj tonskoj probi rekao da mu se dopada to što radimo i to posebno poslednje stvari sa set liste, koje su uglavnom bile nove iz materijala za treći album. Onda smo popričali o tome da li bi on voleo da radi s nama na tom novom materjalu… Ben je bio jako zainteresovan. Dogovorili smo se da kad god imamo nešto snimljeno da mu pošaljemo, a da on proba da uradi miks. Naš cilj je bio da, za razliku od prva dva albuma, na trećem donesemo zvuk koji donosimo na bini. To smo i dobili od Bena.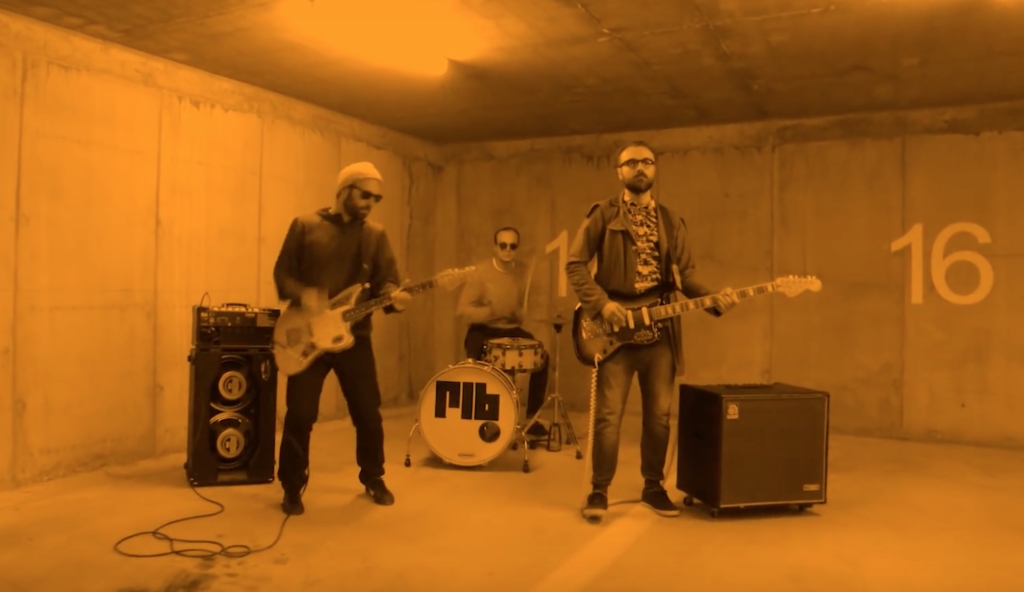 Onda smo dogovorili Alena Hadži-Stefanova, koji je glavni i jedini lik iza  legendarnog skopskog JAZZfm radija. A usput je i dugogodišnji snimatelj brojnih jazz muzičara iz Njujorka. Tamo je živeo i radio više od 15 godina. Ben je poslao par sugestija i ideje u vezi sa snimanjem, čisto da Alenu omogući da snimi kako mu je najzgodnije i da olakša Benu miks materijala.
Mi smo bili u fazonu da dobijemo miks na kojem će biti ista energija koju imamo i kada sviramo uživo. To se i desilo, zato što smo pesme snimali sva trojica odjednom uživo. Izabrali smo najbolje tejkove i poslali Benu. Za manje od tri meseca imali smo  nazad gotov materijal koj je bio fenomenalan, bez mnogo razmenjivanja mejlova, znao je Ben tačno šta mi želimo, a mi smo mu dali potpunu slobodu da radi kako on voli i zna."
Album furiozno otvara "Antilope" koja kao da je neka b-strana split singla sa beogradskim tandemom VVhile. Na nju se nadovezuje prvi singl, genijalna "Searching for Columbo" koja možda i najviše po atmosferi podseća na sinematične bogove iz Siska The Bambi Molesters. Drugi singl i jedina pesma na kojoj neko peva je klupski hit u najavi "Rotator" na kojem gostuje Dejvid Best iz Fujiya i Miyagi.
"Can Train" je road-movie gitarski klasik, a bluzoidna "Serpentine" kao da priziva Fila i Dejva Alvina da im se pridruže sa celom ekipom Blastersa s početka osamdesetih godina prošlog veka. Lični favoriti su "Chanson no. 3" i "Chanson no. 1" gde u prvi plan izbija lirika i filmičnost muzike koju prave Rib. Uz ove numere nije teško zamisliti Žal-Pol Belmonda i Anu Karinu ili Alana Delona i Žanu Moro (izaberite par kako vam drago) dok se voze kroz Bretanju nasmejani i zaljubljeni, a svet oko njih se raspada…
"Dessilusion" je onaj "Something in the way" (Nevermind) momenat na albumu, kada prestaješ da radiš sve one "druge" stvari i slušaš samo muziku. "Tå ta-ta" zove u grad, u protest, u ljude koji ne pristaju da žive tuđe živote, a album zatvara "Bl-Un Hit" koja kao da odaje počast rokenrol himni "Ever Fallen In Love" i besmrtnom Pitu Šeliju.
Mi smo bili u fazonu da dobijemo miks na kojem će biti ista energija koju imamo i kada sviramo uživo. To se i desilo, zato što smo pesme snimali sva trojica odjednom uživo.
Treći studijski album za ovaj neverovatni makedonski trio je album koji bi mogao da bude "taj". Onaj koji će da odvede bend na viši nivo i da otvori vrata koja u nemogućoj kombinatorici showcase festivala širom regiona, muzičkih urednika tih nekoliko preživelih old school medija i koncertnih promotera često ostaju zatvorena. Učinite nešto lepo za sebe i idite na koncerte grupe Rib. Ne morate da mi zahvaljujete, samo idite.