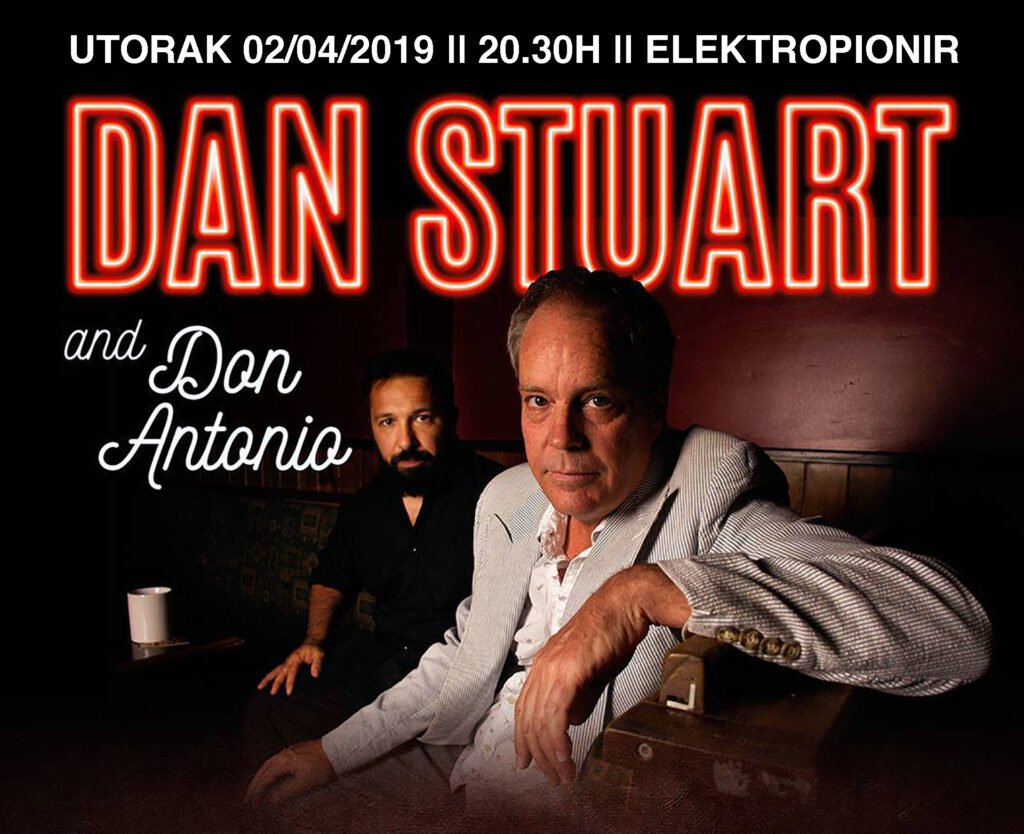 Legendarni američki kantautor i lider famoznih Green on Red – Den Stjuart (Dan Stuart) – treći put u svojoj karijeri nastupiće u Beogradu. I ovoga puta sa njim će na bini biti Don Antonio, impresivni italijanski gitarista i producent i poslednjih godina ključni saradnik Alehandra Eskoveda. Koncert će se održati u Elektropioniru u utorak 2. aprila od 20.30h.
Ulaznice su u prodaji u Zaokretu (Cetinjska 15) po ceni od 800 dinara, na dan koncerta cena karte biće 1000.
Neki koncerti moraju da se dožive da bi se shvatilo šta je to rokenrol. Den Stjuart je jedinstven kao autor, pevač, gitarista, šoumen i takav je još od osamdesetih godina XX veka. Prošlog leta objavio je roman, koji prati i dopunjuje muzički album
'The Unfortunate Demise Of Marlowe Billings" uz obaveštenje da mu je to poslednji album koji objavljuje. Marlou trilogija došla je do kraja, priče koje je hteo da ispriča je ispričao, ostalo će ionako da vam kaže diretno u lice na koncertima širom sveta.
Dena Stjuarta neko zna kao lidera Green on Red, grupe koja je blisko povezana sa Paisley Underground ekipom i početkom nečega što će se par decenija kasnije zvati "Amerikana". Za druge on je čovek koji je sa Stivom Vinom objavio manifest gitarske esencije kao Danny & Dusty. Za treće Stjuart je cenjeni solo autor koji je uživo šaman koji pred vama pretvara vodu u burbon… Tokom karijere objavio je 13 studijskih albuma.
Antonio Gramentijeri ranije je predvodio Sacri Cuori, a poslednjih godina svoju viziju instrumentalnog kosmičkog rokenrola svetu predstavlja kao Don Antonio i prijatelji. Sviao je uzduž i popreko Evropom i Amerikom zajedno sa Eskovedom, a producirao je i aktuelni album The Strange, super-grupe Krisa Ekmana i članova Bambi Molesters i My Buddy Moose. Maestro Don Antonio svirao je na tri poslednja albuma Dena Stjuarta.