POP Depression Homebrew #860 [Kejt Tempest: Knjiga zamki i životnih lekcija]
Featured: Kate Tempest, The Comet Is Coming, Lubomyr Melnyk, Nikola Vranjković, Goribor, Milena Marković, Srđan Valjarević, Kralj Čačka.

The Comet Is Coming – Blood of the Past (feat. Kate Tempest)
Kate Tempest – All Humans Too Late
Lubomyr Melnyk – Fallen Trees, pt. V: Not Forgotten
Nikola Vranjković – Zadrži svoj dah
Milena Marković – I'm only dancing*
Goribor – Bez
Kate Tempest – I Trap You
Kralj Čačka – Rolaj
Srđan Valjarević – Ljubavni poziv*
Kate Tempest – Hold Your Own
*Posebna zahvalnost Jeleni Lukić i Pavlu Živkoviću, kao i Pavlu Stašiću.
---
Kate Tempest – The Book of Traps and Lessons (American Recordings/Fiction, 2019)

"Pametniji smo nego što oni misle da jesmo. Tretiraju nas kao idiote, ali to je njihov problem. Kada se ponašamo kao idioti, to tada postaje naš problem. Zato veruj u sebe"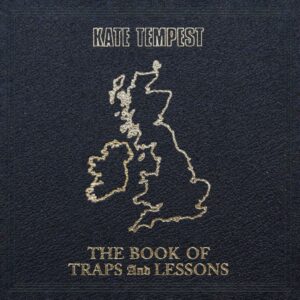 Kao što se uporno menjanju noć i dan, tako svakoga dana svet oko nas tone u moru "ali, šta ako…?" dilema. I dok od kukavičluka pravimo religiju, a nedostatak empatije slavimo kao vrhunac evolucije, neki ljudi se bore za jedan uzdah, za delić čiste misli i iskrenog osećaja, za jedan trenutak nade. Kejt Tempest je nešto što ne može da se opiše u nekoliko reči. Njena poezija mora da se doživi, da vas svaka njena rečenica ubode, raskrvari, nasmeje i rasplače, ostavi da kukate u samoći ranjeni i poniženi i onda obnovljeni i sa novootkrivenom snagom da krenete u potragu za smislom. Svet je pun ljudi kao što ste vi ili ja koji sede skrštenih ruku, beže od drugih ljudi, atenduje sve događaje ovog sveta i nikada nigde ne idu, prave od samosaželjenja homeopatski džoker, konstantno se plaše neuspeha, potkradaju prijatelje i porodicu ili mržnju prema bližnjima uzdižu na nivo džihada. Ljudi koji boluju sve izmišljene bolesti XXI veka i sve oko sebe gledaju crno ili belo. Kejt Tempest kaže ono čega očajnički pokušavamo da se setimo u retkim trenucima lucidnosti, kada dozvolimo sebi da volimo i da budemo voljeni. Ona je društvena mreža bez korisnika, ljubavnik bez partnera, ST-ov vernik bez crkve, grad bez duše… Ali i neko ko se ne miri s ovim stanjem.
Na trećem studijskom albumu "The Book of Traps and Lessons" Kejt Tempest razlaže sebe na atome, cepa svoje vizije i snove na froncle i apsolutno ne nudi nikakvo instant rešenje osim da se živi u trenutku. Ovom trenutku sada, kakav god da je, i da od tog trenutka svesnosti idemo dalje.
Posle dva genijalna studijska albuma – "Everybody's Down" (2014) i "Let Them Eat Chaos" (2017) – Rik Rubin (Rick) ju je video na američkoj televiziji tokom pesničke turneje, pronašao njen broj telefona, javio se i rekao da je to što ona radi budućnost hip-hopa/repa/rokenrola/svega… Tokom sledećih nekoliko godina njih dvoje i producent Den Keri (Dan Carey) nalazili su se u njegovom kalifornijskom svetilištu Šangri-La, snimali, slušali, razmišljali i razgovarali o tome kako da se na najbolji način pošalje poruka u svet. Čisto, bez šminke, nezavisno od žanra, vremena, prostora…
Ako postoji neko s kim može da se poredi njeno poetsko fristajlovanje tokom priče/pevanja/recitovanja/mantranja/rimovanja… to je Ljubomir Meljnik. Njegovo sviranje klavira je to što Kejt radi svojim rečima, to su nekontrolisani izlivi čiste vulkanske energije. Energija ili kataklizma koja je pre 4-5 milijardi godina stvorila planetu na kojoj živimo.
Jedanaest pesama je smiksano bez pauze, ovo je priča u jednom dahu, kao ronjene na dah, samo što je potrebno da baš dugo zadržite vazduh u plućima. Toliko dugo da zaboravite da li ste i dalje živi… Sve je u rečima i kada Kejt dešifruje DNK ljubavi kao u "I Trap You" i kada ljubav izjavljuje direktno i bez kočnica u "Firesmoke". Lubav je sve ili bar potraga za njom.
Na prvu loptu utisak je da su aranžmani uglavnom svedeni i prebačeni u drugi plan, ali tek kada prvi šok od reči koje nas udaraju u mozak malo prođe, može da se shvati majstorstvo aranžmana i produkcije. Od cirkuskog vergla u "I Trap You" i karpenterovskog sinta u "Lessons", preko kejvovskog klavira u "People's Faces" i ambijentalnog tepiha sa gudačima "Thirsty" koji prelazi u orijentalnu hipnozu u "Keep Moving Don't Move", koji se dalje pretapa u gudački-triphop-bluz "Brown Eyed Man"/"Three Sided Coin"… Sudaraju se bitovi, atmosfera, organski zvuci i reči i kao da se meso i kosti pretvaraju u neku potpunu novu životnu materiju.
Centralno mesto albuma zauzima triptih koji čine "I Trap You", "All Humans Too Late" i "Hold Your Own". Ako ne počnete da se tresete od bola na brutalno seciranje osećanja i svih grešaka i nesigurnost u "I Trap You", onda će vas kratak pregled sasvim običnog dana u životu čoveka u "All Humans…" rasturiti na sastavne delove. A onda ide "Hold Your Own", mantra za preživljavanje, almanah za vreme u kojem ni seks više nije dovoljan za kratkotrajnu sreću, a sebičluk se ističe kao ključna stavka u CV-u.
Budućnost je ženskog roda. Jednom kada svi zajedno izađemo iz kamenog doba i naučimo da govorimo šta je to što ne želimo, nastupiće novo vreme u kojem ćemo u nekom trenutku znati šta želimo, a onda i znati kako i kome to da saopštimo. Evolucija muškaraca i žena ušla je u svoju najsloženiju fazu, nikada teže nije bilo da se izabere put da se postane ljudsko biće. Uz ljude kao što je Kejt Tempest ili u našoj sredini Nikola Vranjković ili Kralj Čačka ili Milena Marković i Srđan Valjarević… neke odgovore i smernice dobijamo "na gotovo". Sada je na nama ostala ta trivijalnost da shvatimo ko smo i šta želimo.