Wooden Ambulance – Redville
Wooden Ambulance u saradnji sa Pop Depresijom i Kišobranom ima čast da vam predstavi album "Redville" koji je od danas dostupan na bandcamp stranici benda, na svim digitalnim servisima (deezer, Spotify…) i u limitiranom tiražu kao fizičko izdanje (CD) koje možete poručiti preko fejsbuk stranice Wooden Ambulance.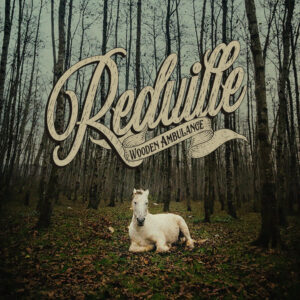 Neke priče moraju da se ispričaju, a priča o "Redviileu" je jedna od onih koja nikako nije htela da se završi… Prkosila je vremenu, životu, zdravstvenim problemima, ličnim brodolomima, odlascima i dolascima, počecima i krajevima ljubavi i sada je spremna da je čuju svi koji to žele. Okupite se okolo, tu je Čovek sa gitarom, to su brojni talentovani muzičari koji su uložili sebe i svoje znanje u nešto što je najbolje ostvarenje ovog mnogočlanog subotičkog kolektiva u jednoj neverovatnoj karijeri koja zaslužuje HBO seriju. Ovo nije Amerikana, ovo nije bluz, ono nije kantri, ovo nije rokenrol… Ovo je krik čoveka koji je preživeo i koji je krenuo dalje.
Da li je ovo četvrti album? Jeste, ako se računaju samo solo albumi.
Da li je peti album? Ako računamo album koji je WA radio sa Robertom Tilijem onda jeste. (Goranu su to najlepše pesme na kojima je radio)
Da li je šesti album? Računajući i album remiksa koji su radili subotički producenti elektronske muzike, jeste.
Ok je, najlakše je reći "novi album" i držimo se toga.
S obzirom da se na objavljivanje albuma čekalo skoro četiri godine, možda je najbolje da Goran Grubišić objasni šta se dešavalo: "Navikli smo u početku da svake godine snimamo i objavljujemo po jedan dugosvirajući album. Makar je tako bilo prve četiri godine rada benda, a onda se naredne nepune četiri godine čekao ovaj. Da li to nešto i šta znači? Ne znam. Da li je vredelo? Ne znam. Znam da meni nije prijalo… Znam da sam mu pristupio s idejom da snimimo najbolje što možemo. uz pomoć štapa i kanapa, u sada već rahmetli Studiju 11, između žurki i proba raznih bendova. Mislim da smo ipak istrajali u ideji da je ovo najbolji album i da tako treba i da zvuči. Sada posle tri godine i 17 nervnih slomova, ne znam više ništa. Znam da album ima 13 pesama i jednu bonus stvar (na francuskom) i da se zove "Redville" i da će biti objavljen za Pop Depresija/Kišobran."
Šta je "Redville"? Ime je dobio po Crvenom selu. Crveno Selo je naselje, predgrađe Subotice. Ulica u kojoj Goran stanuje oduvek je odvajala Mali Bajmok i Crveno Selo. Pre nekih desetak godina, neko se dosetio da skloni table koje obeležavaju Crveno Selo i tako su ga pripojili gradu Subotici i naselju Mali Bajmok.
"Slično kao i sa Drvenom Ambulantom, Dom zdravlja koji se tako zvao zbog svog izgleda, Ambulanta kojoj sam i ja pripadao, koja je postajala pa je srušena. Kada je srušena ja sam preuzeo njeno ime. Na sličan način sam preuzeo i ime Crveno Selo za ovaj album. Asocira me na dom, detinjstvo, sve ono što osećam, volim i mrzim, a što se tiče Subotice i mog dosadašnjeg života. Dok sam išao u školu, jedino sam se ja družio sa decom iz Crvenog Sela. Nikada mi nije bilo jasno, kako jedna tabla, jedna ulica, može da podeli decu, ljude. Da ta deca samo zato što žive tamo budu ponavljači, i na neki podmukao način diskrimisani. Sada, to selo gotovo da i ne postoji. U ataru tog sela su izgrađene mnoge novonastale fabrike. Privredna zona. Izrabljivački centar, kako bi moj drug rekao. Tako sada hiljade ljudi svaki dan prolazi blizu mog doma, i idu da radi u tri smene…"
---