Olafur Arnalds u Beogradu 20. novembra!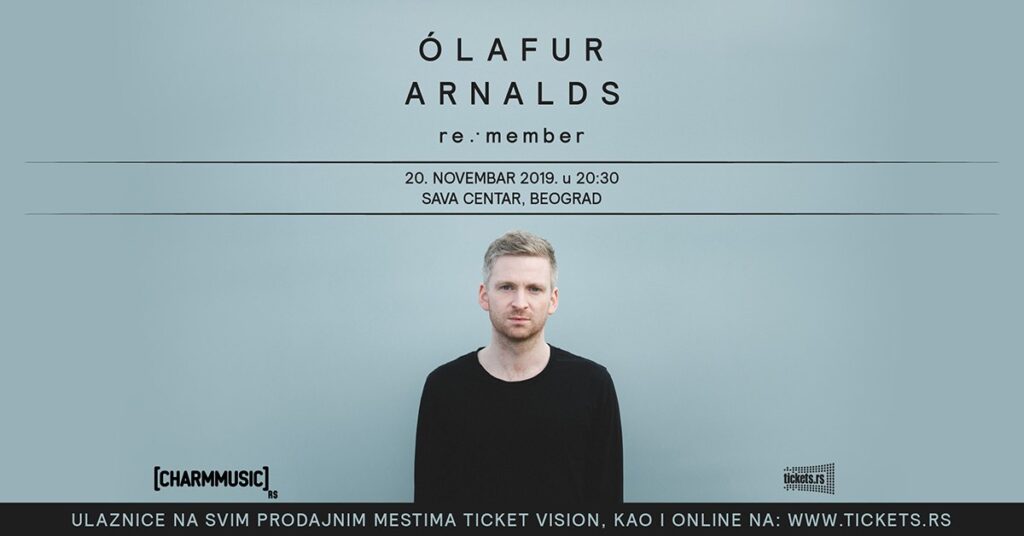 U sredu 20. novembra u beogradskom Sava Centru koncert će održati maestralni islandski muzičar Olafur Arnalds, koji će promovisati jedan od najboljih albuma XXI veka "Re:member".
Tokom poslednjih petnaestak godina, 33-godišnji pijanista, multiinstrumentalista i kompozitor Olafur Arnalds konstantno je otkrivao i sebe i muziku koja ga inspiriše i provocira.
Muza ga je vodila na zaista potpuno drugačije strane: od uloge bubnjara u hardcore bendu i sviranja Šopena sa Alisom Sarom Ot, preko saradnje sa brojnim lokalnim (islandskim) umetnicima u okviru Mercury Classics projekta (Island Songs) i komponovanja muzike za kultnu TV seriju "Broadcurch", do saradnje sa Janusom Rasmusenom na njihovoj viziji elektronske/tehno/klupske muzike kroz Kiasmos.
Usput je pravio muziku i za balet i za film. Skladištio je sva ta iskustva, tehnički napredovao, širio krug umetnika koji ga inspirišu i spremao se za konačni izlazak iz čaure. Arnalds je na "Re:member", koji je zvanično njegov četvrti (solo) studijski album, sva ta sirova iskustva sviranja različitih žanrova pustio da se prepliću i kombinuju bez filtriranja, a u isto vreme ušao je u srž kreativnog procesa u kojem umetnik tokom stvaranja potpuno izlazi iz začaranog kruga tuđih i sopstvenih očekivanja i navika.
Ako za trenutak zamislite grupu muzičara, nekoliko ključnih imena popularne muzike XX veka – neka to primera radi budu Žan Mišel Žar, Pink Floyd, Erik Sati i Aphex Twin – kako sede i stvaraju zajednički muziku koju će neka sledeće svemirska sonda nositi do prve otkrivene planete s inteligentim oblicima života, to što bi napravili moglo bi vrlo lako da liči na ono što stvara Olafur Arnalds.
Za nas laike to bi bio jedan pačvork klasične muzike i ambijenta, rokenrol senzibiliteta i "uradi sam" snalažljivosti, starinskih i modernih instrumenata i niza jedinica i nula, topline i otuđenosti, zapitanosti i melanholije, veštačke inteligencije i onog najjednostavnijeg u čoveku. Kada preslušate "Re:member" zaključak je baš lak: Olafur Arnalds je sa druge planete, tu nema nikakve dileme.
"Re:member je čarolija koja nam pomaže da budemo kompletni, da osetimo svaki deo tela i svaku svoju misao. On je nada i radost koju možemo da pronađemo jedni u drugima kada najzad uspemo da se povežemo ili kada najzad imamo nešto da podelimo."
U sudaru tehnologije sa inspiracijom, improvizacije sa treningom, planete Island sa ostacima planete Zemlje, tu negde sebi svako jednom mora da postavi pitanje: šta tačno ja radim ovde? Odgovore tražimo ili ne. Neki od nas baš vešto simuliraju zapitanost, dok neki drugi toliko iznure sebe u toj potrazi da prosto zaborave šta je tačno bilo pitanje. Olafur Arnalds je neko ko odgovor na pitanje ko smo i šta predstavljamo traži za sve nas. Njegov album "Re:member" delo je čiste renesansne ljubavi uobličene primenom tehnologije XXI veka i iskonskom željom da se dođe da odgovora.
Svet je iznenada prošle godine napustio jedinstveni Johan Johanson, ali za onaj suptilni deo emocija koje samo muzika može da izazove i da ih izvuče u prvi plan, tu su i dalje alhemičari Nils Frahm, Maks Rihter, Olafur Arnalds i drugi koji još otkrivaju sebe i značaj koji muzika ima i u ovo vreme otuđenosti i površnosti.
Koncert Olafura Arnaldsa nije "samo" muzički događaj godine u Srbiji, ovo je onaj trenutak u prostoru i vremenu koji može da inspiriše na razne velike stvari generacije ljudi koji još nisu sigurni u svoj talenat i svoja osećanja. Ovaj koncert se sluša širom otvorenog srca.
Ulaznice za ovaj događaj, po ceni od 2200, 3200, 3700, 4200 dinara, biće dostupne od petka, 26. jula na blagajni Sava Centra, kao i na svim prodajim mestima mreže Ticket Vision i online na www.tickets.rs.
Organizator koncerta, Charm Music, posebno želi da omogući mladima da posete ovaj kulturni događaj, s toga će oni ispod 22 godine ulaznice iz II kategorije (redovna cena: 3700 dinara) moći da kupe sa 25% popusta, odnosno po ceni od 2770 dinara. Ove ulaznice važiće samo uz ličnu kartu.