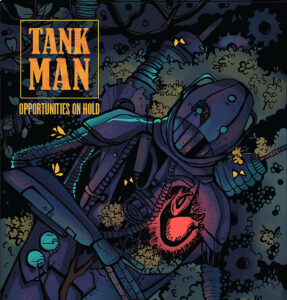 Ako ste jedan od onih koji i dalje veruje u moć električne gitare, onda je Goran Štrbo neko koga ste često sretali u beogradskim klubovima. Već godinama unazad njegova gitara daje specifičnu boju pesmama grupe Went, a taj "njegov" zvuk je često na pola puta između Nila Janga i Stivena Malkmusa ili u posebnim trenucima inspiraciju traži u pesmama grupa The Go-Betweens i Tindersticks.
Već duže vreme Goran nastupa i piše pesme kao Tankman. Male intimne pesme, o svakodnevnim situacijama, snovima, velikim delima malih ljudi… Možda je prošlo vreme heroja kao što je bio nepoznati kineski demonstrant koji je prkosio tenkovima i inspirisao Gorana da preuzme njegov alter ego, ali herojska dela se menjaju iz epohe u epohu. Možda je pratiti svoje srce i raditi stvari koje voliš dovoljno da uđeš u svet heroja-početnika u ovom depersonalizovanom vremenu u kojem živimo…
Šta vas očekuje na "Opportunities on Hold"?
EP otvaraju "Hardwired" i "Fighting Lions" – za nekog bi to moglo da budu dve krigle piva australijske pop nostalgije, "Reallity Check" je kao neki eho Silver Jews metafizike, dok "The Wreck I am" kao da se napaja na J Mascis distorziji i usput odaje počast subotičkim trubadurima Wooden Ambulance sa kojima je Tankman nastupao zajedno. Epska "You Will Shine" sa svojim indie-tango-gospel gruvom ima sve preduslove da bude vrhunac svakog Tankman koncerta, a nošen niljangovskom gitarom EP zatvara lament "Cave" i ostavlja vas da mislite o smislu života uz stih "I drink my troubles away, I've got my friends to help me forget".
U snimanju EP-a učestvovalo je više muzičara – Sara Tomić (bas), Stefan Pejatović (bubanj), Goran Štrbo (gitara, vokal), Milica Mitić (bek vokal), Ivana Smolović (gost bek vokal), a snimanje i produkciju potpisuje Dušan Filimonović.
Koncertna promocija Tankman EP-a "Opportunities on Hold"
21.09. Novi Sad Dom b-612
22.09. Subotica, Klub Mladost
23.09. Beograd, Sprat