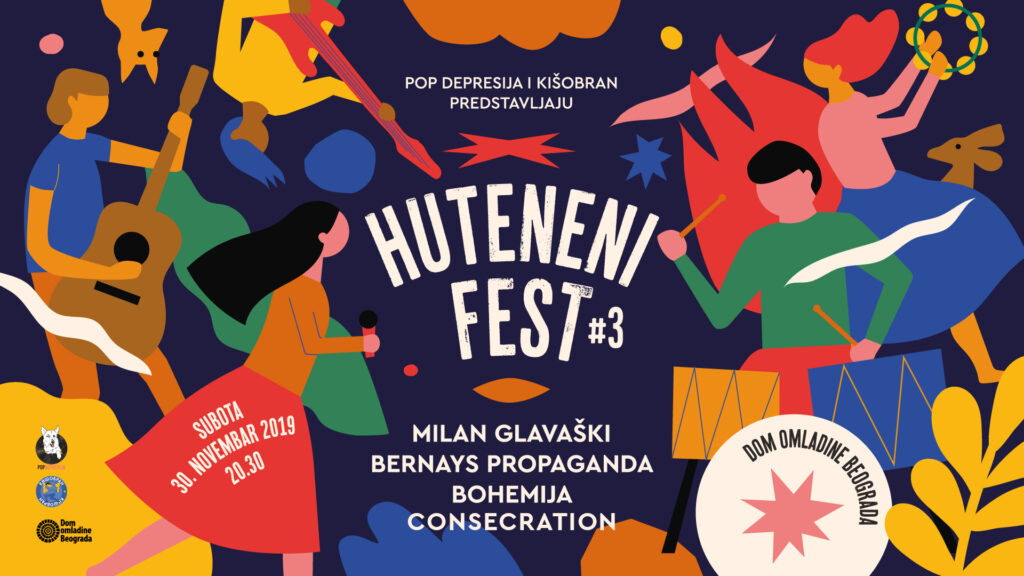 Pop Depresija i Kišobran u epizodi "igramo za publiku": bendovi koje volimo, muzika koju obožavamo, ljudi koje poštujemo… Naš celovečernji rokenrol festival Huteneni Fest #3 na kojem učestvuju Milan Glavaški, Bernays Propaganda, Consecration i Bohemija dešava se u subotu 30. novembra od 20.30h, mesto je Dom omladine Beograda, sala "Amerikana".
Ulaznice su u prodaji od ponedeljka 14. oktobra na blagajni Doma omladine Beograda, kao i na svim prodajnim mestivma Ticket Vision-a i online na www.tickets.rs, po promo ceni od 800 dinara, od 1. novembra cena karte će biti 1000, na dan koncerta 1200rsd. Limitiran broj specijalnih (dizajniranih) karata u prodaji je u Zaokretu i Pabu Brod po ceni od 1000rsd.

---
Milan Glavaški je inspiracija za sve nas i razlog zašto se bavimo muzikom. Njegove pesme koje je pisao za Evu Braun, Popcycle i Rebel Star biće vrlo brzo deo školske lektire, pod uslovom da škole još budu postojale u bliskoj budućnosti… Tri godine od poslednjeg nastupa Rebel Star u Beogradu Milan se vraća na scenu da otvori još jednu etapu u svom rokenrol životu. Gosopodin Rebel Star otvara Huteneni Fest #3.
Drugi studijski album niške grupe Bohemija, "Nasmeši se i reši se?", objavljen je proletos i beskrajni je izvor sreće i ljubavi. U opisu albuma napisali smo: ta veza Vrbasa i Niša, uz bitne posete i posvete Beogradu, Bečeju, Zagrebu, moru, Memfisu, Lorel kanjonu, Njujorku… čini da album "Nasmeši se i reši se?" sija nekim posebnim svetlom i da u isto vreme nastavlja tradiciju Big Star ili Eve Braun, da istražuje harmonije i melodiju po "instrukcijama" Brajana Vilsona i njegovih The Beach Boys, da se upušta u eksperimente kao This Mortal Coil ili My Morning Jacket ili da stvara svoj poetski svet kao Drago Mlinarec ili Veliki prezir. Ili da uprostimo, Bohemija "samo" želi da pravi čistu, jednostavnu i divnu pop muziku kao Teenage Fanclub.
Makedonski genijalci Bernays Propaganda objavili su peti studijski album "Vtora mladost, treta svetska vojna" (Druga mladost, Treći svetski rat) 4. septembra. Tih 10 pesama je poziv na građansku neposlušnost, na poštovanje ljudskih prava, kritika kriminalaca na vlasti i otpor bolesnim ideologijama. Muzički, to je zvučni pleksus u koji se ulivaju uticaji post-punka s kraja 70-ih i početka 80-ih, novog jugoslovenskog talasa, alternativnog rocka, Detroit elektra, balkanske i afričke muzike…
Beogradski trio Consecration krajem leta objavio je svoj šesti studijski album, "Plava laguna", koji je čudesna "prodavnica tajni" i izvor neobjašnjive sreće i red je da Konse čujemo u najboljim uslovima. Nema grupe kao što je Consecration, a svaki njihov koncert je prilika da izmaštate neki novi i bolji svet za sebe. Danilo, Matija i Ivan u "Amerikani" zatvaraju svojim nastupom naš festival.