Recenzija [muzika] | Niko Nikolić – Drugo mesto (više manje zauvijek, 2020)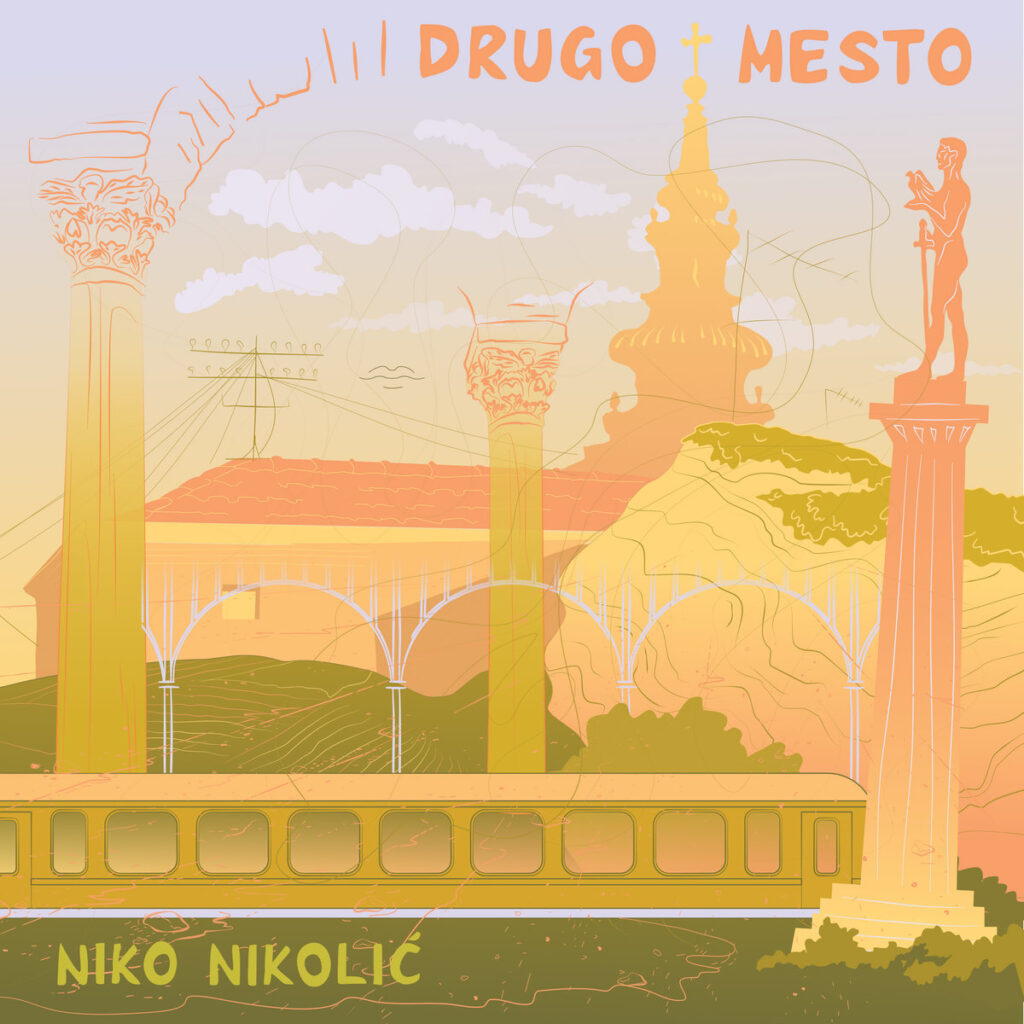 Krajem 2020. godine izdavačka kuća "više manje zauvijek" objavila je dva izuzetno zanimljiva izdanja – debi EP enigmatičnog Pekija Pelea " Deguté " i prvo dugosvirajuće izdanje Nika Nikolića "Drugo mesto". Pavle Nikolić, kantautor iz Beograda – rođen u Trsteniku, ovog puta dobio je prednost i ovaj tekst posvećen je njegovom magičnom albumu.
Već prva dva odlična singla – "Pola noći" i "Amerikanka" – očekivanja su podigla na najviši nivo, a ta kombinacija ispovedne proze, raštimovanih gitara, jednostavnih sintova, pametnih pozajmljivanja, patosa, eskapizma i terase eminentnog lokala u Bečićima jednostavno ne može da omane.
Nikolić je na albumu svoja interesovanja proširio i na magična putovanja, koja se čine podjednako atraktivna nebitno da li su tu, u kraju, kao u slučaju "Kanjona", "Vlašića", "Peščare" ili tako daleko (u ovom trenutku) kao u "Carigradu". Ono što Nika Nikolića izdvaja od većine ostalih mladih autora su tekstovi i pevanje. Njegovi stihovi prosto se jure da priču ispričaju na najbolji način, a reči kojima nalazi pravo mesto na toj autostradi zbrkanih misli samo pojačavaju efekat sintovane stvarnosti koju prezentuje. Ima milion primera, ali meni je posebno drag onaj iz uvodne "Ništa lakše": "Al gubim se u travi i ušima se smešim hitovima radija".
Kao pevač, u nekoliko navrata, Niko dozvoljava sebi da "krene" ka Zdravku Čoliću, što je kuriozitet sam po sebi, izbor većine "nepevača" poslednjih godina je Bajaga. Ali, Niko ima glas! I kada ga pusti da se ostvari do kraja on preuzme sve zvučne tepihe ispod i blista na neverovatan način. Dok se smenjuju pesme asocijacije su Jens Lekman, Arial Pink, "Kanjon" je kao neka klasična The War on Drugs vožnjica, dok su "Vlašići" jedna divota sama po sebi. Iz nekog neobjašnjivog razloga sve vreme dok ide ova pesma odnegde mi u glavu ulaze Animatori i njihova besmrtna "Anđeli nas zovu…". Gošća na "Vlašićima" je Dunja Mijačić, a hemija Niko-Dunja jedan je od vrhunaca albuma (Dunjin bend Sitzpinker samo što nije objavio spektakularni novi singl!).
"Niko nije kao ti" je jedna Lekmanovska vinjeta, sve sa suludim stihom dostojnog (suludog) Bobana Petrovića:
"Opet me malo blam
Kada probam s tobom da spavam
Ti bi se igrala
Da me ložiš ko patriota".
"Peščara" je onaj sneg u staklenoj kugli koju tresete da se setite magičnog trenutka koji se iznenada pojavljuje i rešava stvar. Nedostaje mi ludilo na kraju "Carigrada", jedne od najboljih pesama na albumu koja je majstorski vođena – na način Bill Callahan/Bonnie Prince Billy saradnje poslednjih meseci – ali na kraju, umesto da pesma ode u smiraj mislim da je bolja opcija bila da sve ode u jedno Anadolu psihodelija gitarsko-sint Altin Gün ludilo. Ipak, bitno je napomenuti da često folk uticaji (John Martyn, Richard Thompson, Devendra Banhart…) izbijaju u prvi plan i to kada najmanje očekuješ, primer za to su i "Carigrad", ali i "Niko nije kao ti". Neko bi rekao da sve ovo zvuči kao da Rundek svira Azrine najveće hitove na ukuleleu, uz pratnju svog najluđeg Cargo orkestra, ali svako može sam (ako to želi) da objasni sebi kakav je ovo haos koji sluša.
Završna "Golub snega" je tizer za drugu sezonu Nika Nikolića, gde folk i psihodelija izbijaju u prvi plan i gde se autor oslobađa svih ukrasa, definiše sebe kao kompetentnog pesnika i pevača i, uz pomoć prekrasne violine Đorđa Leposavića, prelazi na viši nivo.
Pored muzike, svakako mora da se istakne i "pakovanje" albuma, efektni vižuali i animacije svih pesama, koji su delo Tamare Hasičević i Aleksandra Petkovića Azze.
>> Upoznajte bolje Nika Nikolića: Drugo mesto, prvi album. Niko Nikolić. <<
Da li se sećate filma rediteljke Alison Anders, "Grace of my Heart" (Milost srca mog)? I Mata Dilona koji igra brajanvilsonsovskog neprilagođenog producenta/muzičara i pesme koju je Džej Maskis napisao za film? One divne sekvence na plaži koja je posle upotrebljena i za spot za "Take A Run at the Sun"? E, takav vajb ima Nikolićev album "Drugo mesto": kulerski, surferski, prepun strasti i ljubavi, majstorski urađen sa svim svojim nesavršenostima i improvizacijama, i album koji može da bude, nadam se, prvi veliki korak uzbudljive muzičke karijere koja sledi. Maštam o koncertnom danu na kojem će se jedni za drugim smenjivati Sergio Lounge, Weyes Blood, Buč Kesidi, Altın Gün, Svemirko, Jens Lekman, Niko Nikolić, Kurt Vile, Ljubičice, Connan Mockasin, Peki Pele… i gde đuskanje zaista ne prestaje.