Recenzija [muzika] | Kae Tempest – The Line Is A Curve (Fiction/American, 2022)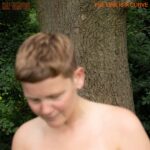 Četvrti studijski album za osam godina, svemogući Dan Carey kao producent i Rick Rubin kao izvršni producent. Kate je sada Kae Tempest, non-binary, oni, pesnikinja, Jimi Hendrix reči, šamanka, književnica, mesija, umetnica, osoba. Ako je prvi album "Everybody Down" otvorio vrata u intimni svet raskošne lepote, a "Let Them Eat Chaos" od riđokose devojke stvorio atipičnu festivalsku atrakciju, "The Book of Traps and Lessons" bio je povratak korenima uz Rubina i ponovno rađanje. Tri godine kasnije dolazi "The Line is a Curve".
Brojni gosti i prijatelji ugradili su sebe u ovaj album – Grian Chatten (Fontaines D.C.) kao da na sedativima priča u proročkoj "I Saw Light", Lianne La Havas začara refren u "No Prizes", Confucios MC je diler Morpheus u "Smoking", ãssia u "Water in the Rain" je milenijalska Clare Torry u "The Great Gig in the Sky", a Kevin Abstract kao zec na trkama dugoprugaša adrenalinsku bombu "More Pressure" ubacuje u reaktor…
Centralno mesto na albumu zauzima nešto što bi moglo da prođe i kao dve "obične" pesme na nekom drugom mestu – džezirane "Don't You Ever" i "These Are the Days", gde i aranžman efektno parira naraciji. Ova druga je posebno moćna, nošena električnom gitarom i uz diskretne duvače ovo je "let it all go" trenutak i prvi dan nastavka života. Album zatvara molitva "Grace"… ili ga otvara, ne verujem da će bilo ko "Grace" shvatiti kao kraj. Album je brutalan i suptilan, intenzivan i nežan, raskošan i ogoljen. Nekome bi mogao da zvuči kao onaj crossover saundtrek za film "Judgement Night", ali da je potpuno drugi film napisala i režirala npr. Allison Anders pre dvadesetak godina i da su sve pesme snimili Shabaka Hutchings, Moses Boyd, Thom Yorke, Patti Smith, Chuck D i Gil Scott-Heron.
Tokom 45 minuta prisustvujemo demonstraciji moći reči i rečenica, snazi slogova i slova, suptilnosti uzdaha i uzvika: život, tajne, smrt, potpiši se na isprekidanu liniju, čujemo se pa se i vidimo, odvratni ljudi, dosta mi je, mogu da umrem brže nego ti, delimična istina, kraj, svetlo u daljini, nemam fokus, pauza, sreća je voz koji ne staje samo zbog tebe, pij više, pati manje, igraj više, očekuj manje nego što si tražio, nikome se ne dokazuješ, uradićeš posao, nastavi da pokušavaš, ranije sam pravio planove – sada donosim odluke, nemam vremena za viđanje, igra još nije gotova, znanje je najbitnije, pogrešno shvaćena proračanstva, samo idi dalje, obala, vetar, lišće, kiša, duhovi prošlosti, samo idi dalje, biće bolje, šta je bilo pre – šta će doći posle, mikro-agresije, tu si, pokušavaš da pobegneš od grešaka iz prošlosti, znam šta pokušavaš, dom, želiš da budeš slobodan, video sam budućnost, moje oči su rekle zauvek, želja da se spojimo bila je ogromna, ne paničim, ovde sam, snalazim se, ne smetaj mi, dani koje sam video u snovima, fokus, nisam nervozan, ne prati me, dani, oni dani, dosada, dokolica, vrata su otvorena, zver je probuđena, podseti me, šta je to odanost, prestani da slušaš druge, ponekad sve prođe – ponekad ne, moj mozak nije povezan s mojim telom, kako ćemo tačno da igramo sada?, kada su dani suviše spori ili previše brzi nosim našu ljubav u rukama, mrdaj, davim se iznutra, ovo je sada moj život, boriću se dok ne pobedim, pomozi mi, čudovište, beži, pritisak, olakšanje, vera, ne znam ništa, nema nulte tačke, više želje, pusti me, pusti, istina je u kovrdžama devojke koja odlazi, karma, odluke, rešenja, priroda, više vere, sloboda, pritisak, sunce, plivamo u zelenom moru, život je lep, onda kada sam prestao da tražim sebe – našao sam tebe, osećam da se otvaram, prestao sam da se nadam, učim da verujem, pusti me, pravi muziku sa mnom, ispunjenost, vodi ljubav, pusti me da volim, pusti me da budem voljen, hoću da pružim ljubav, hoću da prihvatim ljubav, ljubav.
Rick Rubin je tokom snimanja prethodnog albuma u jednom intervjuu rekao da je Kate budućnost hip-hopa. Koga je briga za budućnost hip-hopa kada žanrovi ne postoje? Bob Dylan je u jednom Theme Time Radio Hour šou na "pitanje" slušaoca zašto pušta repere u emisiji (pošto to nije rokenrol), odgovorio da je sve to isto – akordi i bitovi, semplovi i solaže, bas/bubanj i ritam mašina, gitara i skreč, repovanje i pevanje – muzika ili radi ili ne radi. Muzika se voli i oseća. Ovo su pesme uz koju ćete naučiti da volite sebe i krenuti u potragu. I uroniti u sebe i svoje tajne, prihvatiti svoje mane, ograničenja, greške, kukavičluke i naučiti kako da prestanete da brinete (i da zavolite bombu, kako stvari stoje) i da se radujete svakom danu koji dolazi. Ovo je i placebo i izvor večnog života i nektar bogova i domaća brlja u isto vreme. Pesme i muzika koje su i umetnost i šund i potrošno i večno. Ovo je rokenrol, ovo je hip-hop, ovo je pop, ovo je mejnstrim, ovo je andergraund. Ovo je život kakav sami pravimo za sebe ispod atomske pečurke. Samo slušajte, mislite i verujte.