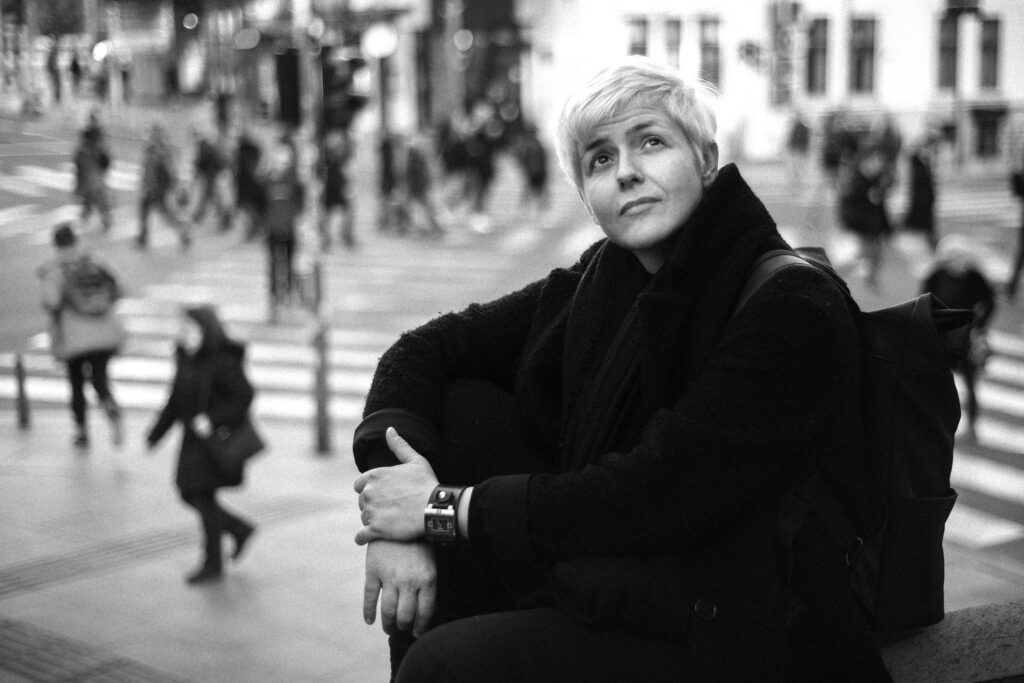 "Atmosfera dnevnog boravka sa par iskrenih priča, svaka meni bitna i ključna da bolje razumem svoj životni put i život generalno"
Draga predstavlja debitantski album "Keep On Walking", moćnu, intimnu i očaravajuću ispovest žene koja peva gospel-bluz. Na albumu se nalazi 11 pesama, od prve koju je bend snimio na početku ovog puta od žute cigle ("Put Those Walls Down"), do poslednje – euforične naslovne teme, ode radosti i životu. Album je dostupan na svim digitalnim platformama, bandcampu i YouTube-u, a za par nedelja i na CD-u u limitiranom tiražu. Prvi video spot snimljen je za "Put Those Walls Down" u režiji Nede Mojsilović i sa Tarom Tomišić u glavnoj ulozi. Beogradska promocija albuma "Keep On Walking" održaće se u Kulturnom centru grad u četvrtak 26. maja od 20h. Uz Dragu i bend specijalni gosti biće Merry Gospel Choir.
Ko je Draga? Puno ime je Draga Mrvoš Mott, ali više voli da koristi samo Draga. Rođena je u Negotinu, živi i radi u Beogradu. Prevodi i fotografiše, piše pesme, svira klavir i gitaru, peva za sebe i druge, peva u horu. Voli jednostavne i iskrene priče, jednostavan izraz u umetnosti i ne ograničava se u izrazu. Različite su forme i mogućnosti, a uvek je bitna namera i smer srca. Sve ostalo nađe svoj put.
"Muziku sam dugo čuvala u sebi. Često sam na postojeće melodije smišljala svoje, ali nisam bila otvoreno dete tako da je to dugo čučalo u meni. Ne čitam note. Osećam melodije i reči za iste dođu same. Muziku živim kao nešto sasvim lično i prirodno. Svaki šum ima svoj ritam i po tom ritmu ja gradim svoje melodije i svetove," objašnjava Draga.
2019. godine Draga je počela da razne crtice, šumove i strofe sklapa u pesme i tu su ključnu ulogu imali Lazar Arsović i Uroš Tomović. Zanimljivo je da su melodije često izlazile zajedno sa tekstom. Sve pesme su snimljene sa Lazarom, koji je radio miks i master celog albuma. Prva pesma koja je nastala je "Put Those Walls Down", a onda su sledile i ostale – sve su se rađale na relaciji Beograd-Negotin. Zaljubićete se u klavirske vinjete "When I Wake Up", "It Takes Love" i "Keep On Talking", zamisliti o svom životu uz "The Family Blues" i "Just Remember", ali i naručiti turu za celu ekipu uz "Hit That Tune"… Album zatvara čista lepota i oda radosti od pesme "Keep On Walking". To je pesma koja najbolje boji sve priče s albuma, uz poruku da se ne odustaje, da se uvek ide dalje. Korak po korak, svako u svom ritmu. Ona situacija kada ne znaš kako, ali hodaš. Bez mnogo priče, samo iskren hod kroz gospel i bluz. "Dok sam pisala pesmu imala sam na umu gospel hor i bilo je prirodno da to bude Merry Gospel Choir čiji je dirigent Marija Kuburić Borović. U tom horu pevam više od 10 godina i znam kojim tonom diše."
"Cela priča ovog albuma je oslobađanje, puštanje, strpljenje, razumevanje i prepuštanje pričama koje su oduvek u meni i za koje mi je trebalo hrabrosti da ih pustim da zažive kako žele, kroz tekst i melodiju. Konačno. Album je prolazio kroz mnoge faze, ali možda sam najviše zahvalna na tome što je izašao onako kako je želeo – u svom ritnu i u svoje vreme. Bluz ne žuri, samo priča iskrene životne priče. Tako je i sa ovim mojim prvencem. Nije moglo da bude drugačije. Sada je vreme," objašnjava Draga.