Recenzija [muzika] | LP Duo – Dead Sea (Universal, 2022)
Sanjaju li klaviri kvantne snove?
Tri godine od izlaska hibridne magije "Duality", LP Duo vraća se na Mlečni put remek-delom "Dead Sea", albumom koji Sonju Lončar i Andriju Pavlovića vodi tamo gde samo Vebov teleskop može da dobaci.
Na albumu "Duality" dobili smo šest kompozicija i milenijumsku himnu "Analog Love", a "Dead Sea" donosi 11 novih kompozicija – atmosferičnih, uzbudljivih i skroz filmskih. Ta filmska (ili serijska) komponenta nije nova u muzici koju prave Andrija i Sonja, ali ovoga puta podjednako je bitna kao i muzika i to ne samo zvog efektnih video vinjeta koju je za svaku kompoziciju napravio Laslo Antal, već i zbog same naracije pesama, njihove dramaturgije i katarzičnosti.
Ako o albumu "Dead Sea" pričamo kao o seriji/filmu onda je žanr antiutopija-melodrama. "The Beginning" postavlja scenu koja ne mora nužno da bude "Road to Nowhere" ali svakako da ježenje kože i utisak da vas neko posmatra nisu dobri znaci, bez obzira što početak putovanja uvek nosi neko slatko očekivanje i uzbuđenje… "Mayday! Mayday! Mayday!" svoju diskografsku premijeru imala je u malo drugačijem obliku (uživo i bez sintova) na kompilaciji "Klavirsko nebo: Prirodna selekcija", a ovde je taj sintovani autro još više pojačao atmosferu beznađa i katastrofe koja sledi (a dan je tako lepo počeo). "Coast" je prvo remek-delo albuma! Idejno bliska onome šta Ramin Džavedi (Ramin Djawadi) radi na saundtreku za "Westworld", ali sa dodatnim slojevima nostalgije, groznice, iskrene nade i lepote prirode.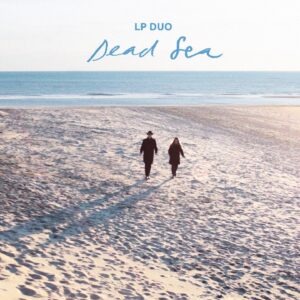 "Low Tide" je entropija, sudaranje čestica u mozgu koji trenutak posle katastrofe, bez spoznaje da li je ovo početak kraja ili kraj početka. Ali, ljudi se prilagode svemu, a "Between The Waves" je to novo okruženje, scenografija na koju nismo navikli i u kojoj upoznajemo sebe i definišemo uloge preživelih u novonastalom mikrosvetu. "Up To The Hills" je najbliža Satijevoj maglini u kojoj i dalje opčinjeni prirodom i nestankom civilizacije pokušavamo da shvatimo šta se desilo. A onda sledi promena žanra i drugi vrhunac albuma: LP Duo koriste "Grappa" da potpuno napuste poznati koordinatni sistem i da se presele u svet multidimenzionalnih pokretnih slika. "Mirage" je kao neka sedativna Kej Tempest/Den Keri (Kae Tempest/Dan Carey) matrica u koju je smeštena manga sa predivnim Miha Kralj akcentima. "Winter Fery FF" i "Winter Ferry RW" je ono putovanje koje pamtite kao dane čiste sreće i bezbrižnosti dok čekate da istekne vaš peščani sat. FF je treći vrhunac albuma, najnežniji i najpoetičniji i toliko dečije bezbrižan i čist da mora da je san? "The End" je tačka u crnilu ili pitanje – da li je ovo kraj ili se početak opet igra sa nama.
Šta dalje? Jedina stvar koja nedostaje za svetski uspeh kakav LP Duo zaslužuje je originalna muzika za neku hit seriju ili film, idealno strane produkcije (Apple+, HBO, Neflix… neka se sami prijave). Ono što je "Broadchurch" bio za Olafura Arnaldsa ili "Leftovers" za Maksa Rihtera (Max Richter). Lično bih voleo da na muziku Sonje i Andrije čujem stihove koje pevaju Ana Ćurčin, Sara Renar, Egret, Amira Medunjanin, Goran Grubišić, Igor Božanić…
I da organizuju (i snime) jedan koncert u prirodi – sličan onom koji je Eyot imao na Suvoj planini. Meni je Bohemija ispunila želju i snimila spot za "Levo oko" na vrhu Stare planine, zamislite LP Duo tu negde između Babinog zuba i Midžora u sumrak, kada vile počinju da plešu, a priroda postane amfiteatar za bogove. "Dead Sea" jeste muzika za bogove, posrnule i falične, nekada moćne – sada odrpane, ali i dalje bogove. Istorija čovečanstva nije samo o pobednicima i gubitnicima, već pre svega o povratnicima. Maštam o povratku lepog i magičnog – saundtrek je tu, samo još nedostaju ljudi.