Pozivamo vas u KC Grad na jedno "Twin Peaks sreće Srećne ljude" koncertno veče u nedelju 16. oktobra od 20h. Nastupaju makedonski 21 Vek i beogradski Pardon My French i Katie Woznicki. Ulaznice će se prodavati na dan koncerta na ulazu u klub po ceni od 600 dinara.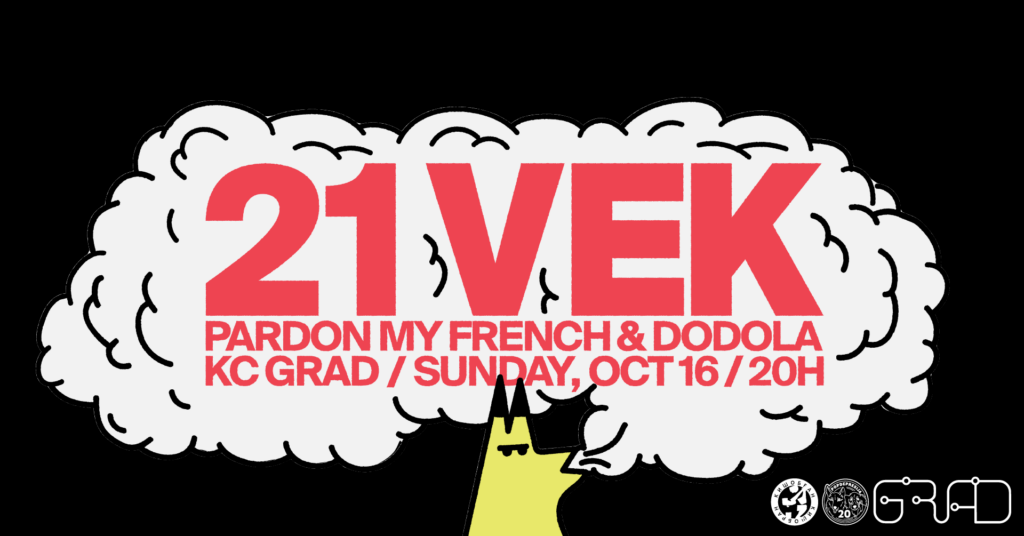 Zamislite jedno koncertno veče koje se dogodi jednom i nikada više. Sa hedlajnerom koji svuda gde svira začara sve i to uz horsko pevanje, trans i osećaj da ste gledali i slušali nešto veliko. Sa domaćom podrškom koja je nova, lepa i drugačija i koja samo što je počela sa live nastupima. I na sve to, lajnap zaokružuje jedna posebna multimedijalna umetnica, čiji nastupi su neponovljivi i emotivni. E, takvo veče vas očekuje u KC Grad u nedelju 16. oktobra. Za vas sviraju makedonski 21 Vek iz Skoplja, francusko-srpski bend Pardon My French i Kejti Voznički, Amerikanka koja živi i radi u Beogradu više od 15 godina.
21 Vek je bend iz Skopja, a sastoji se od tri već poznata lica makedonske underground scene okupljena oko benda Bernays Propaganda – Vaska Atanasovskog na vokalu, Radeta Jordanovskog na basu i Denija Krsteva na gitari i pratećim vokalima (ХАХАХА, FxPxOx i My Tear). 21 Vek iza sebe ima tri albuma, mnoštvo genijalnih singlova, euforične recenzije i subjektivno-objektivan osećaj nas promotera da su najbolji lajv bend u regionu.
Pardon My French je francusko-srpski alternativni rock bend iz Beograda. Njihovu muziku je možda najlakše opisati rečima da noise-rock violina vodi dijalog s gitarom koja oscilira između ritma i basa, uz posebno efektan set bubnjeva. Ono što se događa na sceni prilično je maglovito, ali to je verovatno zbog francuskih uticaja.
Dodola je Kejti Voznički (Katie Woznicki), autsajder multimedialna umetnica rođena u Klivlendu koja živi i radi u Beogradu od 2007. Dodola je kantaurski art-pop. Twin Peaks + Kejt Buš + T.L.C. + Devo. Pesme su emotivne, zarazne i često melonkolične, sa toplim analognim sintovima i njenim jedinstvenim glasom.