Pop Depression Piano Night mix #30 [Loved Ones, July 2023]
---
Jedan krug se zatvorio i to posle osam godina! Prvi klavirski mikstejp napravio sam 15. jula 2015. godine, direktno pod uticajem koncerta Olafura Arnaldsa koji sam sa Cecom gledao u Utrehtu u okviru Le Guess Who festivala krajem 2013, pa onda i prvog gostovanja Ljubomira Meljnika u Beogradu u maju 2015. sa LP Duom i, najvažnije, uz veliko ohrabrenje Cece i podlogu koju je napravio Sloba kroz svoje ambijentalne blokove na Studiju B. Ime mikstejpa dao je album grupe Bohren & Der Club Of Gore, a moja ideja je bila jednostavna: zašto ne bih napravio mikstejp od kompozicija nove klasične, neoklasične (Branka to zove indi-klasika, možda je to i najbolji termin!) i ambijentalne muzike, na način kao što to radim sa padavičarskom muzikom? Znači da jurim priču iz pesme u pesmu, da jašem euforiju i tonem uz patos i da to sve nekako bude neka celina…
Prvo je baza bila samo klavirska muzika, a tokom vremena to se proširilo na sve ono što sam uspeo da čujem i zavolim i namerom da tu bude i sve (ili skoro sve) što je napravljeno u regionu tokom tog vremena između dva mikstejpa. Uz naša izdanja, svakako. Bez moje priče, s ambijentalnim šumovima tu i tamo, plus neki moj sintovani dodatak (tamo gde nije smetalo) i uz poneki filmski/televizijski insert. I ovim mikstejpom, pod brojem #30, ovakav format se završava. Hvala svima koji su slušali ili preuzimali mikstejp sa PD sajta, pisali i komentarisali <3 Meni je bilo baš lepo i uživao sam u ovoj akciji.
Nešto drugo sam smislio za dalje, najesen će – ako se ne predomislim – biti prva epizoda, videćemo kako će to na kraju da izgleda. Svakako će do kraja godine biti objavljeno više izdanja u okviru edicije "Klavirsko nebo", o tome više kada bude vreme – prvo izdanje samo što nije!
---
Featured: Lavinia Meijer, Roger Eno & Scoring Berlin, Colin Stetson, The Cry, Divide And Dissolve, Yann Tiersen, Hauschka, Ô Lake, Jake Sherman, Tim Hecker & Colin Stetson, Shani Diluka, Helios, Kwoon, Garreth Broke, PJEV & Kit Downes & Hayden Chisholm, Library Tapes & Julia Kent, Vanessa Wagner & Nico Muhly, Hilary Hahn & Eugène Ysaÿe, Alexandra Stréliski, Felix Mendelssohn & Ömür Yıldırım, Laurence Crane, Ann Margaret Hogan, Judith Parts, Carla pallone, Brian Eno, Nemanja Pavlović, Ray Angry, Gia Margaret, Hania Rani, Akira Kosemura, Ligeti Quartet & Anna Meredith, Everwave & Morusque & Hailey Niswanger & Antoine Katz & Mark de Clive-Lowe & Elizabeth Steiner & Allysha Joy & Antoine Berjeaut & Taku Hirano, Laurel Halo & Coby Sey, Lubomyr Melnyk, Pavle Popov, Suejin Jung, Kapuscinski, Hanakiv.
---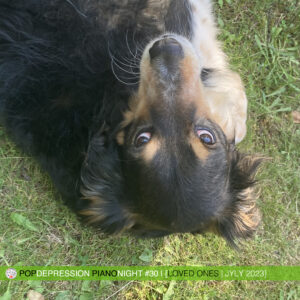 Lavinia Meijer – Sun
Roger Eno, Scoring Berlin – Slow Motion 3 /The Turning Year – Rarities
Colin Stetson – The surface and the light /When we were that what wept for the sea
The Cry – In my mind
Divide And Dissolve – Desire /Systemic
Yann Tiersen – Ker al Loch (Solo Piano) /Ker Al Loch (Four Ways)
Hauschka – Loved Ones /Loved Ones
Ô Lake – INNOCENCE /Still
Jake Sherman – The Graceful Ghost /The Graceful Ghost
Tim Hecker & Colin Stetson – Monotony II /No Highs
Shani Diluka – Melody (Sun on You) /Pulse
Helios – Intertwine
Kwoon – Blackstar
Garreth Broke – Dancing
PJEV & Kit Downes & Hayden Chisholm – Ova brda i puste doline /Medna Roso
Library Tapes & Julia Kent – Through Glass
Vanessa Wagner – Dead Things (Arranged by Nico Muhly) /Les heures immobiles
Hilary Hahn & Eugène Ysaÿe – Sonata No. 1 in G Minor /Ysaÿe: 6 Sonatas for Violin Solo, Op. 27
Alexandra Stréliski – the first kiss /Néo-Romance
Felix Mendelssohn & Ömür Yıldırım – Lieder ohne Worte Book 1, Op. 19b Andante sostenuto: Venetianisches Gondellied in G minor /Lieder ohne Worte
Laurence Crane – Chorus /Natural World
Ann Margaret Hogan – Summer Solstice
Judith Parts – København /Meadowsweet
Carla pallone – Fanny /Midnight Skin (OST)
Brian Eno – Chéri (Instrumental) /FOREVERANDEVERNOMORE (FOREVER VOICELESS EDITION)
Nemanja Pavlovic – Years Of Searching /3000 days…
Ray Angry – Beautiful Horizon
Gia Margaret – April to April /Romantic Piano
Hania Rani – The Boat /Ghosts
Akira Kosemura – Looking in the Same Direction /Rudy (OST)
Ligeti Quartet, Anna Meredith – Honeyed Words /Nuc
Everwave & Morusque & Hailey Niswanger & Antoine Katz & Mark de Clive-Lowe & Elizabeth Steiner & Allysha Joy & Antoine Berjeaut & Taku Hirano – Mounds
Laurel Halo & Coby Sey – Belleville /Atlas
Lubomyr Melnyk – White Sea /Corollaries (10th Anniversary Special Edition)
Pavle Popov – Clock /Cascades
Suejin Jung – Kapuscinski: Side Effects: IV. Canoe /Breathmark
Hanakiv – And It Felt So Nice /Goodbyes
Ambijentalni šumovi su uglavnom snimljeni na Rajcu tokom 2022. i 2023. godine.
mixcloud artwork izvrnuta Zuma
Limited time DL: #01