Mark Eitzel: Trudim se da ispričam priču jednim koncertom
Proslavljeni lider američke grupe American Music Club, Mark Ajcel (Mark Eitzel), nastupiće sa pratećim bendom u okviru mini srpske turneje u Beogradu i Novom Sadu 3. i 4. februara.
Pesnik i pripovedač, tremaroš i rok zvezda, pevač i gitarista – Mark Ajcel je sve to, ali i mnogo toga još… Još jednom, treći put u karijeri, nastupiće u Srbiji, i ogoliti svoju umetnost, život, intimni svet… i probati da bar nekog novog uvuče u svet nastanjem "malim" ljudima koji vode epske bitke svakog običnog dana u životu.
Pred koncerte u DOB-u i CK13 Mark Ajcel je odgovorio na par pitanja Svetlane Đolović.
POP Depresija • Kritike za album"Don't Be a Stranger" su sjajne, a kakva je reakcija publike, tokom koncerata i putem interneta?
Mark Eitzel • Reakcija publike me uvek pomalo plaši, jer imam fanove koji prate moju karijeru već dugi niz godina. Nove pesme jednostavno 'promešam' sa ovim već poznatim I tako nastane jedan sasvim novi ukus mojih pesama na svirkama. Umesto da na početku kažem: Zdravo,sad ću da odsviram deset novih pesama', trudim se da ispričam priču jednim koncertom. Do sada – ljudi su super reagovali, bar nisam čuo nista previše negativno do sad.

Da li te je neka reakcija posebno iznenadila?
Primetio sam da im se baš sviđa pesma 'Costume Characters'.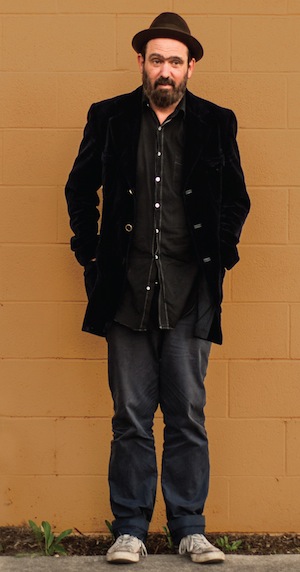 Aranžmani na novom albumu su raskošni i suptilni, tu je i gudački ansambl, kako je bilo prilagoditi te pesme koncertnim izvođenjima?
Pa ništa od gudača na koncertima. Na ovoj turneji sam sa trojicom muzičara iz Velike Britanije i zvuk je prilično bogat zahvaljujući klaviru, kontrabasu i neverovatnom bubnjaru. Trudimo se da nove pesme zvuče najbolje što može. 
Kako izgleda setlista na ovoj turneji? Da li si se uželeo da izvodiš neke pesme? Kako biraš šta ćete da svirate?
Teško ide to biranje, ali uglavnom se oslonim na ono što publika najviše traži svih ovih godina, uz nekoliko iznenađenja. Takođe, neke pesme više odgovaraju muzičarima u bendu, a neke manje….
Ima li pesama koje više ne sviraš uživo, čak iako ih publika očekuje ili 'zahteva'? Zašto?
Neke pesme su dosta specifične, traže pedal steel gitaru ili baš Vudijev stil sviranja – nije ista atmosfera bez njih. Neke pesme su mi prosto bezveze i ne želim da ih pevam iz večeri u veče. Neke pesme su jako zahtevne za pevanje, kidaju glas, I na dugoj turneji moram da se trudim da ga sačuvam u što boljem stanju što duže.
"Don't Be A stranger" je prvobitno bio zamišljen kao album American Music Club. Da li i dalje planirate da snimite nešto zajedno i ima li bend neku budućnost?
Mislim da American Music Club nemaju budućnost. Ostali smo samo Vudi i ja, i mislim da nije fer da nastavimo da koristimo to ime. A, mislim da Vudi ionako više voli da vozi autobus. 
Počeo si rad na abumu 2010. godine. Kako je bilo vratiti se tim skicama posle tako dramatičnog životnog iskustva kakav je infarkt – koliko si kasnije promenio početnu ideju?
2010. sam radio na mjuziklu u Velikoj Britaniji, oko šest meseci. Onda sam počeo pomalo da radim na novom albumu. 2011. sam nastupio na festivalu SXSW sa Vudijem i Markom Kapelom (članovima AMC). Tada sam uvideo da nećemo opstati kao bend. Onda me je u maju 2011. "opalio" infarkt i proveo sam nekoliko meseci oporavljajući se. Pravi rad na albumu sam zapravo započeo tek 2012.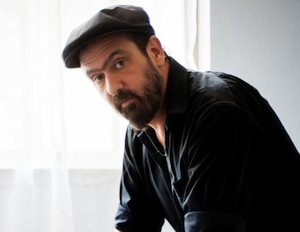 Kako se tvoj pogled na svet ili sopstveni život promenio posle infarkta?
Ah, manje se brinem oko svega. I ne nerviram se kao pre zbog nebitnih stvari. 
Kako je rad na mjuziklu "Marine Parade" uticao na "Don't Be A Stranger"?
Osećao sam se ponizno gledajući kako glumci pevaju reči mojih pesama. Sada pišem ekonomičnije. Basista i bubnjar iz mog pratećeg benda su svirali i na "Marine Parade". 
Šta bi bila najveća razlika u pisanju songova za mjuzikl i pesama za album (ako se izuzme povezani tok priče u mjuziklu)?
U našem mjuziklu priča nije bila povezana – to mi se baš i svidelo – ali s druge strane, to je bilo i teže jer smo morali skroz da se fokusiramo da unutrašnji svet likova. 
Kako je poznavati nekoga ko je osvojio veliku premiju na lotou?
On je zapravo prijatelj mog menadžera, ne moj. Inače je veliki fan moje muzike, sretali smo se nekoliko puta na koncertima. On je jednostavno hteo da se pobrine da album bude dobro snimljen, u pravim uslovima. Poznajem neke ljude koji bas imaju sreće. Ne znam da li su kao i svi ostali – tužni, srećni, izbezumljeni… 
Po čemu pamtiš Beograd iz prethodnih dolazaka?
Sećam se da su svi bli veoma ljubazni prema meni. Bilo je super videti na koncertima i ljude koji ne poznaju toliko moj rad, kao i hardkor fanove. Poslednji koncert American Music Club, kao ful benda, bio je baš onaj u Beogradu 2008. Tako da ste i po tome "posebni". Radujem se ponovnom dolasku i tome što ću imati malo više vremena, pošto ostajemo dva dana u Srbiji. 
Fanovi su nestrpljivi da saznaju šta ovoga puta donosite od koncertne memorabilije?
Imamo puno toga – moju prvu "tour" majicu, CD sa sasvim novim studijskim pesmama, koje sam snimio posle "Don't Be A Stranger" – zove se "Glory" – to može da se kupi samo na koncertima i nigde više… skroz je ograničeni tiraž… Tu je i aktuelni album, i razne druge stvari…