DOM OMLADINE I POP DEPRESIJA PREDSTAVLJAJU
STEVE WYNN & THE MIRACLE 3
SREDA, 09. NOVEMBAR 21H, DOM OMLADINE
KARTE U PRETPRODAJI NA BLAGAJNI DOB-A PO CENI OD 800 DINARA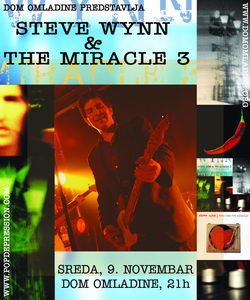 Kada neko bude pisao (muzičku) istoriju Beograda devedesetih, tri ključna mesta zauzeće sigurno koncerti Grenta Harta (Grant Hart), Stiva Vina (Steve Wynn) i grupe Prodidži (the Prodigy). Svaki na svoj način učinili su da višegodišnju izolaciju od ostatka sveta, smanjimo bar za neki mesec/dan osećajem da smo deo nečeg velikog i bitnog.
Kada je pre dve godine Steve Wynn svirao u Beogradu po drugi put u svojoj karijeri, ovoga puta praćen eksplozivnim pratećim bendom The Miracle3 u Domu omladine, bilo je 800 egzaltiranih gledalaca. Bio je već kraj turneje koja je promovisala ploču "Static Transmission," ali Stiva to nije sprečilo da kaže da "ovako nešto, kao prijem publike u Beogradu, odavno nisam doživeo." Mislio je da se posle Beograda vrati kući, u Njujork, ali na poziv velikog fana, Rajana Adamsa (Ryan Adams), krenuo je na novu turneju, ovoga puta kao predgrupa verovatno najvećoj Amerikana zvezdi na svetu u ovom trenutku. Prilagođavanje na ambijent velikih hala i stadiona protekao je bez ikakvih problema.
Kada umetnik koji piše pesme i svira više od dvadeset godina stekne novu publiku među tinejdžerima, koji nisu ni svesni postojanja njegove karijere sa legendarnim sastavom Dream Syndicate sa početka osnadesetih ili solo rada koji je nadahnuo dvocifreni broj albuma, onda je valjda svima jasno da je njegova muzika univerzalna i da funkcioniše u svako vreme, geografskoj ili sociološkoj odrednici. U novom milenijumu Steve Wynn & The Miracle 3 odsvirali su više od 500 koncerata…
2005. godina donela je novu etapu u karijeri Stiva Vina. Kao i nekoliko puta ranije, pustinja Arizone i Sunce pomogli su da sve ideje i skice dobiju definitivan i univerzalan značaj. Poruka za buduća pokolenja zapisana je na albumu "…tick…tick…tick" (Blue Rose).
Četiri muzičara u studiju, okrenuti jedan drugom, bliski i zabrinuti, uplašeni i besni, optimistični i željni – rade ono što najviše vole: stvaraju muziku za sebe i svoje prijatelje. Steve Wynn u poziciji da sumira: život oko sebe, Ameriku, sebe i svoju muziku, prijateljstva i ljubavi, strasti i snove… "…tick…tick…tick" kraj je jednog životnog ciklusa, kraj "Tusonske 'pustinjske' trilogije" i početak svega ostalog.
Ko nije želeo da vidi Stiva Vina uživo, taj ne bi razumeo ni u čemu je značaj Elvisa, Bitlsa, Stonsa, Velvet Underground ili Television.