Koncertni uragan u tami Gun Cluba

Organizujem koncerte u Beogradu od 2002. godine. Pamtim svaki detalj, svaku pesmu, svaku dobru i lošu stvar. Trudim se da iz svakog koncerta nešto naučim i ispravim greške. Samo ove godine POP Depresija imala je tu čast da promoviše koncerte Marka Eitzela, Stray Dogga, Chucka Propheta and Mission Express, Rebel Star i Milana Glavaškog, My Buddy Moose, Marka Lanegana, Wooden Ambulance, Ilije Ludviga, The Bambi Molesters, Wenta, Sic Micka, Efterklang, Ti, Velikog prezira, kao i da pomažemo oko Americana Night festivala. Ono što se desilo sinoć u Gun Clubu – ja to nisam video/čuo u životu.
Onolika količina strasti, energije, seksualnosti, spontanosti, agresije i (povremene) nežnosti – osećaj je kao da ste upravo imali najbolji seks u životu i da sada niste sigurni da li da opet probate, čisto da ne kvarite utisak. Dunja Ercegović je čudo. Njen Lovely Quinces alterego je na papiru skroz jednostavan "projekat": obična devojka sa gitarom, plačipičkaste pesme, malo glasnije pevanje i "roman toka svesti" između pesama. Kada stanete ispred nje i ona počne da reži, grize, otkida žice i ubija gitaru koju svira, imate osećaj kao da prisustvujete nečemu što može da promeni vaš život. Ali, bukvalno. "Stare" pesme su bile moćne, kao i obično "Wrong House" je raznela, "Second Hand Heart" je pocepao par "pizdi" u publici na delove (mene defintivno), "Mr. Lonely Boy" skoro da je ličio na sasvim običnu pop-pesmu, nova pesma "Homesick" će biti klasik za koji dan, ali sve te pesme pojedinačno – i njene i "medli" obrada koji je svirala – zaista nisu mnogo bitne – kompletno iskustvo je bilo neverovatno. U glavi mi je naslov one biografije Brusa Springstina "Uragan zvani Brus" Dragana Todorovića i taj naslov me progoni: preko nas i kroz nas prošao je uragan. Rastavio nas je i ponovo sastavio, a da ne znamo šta je ostalo od "starih nas". Kakav jebeni osećaj, tu, u Gun Clubu, pred stotinak ljudi. Neprocenjivo.
Želim da napišem nešto i o Petru Vraniću i Elephant and the Moon. Sjajan koncert je Pera održao u svom drugom pohodu na Beograd. Lepo osmišljen raspored pesama sa posebno upečatljivim krajem, uz gostovanja Dunje na "White Lilies" i Anjute (Janković) na violini za šarmantnu improvizaciju aranžmana na "The Good Life", uz – i ovoga puta odličnu "The Night Is Catching Up With Me", kao i malo "pankeraja" na Dukatovoj elektičnoj gitari. Petar je strašno napredovao za ovih par meseci od kada sam ga video prvi put u "Gradovoj" bašti kada je bio gost Zaokreta i već sada je idealan partner u sledećim akcijama Stray Dogga, Wooden Ambulance, Wenta, Ane Ćurčin, On Tour…
[juicebox gallery_id="30″]
:: LOVELY QUINCES i ELEPHANT AND THE MOON U GUN CLUBU ::


Dvoje mladih hrvatskih muzičara, koji nastupaju pod imenima Lovely Quinces i Elephant and the Moon, održaće koncert u sredu 18. decembra u beogradskom Gun Clubu u 22h.
Dunja Ercegović ili Lovely Quinces je mlada splitska kantautorka koja živi u Zadru i koja je u rekordnom roku osvojila hrvatsku i publiku u regionu i sada je na najboljem putu da to učini i van balkanskih granica. Njena prva pesma izašla je u javnost krajem 2012. godine, a debitantski EP "No Room For Us" objavljen je 20. septembra. EP sadrži pet pesama koje na idealan način pokazuju Dunjine vanserijske autorske i pevačke kvalitete. Pesme su snimane krajem leta u Zagrebu u studiju Funhouse, producent je bio Berko Muratović. Od 3. decembra EP "No Room For Us" je dostupan za slobodno preuzimanje na regionalnim MTV sajtovima. CD verziju ovog izdanja možete da kupite na koncertima Lovely Quinces ili da je naručite putem Facebook stranice.
Pored koncerata u Hrvatskoj – samostalnih i festivalskih – kao i onih na kojima je svirala kao podrška grupama Goribor, Kurt Vile and the Violators, Tame Impala…, Lovely Quinces tokom ove godine svirala je u Beču i Kaljariju, a tokom jeseni imala je turneju po Severnoj Americi – nastupila je u Čikagu i Njujorku, kao i na "Indie Week" festivalu u Torontu. Tekst o njoj u prvom broju hrvatskog izdanja prestižnog "Rolling Stone" magazina bio je samo logičan epilog nekoliko uzbudljivih meseci u Dunjinom životu, a rasprodat prvi solo koncert u zagrebačkoj Tvornici kulture najava velikih stvari koje slede.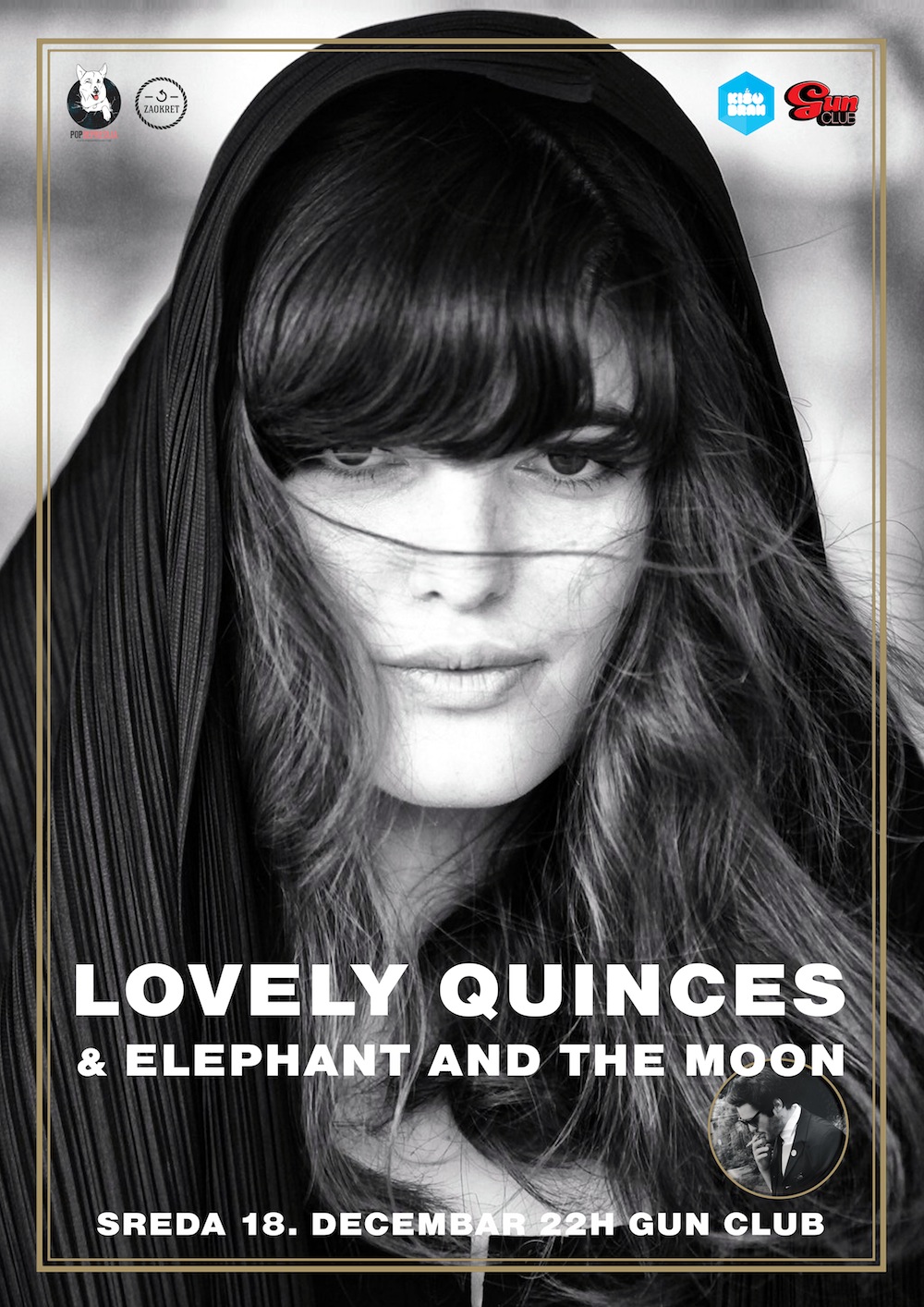 Zagrepčanin Petar Vranić ili Elephant and the Moon posle par godina sviranja u bendovima, od 2011. samostalno prati svoju muzičku zvezdu (padalicu) i svira "svoje tugaljive rokenrol pesme na granici između americane i mamurnog kajanja, Balkan via Nashville". On kaže da "pesme Elephant and the Moona žive u zadimljenim podrumskim barovima, gde stari klavijaturista hrapavim glasom peva džez poslednjim gostima koji još nisu utopili sve svoje brige." Gun Club će biti idealna pozornica za njegov nastup, zar ne 😉 Posle singla "The night is catching up with me", publici je nedavno predstavio i drugu novu pesmu – "The Good Life", koja će se naći na novom EP-u, a ubrzo zatim očekuje se i dugosvirajuće DIY izdanje sa pesmama nastalim ovog leta na turnejama.
I Lovely Quinces i Elephant and the Moon deo su regionalne kompilacije "Bistro na rubu šume". Slon je sa "The night is catching up with me" bio učesnik trećeg, dok se Dunjina pesma "Second Hand Heart" nalazi na poslednjem 4. delu ove hit kompilacije.
Ulaznice za koncert Lovely Quinces + Elephant and the Moon na vratima Gun Cluba prodavaće se po ceni od 300 dinara.