Ovo je POP Depresija #595, prva u 2014. godini ali i potpuno drugačija emisija, nekada sam to zvao Specijal. U centru pažnje biće muzika i reči jednog posebnog čoveka i muzičara, Saše Zorića Čombeta, i njegove grupe Kodagain.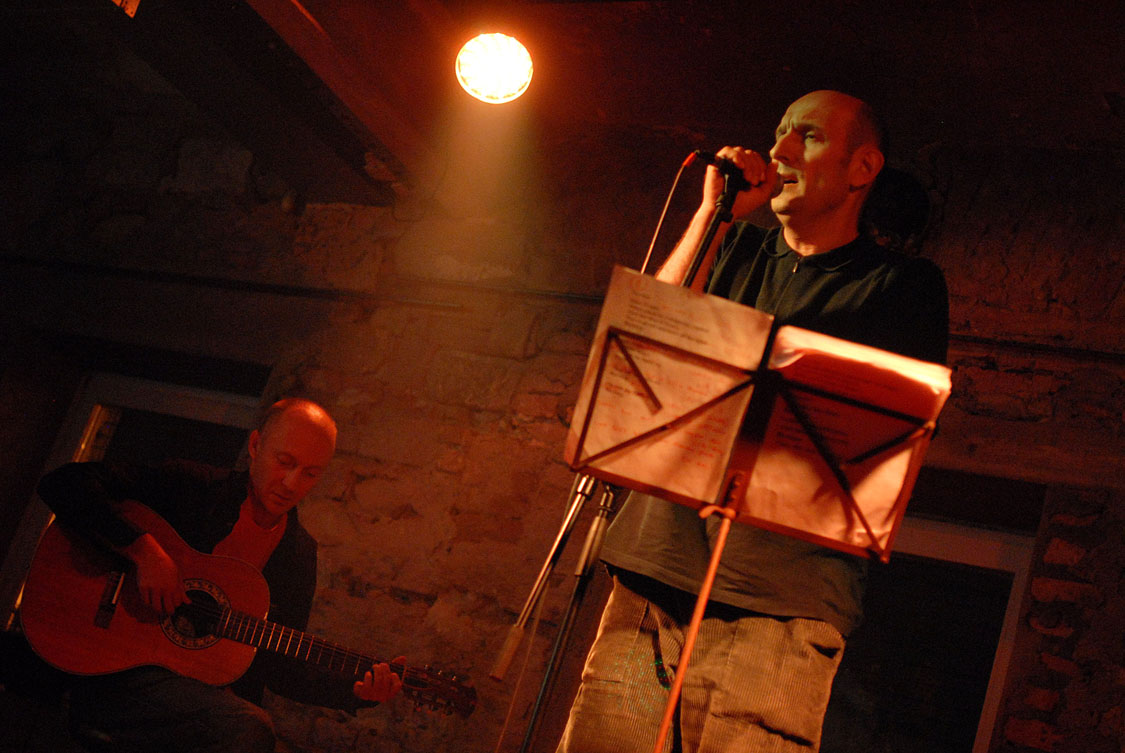 Sigurno će neko od vas da se pita zašto on i zašto nema godišnjeg PD izbora  pesama i albuma? Iskreno, onako kako radim ovu emisiju već 13 godinu, svaka je za sebe neka vrsta liste – nedeljna, dnevna, mesečna, nekog bitnog ili manje bitnog perioda u (mom) životu, i dosta mi je lista za 2013. godinu. Gledao sam statistiku pesama koje sam puštao prošle godine i tamo jasno piše da je Kodagain bez konkurencije grupa čije sam pesme najviše puštao tokom 2013. godine i želeo sam da to nekako obeležim. Preporučujem da uz ovu emisiju obavezno pročitate i preslušate intervju koji je Skoča za Gistro FM uradio sa Čombetom pre tri godine za kompletnu sliku, a nadam se i verujem da će njegova muzika – uz stvari koje ćete čuti – biti dovoljna da se potpuno prepustite neverovatnom svetu ovog tinejdžera – iako je u šestoj deceniji života – Čombe je zaista tinejdžer u srcu, i da bar tokom ova dva sata zaboravite na sve drugo. 
U moj svet Kodagain je ušao tokom Jeseni folkera u Gradu 30. septembra 2010. godine, kada su on i Vlada bili domaćini Peasantu, a učinio nam je i tu čast i snimio obradu pesme "Metal baby" Teenage Fanclub za našu kompilaciju "Pesme ispod pokrivača" i gostovao na promociji u Rex-u. Malo je reći da se Saši divim i da želim da imam bar deo njegove strasti u godinama koje dolaze.
Dragi svi – ovo je Saša – Kodagain.
POP Depression #595 ⁠[⁠⁠⁠06.01.2014⁠⁠⁠]⁠⁠⁠ by Pop Depression on Mixcloud
POP Depresija/Ivan
Montaža: Nenad Dronjak
Kodagain – David Niven (1:41)
Kodagain – The New Love (1:36)
Kodagain – Someone I Can Call Up Any Time (1:42)
Kodagain – The Shadow of Your Smile (1:57)
Kodagain – I Want To tgd, tgd (1:47)
Kodagain – 1941 (2:31)
Kodagain – You, You Are My Girl (1:29)
Kodagain – A Woman With 12 Fingers (0:55)
Kodagain – Caligula (1:45)
Kodagain – Tung Fang Shuo (1:39)
Kodagain – My Way (2:16)
Kodagain – As I Write This (1:35)
Kodagain – So How Are You Harry (1:11)
Kodagain – Vampira (1:24)
Kodagain – His Latest Flame (2:34)
Kodagain – I Can't Help Smiling (3:00)
Kodagain – It's Karma (1:35)
Kodagain – Young Fool (2:55)
Kodagain – Honolulu (2:05)
Kodagain – Ajde Mori Gajo (1:57)
Kodagain – Miševi sa Havaja (2:42)
Kodagain – Ona  gubi moć  (1:37)
Kodagain – His Latest Flame (2:27)
Kodagain – Farewell  (2:15)
Kodagain – Red Roses For a Blue Lady (2:15)
Kodagain – Fly Down (1:29)
Kodagain – Epitaph For A Darling Lady (1:43)
Kodagain – Metal Baby (2:36)
Kodagain – You Got To Be A Cowgirl (2:02)
Kodagain – My Fear Of His Fear Of Death (1:32)
Kodagain – T'es sympathique (1:45)
Kodagain – Kamakura (1:41)
Kodagain – Protect Your Necks (2:36)
Kodagain – Eerie Earworm (2:27)
Kodagain – My Name is Earl (1:56)
Kodagain – Flesh Devil (2:21)
Kodagain – Japanese Love Song (2:03)
Kodagain – La Muerte (2:25)
Kodagain – In Dreams (2:54)
Kodagain – If Those Dark Eyes (2:17)
Kodagain – Tell Me Something New About NY (1:55)
Kodagain – Fujiyama Mama (1:14)
Kodagain – The Merchandise Table (2:23)
Kodagain – My One and Only Love (1:31)
Kodagain – Comic Night (2:00)
Kodagain – Bye  (1:40)
Johndoegain – If you happen to be Indra (2:56)
Johndoegain – Marsyas (2:09)
Kodagain – Why You Are Listening? (1:49)
Kodagain – I'm Beginning To Get The Feeling That We're Winning (2:48)