Rebel Star, internacionalna rokenrol grupa koju predvodi Milan Glavaški, ima dve potpuno nove pesme – "Ti i ja" i "Sutra" – i najavljuje koncerte u Bečeju i Beogradu, 10. i 11. oktobra.

U Bečeju Rebel Star priprema nešto intimniju klupsku svirku, dok posetioce DOB-a očekuje veći koncert sa specijalnim gostima, novim pesmama, obradama i tonom proverenog materijala!
Ulaznice za beogradski koncert po ceni od 400 dinara su u pretprodaji u kafeu Šikarica, Skadarska 22
. Nepostredno pred koncert cena ulaznice iznosiće 600 dinara.
Nove pesme, Ti i ja i Sutra nastale su u kućnom studiju lidera benda, Milana Glavaškog, Big Pink, i kako kaže: Na svetloj straini smo Ti i ja, na tamnoj – pesma Sutra.
Veliki i često mistični Nil Jang u antologijskoj pesmi "Trasher" ima stih "I was watchin' my mama's T.V./ It was that great Grand Canyon rescue episode." Decenijama kasnije eksperti, laici i fanovi analiziraju šta je pesnik hteo da kaže: da li je zaista pevao samo o tome kako je gledao na (maminom) televizoru neku "akciju" u Velikom Kanjonu ili je to bila metafora za bekstvo od Krozbija, Stilsa i Neša i njihove saradnje, koja je pretila da Jangu potpuno ubije kreativnost. Ili je mislio na nešto skroz drugačije?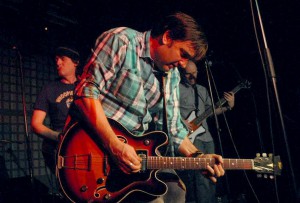 Milan Glavaški nije Nil Jang. Niko nije. Ali, pesme koje Milan pravi sa svojim "internacionalnim" rokenrol bendom Rebel Star imaju taj jedinstveni kvalitet da mogu da se tumače na različite načine i da mogu da odolevaju vremenu i "modi" . Imaju i još jedan, izutetno bitan kvalitet: svako u njima na kraju dobije to po šta je došao: utehu, nadu, radost, zadovoljstvo, savet…
Poslednji put Rebel Star nastupio je uživo u Novom Sadu u novembru 2013. godine. Poslednju pesmu bend je objavio u oktobru prošle godine – singl "Draga". Poslednji, treći, studijski album "Rebel Star" u svet je krenuo još u oktobru 2012. godine. Koliko se samo stvari promenilo u i oko nas za sve to vreme…
Posle skoro godinu dana pauze, Rebel Star se vraćaju na scenu i predstavljaju dve potpuno nove pesme i najavljuju dva koncerta. Ovo se ne propušta 🙂