Mark Lanegan Band i njegov "Fantomski radio" osvajaju Balkan – koncertima u Kotoru, Skoplju, Zagrebu i Beogradu. Koncert u prestonici Srbije će se održati u utorak, 24. februara 2015. u sali Amerikana Doma omladine Beograda. Početak koncerta najavljen je za 20h.
Ovo je treći koncert Marka Lanegana u samo tri godine i treći album koji promoviše u našim krajevima – Blues Funeral, Imitations i sada Phantom Radio. Nikada do sada nijedan muzičar nije uradio tako nešto u Srbiji! Oba prethodna Laneganova koncerta bila su rasprodata i to je dovoljno upozorenje za sve da karte ovog puta kupe na vreme. Svemirski bluz se vraća u Beograd!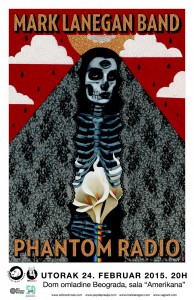 Odličan hrčak i POP Depresija u epizodi Igrajmo za publiku najavljuju: Mark Lanegan Band u Domu omladine Beograda. Ulaznice po ceni od 1700 dinara su u pretprodaji na blagajni Doma omladine Beograda, kafeu Šikarica, Skadarska 22, kao i na svim Eventim i Gigs Tix prodajnim mestima. Nova pretprodajna cena ulaznice biće objavljena sredinom decembra.
Tokom tridesetogodišnje muzičke karijere Mark Lanegan je objavio devet zapaženih solo albuma, ali takođe i niz ploča sa njegovim matičnim bendom, Screaming Trees.
Mark u uzbudljivom muzičkom životu beleži i saradnju sa brojnim muzičarima, koji su dodatno potvrdili njegov autoritet na rok sceni: Nirvana, Queens of the Stone Age, Greg Dulli (Twilight Singers i Gutter Twins), Isobel Campbell, Duke Garwood, Melissa Auf der Maur, Martina Topley Bird, Creature with the Atom Brain, Bomb the Bass, Soulsavers, Mad Season, Moby, The xx…
Materijal novog albuma Phantom Radio, posmatrano iz ugla procesa nastajanja pesama i specifičnih emocija koje donosi slušaocu, predstavlja kolekciju muzičkih slika divlje, buntovne i posebno zanimljive duše Marka Lanegana, prožete poetičnim mračnim prikazima budućnosti u skladu s vremenom u kojem živimo. Jednostavnost kompozicija i aranžmana uvek je u centru pažnje, a tajna uspeha krije se u nekonvecionalnom procesu nastajanja muzike, bogatom muzičkom nasleđu i neprikosnovenom talentu koji je iznad jednačina za uspeh popularne rok kulture.
Mark Lanegan je Phantom Radio komponovao ne u studiju ili za radnim stolom, već u svakodnevnom životu hvatajući neuhvatljive linije koja spajaju fikciju i realnost – ritam sekciju je osmislio na aplikaciji za smartfon koja sadrži njegove omiljene ritam mašine Roland 808 i 909, inspiraciju je tražio vozeći se Los Anđelesom i slušajući kraut rock, 80s new wave, garage punk radio stanice, a poeziju pisao svakog dana. Uveče bi većinu materijala bacao, a za "za dalji rad" ostavljao bi samo one esencijalne delove.
Kao i prethodna dva puta, na koncert u Beograd Mark Lanegan dovodi i brojne ugledne goste koji će biti muzička podrška njegovom MLB-u i koji će učiniti da ovaj Rolling Thunder Revue XXI veka bude još jednom događaj za pamćenje.