The Membranes i SIZ u Elektropioniru 8. septembra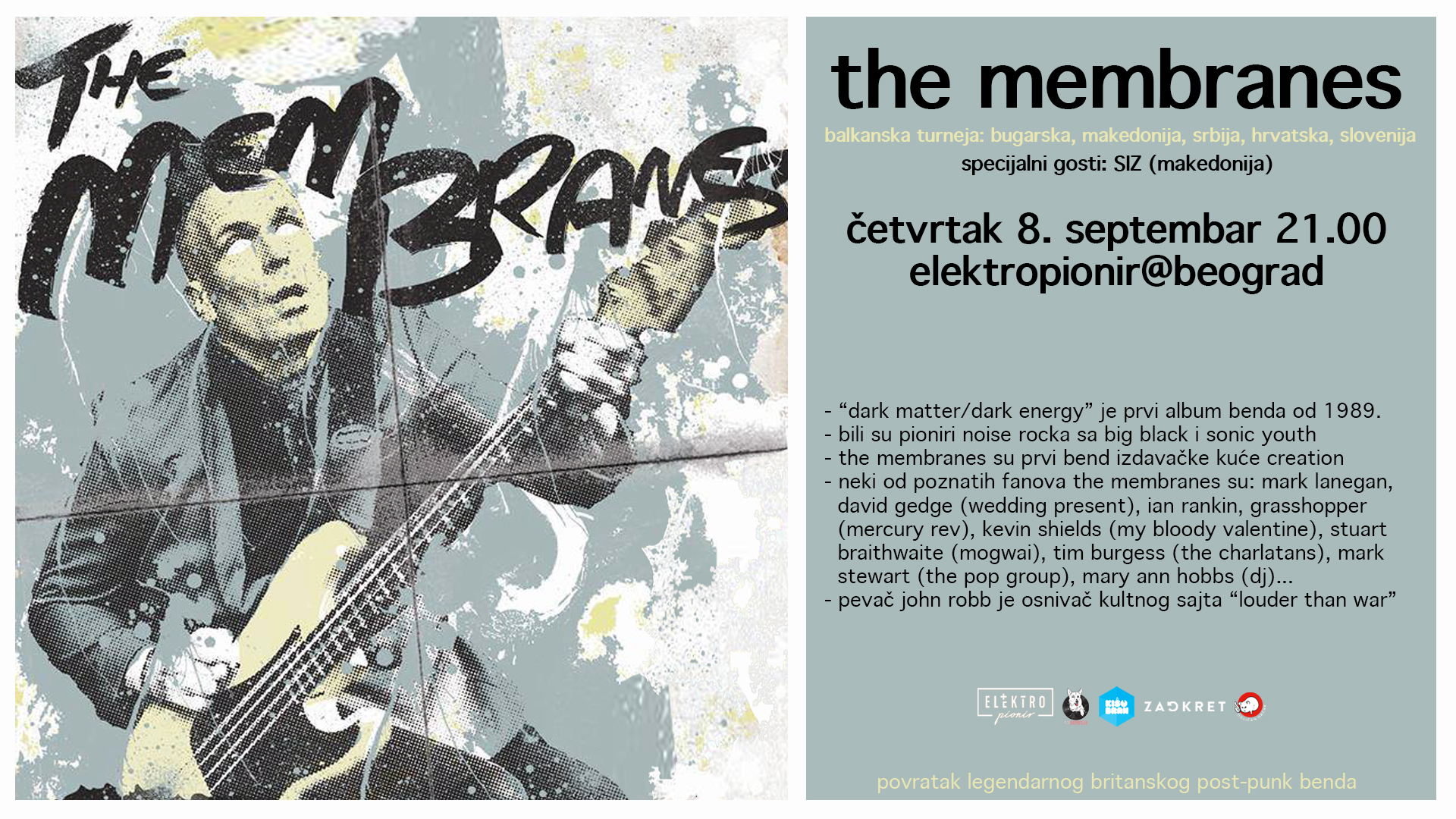 Kultni engleski post-punk/noise bend The Membranes u okviru ekskluzivne balkanske turneje nastupiće 8. septembra u beogradskom klubu Elektropionir. Njihovi specijalni gosti na koncertu biće makedonski SIZ. Ulaznice su u prodaji po promo ceni od 1000 dinara u kafeu Šikarica i Zaokretu.
The Membranes su nastali krajem sedamdesetih godina prošlog veka u Blekpulu, a svojom muzikom i neverovatno energičnim nastupima otovorili su put za Big Black i Sonic Youth. Bili su prvi bend koji je potpisao za slavni Creation records (My Bloody Valentine, Jesus and Mary Chain) i snimao sa kasnije slavnim producentom i još tada njihovim felikim fanom Steveom Albinijem (Big Black, Shellac).
Legendarni John Peel ih je redovno puštao u svojim emisijama, a 1982. ušli su u TOP50, imali su pesmu na 6. mestu njegove eklektične liste. A onda, posle šest studijskih albuma i više stotina koncerata su rešili da uzmu malu pauzu… i ona je trajala "samo" 19 godina.
Njihova manijakalna energija na bini i muzička mašta uticali su na celu andergraund scenu osamdesetih, o čemu je lider benda i pevač i kasnije novinar John Robb pisao u više svojih knjiga (npr. Death To Trad Rock). 2009. godine The Membranes su se ponovo okupili posle višegodišnje pauze da nastupe na festivalu "All Tomorrows Parties" na poziv My Bloody Valentine i Shellac. Prošle jeseni grupa je objavila prvi album posle 26. godina, a "Dark Matter/Dark Energy" je naišao na nepodeljene hvalospeve i fanova i kritike i postao njihov komercijalno najuspešniji album u istoriji. Već godinu dana sviraju bez pauze: velike festivale, male klupske koncerte, samostalno ili sa fanovima koji iz zovu da sa njima krenu na velike turneje (Stranglers, Therapy?) i uživaju u muzici i novim izazovima.
The Membranes su uvek imali veliku podršku kolega muzičara, a njihovi veliki fanovi su Mark Lanegan, Kevin Shields, Mogwai, Mercury Rev, Godflesh, The Pop Group, Steve Albini…
SIZ (self-management community of interests) je potpuno novi bend iz Kumanova, koji čine Ivica Dimitrijević – gitara i vokal i Filip Stančevski – bubanj i perkusije. Muziku koju SIZ stvaraju je nemoguće ubaciti u žanrovske kalupe, a za one kojima je "etiketa" potrebna, neka to bude avant-garaža ili neo-bopizam.