Belgrade2Bowie – tekst za katalog
Piše: Svetlana Đolović
---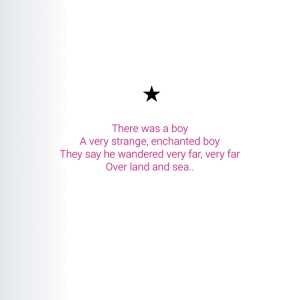 There was a boy
A very strange, enchanted boy
They say he wandered very far, very far
Over land and sea...
…and Mars.
Oduvek se nešto veoma lično ticalo Bouvija u pesmi Nature Boy. Možda je sama činjenica da je pesma nastala iste godine kad je on rođen, stvorila tu nevidljivu vezu i bila nekakva imaginarna hronika njegovog života. I kada je on otpevao 2001. godine činilo se kao da peva sebi, da je zaista on taj očarani momak koji je bio svuda i prošao sve i usput naučio lekciju… I nedavno se konačno nastanio na tom svom Marsu. Kao pravo zvezdano biće.
Neobično je o Bouviju govoriti u prošlom vremenu. Čovek koji je skoro pola veka stvarao budućnost – nezaustavljiv, nikad sentimentalan, nikad nostalgičan – sada je sećanje.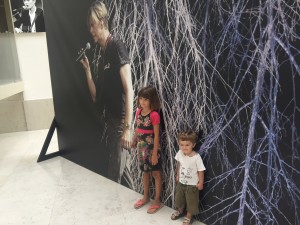 Svet bez Bouvija – čudna i nestvarna misao. Koliko god da je bio izvan ovog sveta, toliko je nepogrešivo znao sve njegove čari, slabosti, potencijal. Briljantni autsajder i miljenik miliona. Ekscentrični avanturista rešen da raskrinka malograđanske obzire, majstor manipulacije, šarmantnih krađa, provokacije, elegantnih laži i seksualne intrige – ludak koji će nadmašiti najluđu sliku o sebi. I naravoučenije: "Nemojte očekivati da ispod svega toga pronađete pravog Dejvida Džounsa." Istina je, baš kao u Dosijeu X, tamo negde…Danas kada su njegova dela nezaobilazni deo naše opšte kulture, njegova ličnost ostaje enigma.
Divlje godine, ćudljive godine, spokojne godine…pesme, filmovi, kostimi, frizure, turneje, uverenja, partneri…Bouvijev život se pred našim očima odmotavao kao epizode sapunske opere. Pa ipak, njegova emotivna distanca i samoironija uvek su držale stvari pod kontrolom, sa džentlmenskom ekstavagancijom. Sedamdesetih je bio čudo, osamdesetih fenomen, devedesetih ikona, dvehiljaditih legenda.
Među svim artefaktima Bouvijevog života, fotografija zauzima naročito mesto. Urođeni osećaj za pozu i scenu, i njegova fascinacija vizuelnim umetnostima uopšte, činili su ga idealnim modelom u svakoj prilici. Fotografija je tako bila najdirektnija veza sa Bouvijevim unutrašnjim svetom, njegovom "plastičnom dušom" koja je i u muzici bila sasvim neuhvatljiva. Te vanzemaljske oči i taj vanvremenski osmeh činili su da poverujemo da ga bar malo poznajemo i da smo mu bar malo potrebni.
Među tvorcima tog "ljubavnog" odnosa našao se i jedan snalažljivi Beograđanin, samouki fotograf i iskreni ljubitelj muzike – Branislav Rašić. Od prvog susreta u Klaridžis hotelu 1983. pa narednih dvadesetak godina, Brajan je lepio kockice tog velelepnog mozaika, sačinjenog od bezbroj promena imidža, žanrova, tema. Sticaj srećnih okolnosti, talenat, upornost i lepo vaspitanje učinili su ga cenjenim saradnikom i sjajnim hroničarom jedne nesvakidašnje karijere.
Fotografije pred vama su priča o poverenju, o svetu koji danas gotovo da više ne postoji, i o vezama koje su u takvom svetu negovane. To je neminovno i sentimentalno putovanje, priča o nekom drugom vremenu u kom su foto-aparati bili ne tako dostupni, a super-starovi malo više dostupni – kao ljudska bića, ne kao virtuelni sadržaj.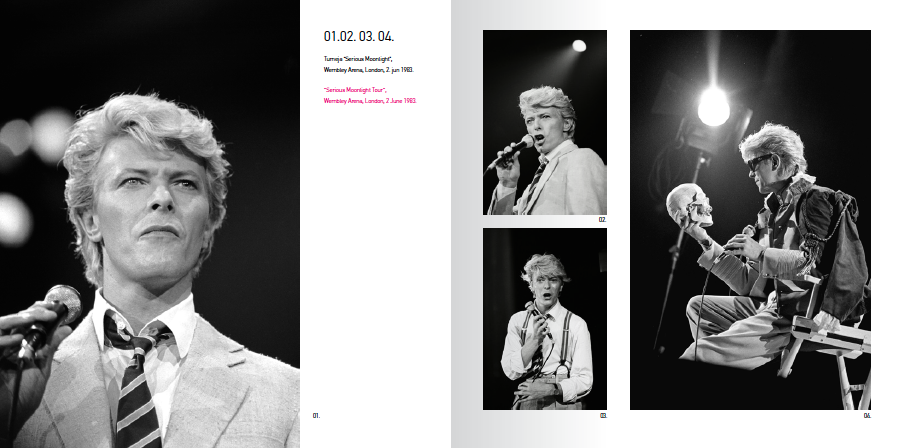 Bouvijeve fotografije nisu materijal za spomenar. Kao dnevnička beleška, kao inspiracija, one su na drugačiji način od njegove muzike – dokaz neprolaznosti i svedočanstvo odvažnosti.
Na njima vidimo trijumf duha, harizme, magnetne privlačnosti, i ponajviše SLOBODE.. Vidimo hrabrost uprkos svemu, uprkos svima, uprkos sebi samom. Hrabrost da budeš šta poželiš.