Uvećanje (Blow-Up) [Mikelanđelo Antonioni, 1966]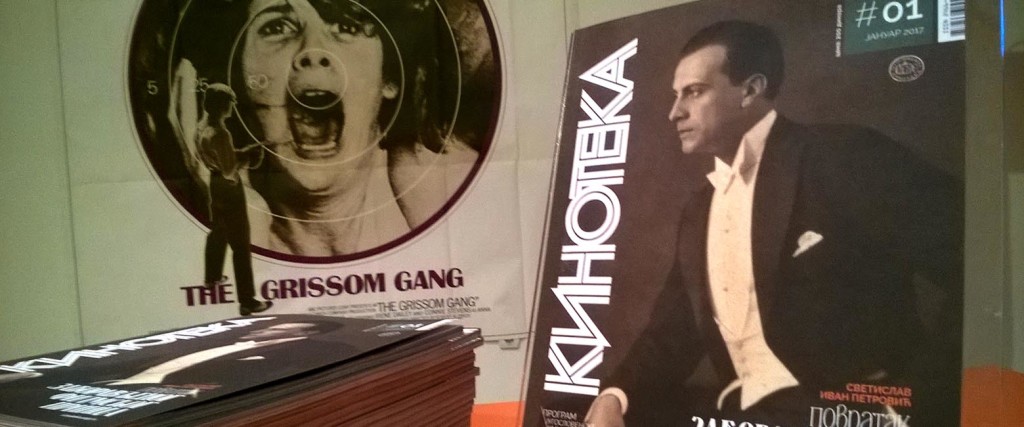 Prvi broj filmskog mesečnika "Kinoteka" predstavljen je 12. januara 2017. u novoj zgradi Jugoslovenske kinoteke. Svetlana Đolović je pisala o muzici iz filma "Uvećanje", koji je bio na repertoaru Kinoteke u vreme izlaska prvog broja.

---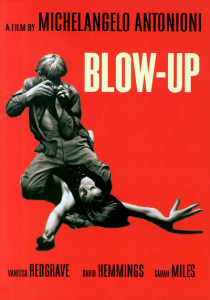 UVEĆANJE (BLOW-UP), 1966 
Režija: Mikelanđelo Antonioni
Saundtrek: Herbi Henkok
Piše: Svetlana Đolović
Odmah na početku da kažem da reč soundtrack nikad nije dobila adekvatan prevod na naš jezik, tako da danas hteli-ne hteli koristimo saundtrek kao najtačniju i najkraću reč za formu koja se prvi put zvanično pojavila u komercijalnoj upotrebi 1937. godine prilikom promocije crtanog filma "Snežana i sedam patuljaka". 
I eto, skoro 80 godina kasnije, muzika na filmu nas intrigira više nego ikad pre. Bilo da je primenjena, autorska, bilo da je kompilirana iz riznice poznate, opskurne, aktuelne ili stare popularne muzike. Bilo da se muzikom opisuje radnja, kao u mjuziklu ili muzika nadomešta govor, kao u nemom filmu, teško je zamisliti pokretne slike bez muzike.  
Naročito je uzbudljivo posmatrati filmsku muziku izvan originalnog konteksta, tj. filma. Nije malo saundtreka koji su nadmašili popularnost ili kvalitet filmova za koje su pisani tj. birani (Groznica subotnje večeri, Purpurna kiša, Telohranitelj). Stvaranje atmosfere filma muzikom je naročit izazov za muzičare svih fela, tako da mnogi nisu odoleli, morali su bar stidljivo da se oprobaju u dokumentarnim ili kratkometražnim filmovima. Ne treba smetnuti s uma i ikoničke autorske tandeme, kada se reditelj i autor muzike tako dobro razumeju da iz filma u film grade svoju prepoznatljivu estetiku, u kojoj je umetnost jednog neodvojiva od onog drugog (Leone-Morikone, Spilberg-Vilijams, Felini-Rota, Hičkok-Herman). A tek multitalentovani reditelji koji su sami pisali muziku za svoje filmove (Čaplin, Karpenter, Istvud)! Naravno, da ne zaboravimo sve one muzičare koji su se oprobali u pisanju filmske muzike u skladu sa ili uprkos svojim cenjenim karijerama u nekom od žanrova popularne muzike, bilo da je to rok, džez, soul, elektronika…bilo je vrlo uzbudljivih i nezaboravnih rezultata, bilo da su oni bili u okvirima očekivanog ili ne. Za neke to je bio početak i sasvim nove karijere.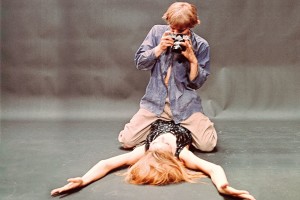 No, da pređemo na stvar. U centru pažnje naše prve epizode je muzika iz  jedne nesvakidašnje priče – med'javom i med' snom, priče koja je zahvaljujući i muzici, postala jedan od instant klasika filmske umetnosti. Film "Uvećanje", velikog italijanskog maga Mikelanđela Antonionija, je delo koje je istovremeno savršen predstavnik epohe po stilu i atmosferi, a koje je neverovatno moderno u pričanju priče i tretiranju teme. Za samog Antonionija, "Uvećanje" je predstavljalo obrt – za razliku od prethodnih filmova u kojima su dominirale intimističke priče o kompleksnim odnosima dvoje ljudi, ovde je ponudio priču o odnosu pojedinca prema stvarnosti koja ga okružuje, bilo kroz objektiv foto-aparata ili kroz susrete sa nepoznatim ljudima u različitim okolnostima, težeći tako, po sopstvenim rečima ka "hladnoj i sračunatoj senzualnosti". 
Od ranih radova Elmora Bernstina (Na Dokovima Njujorka, Čovek sa zlatnom rukom), preko nezaobilaznih Lifta za gubilište i Do poslednjeg daha, pa sve do Taksiste, Poslednjeg tanga u Parizu ili Kineske četvrti, džez se sjajno uklapao u smele rediteljske vizije, stvarajući neodoljive ambijente, nekad rasplinute i magične, nekad nervozne i nezaustavljive, prateći raznolike stilove i inovacije u okvirima samog muzičkog žanra. Jedan takav primer je svakako ovaj debitantski rad na polju filmske muzike, mladog i već poznatog džez pijaniste Herbija Henkoka. Bend koji je okupio za tu priliku, izneo je njegove teme sa tako šmekerski i šik, dočaravši tako na najbolji način atmosferu Swinging Londona u koji radnja smeštena. Pored Henkoka koji je maestralno svirao klavir i melodiku, tu su bile tadašnje i buduće zvezde džeza: Fredi Habard i Džo Njuman na trubi, Fil Vuds na alt sakstofonu, Džo Henderson na tenor saksofonu, Ron Karter na basu, Džimi  Smit i Pol Grifin na organi i Džek DeDžonet na bubnjevima. Gitara Džima Hola je nešto na šta posebno skrećem pažnju – ta preciznost, boja, prefinjenost, britkost, osećaj za meru i suptilna inovativnost je ono što je i ovde pokazalo o kako uticajnom džez gitaristi se radi. Njihova zajednička vožnja, u kojoj se smenjuju dinamične, povremeno ritam i bluz, surf i fanki obojene teme, sa onim setnim i zamišljenim, psihodeličnim, daje besprekoran ritam filmu. Ovaj saundtrek iznedrio je i jedan hit popularne muzike devedesetih – čuveni sempl u pesmi Groove Is In The Heart grupe Deee-Lite uzet je iz teme "Bring Down The Birds".  
Među pesmama koje su se našle na albumu je i jedan rok klasik – "Stroll On" iz legendarne scene u kojoj naš junak upada na koncert Yardbirdsa sa mladim Džimijem Pejdžom i Džefom Bekom na bini i kultnom scenom kad Džef Bek lomi gitaru zbog pojačala koje krči. Kada smo kod te scene, možda niste znali da je Antonioni prvo hteo Erika Bardona u ulozi pevača na bini, ali ga je ovaj odbio, a prvi izbor za bend su bili Velvet Underground, koji zbog problema sa radnim dozvolama nisu mogli da doputuju na snimanje u London. I naravno, scena sa lomljenjem gitare inspirisana je stvarnom koncertnom rutinom Pita Taunzenda, prvog guitar-smashing heroja rok muzike.
Od hedonističkih foto-sešna sa manekenkama, preko tajnog ljubavnog susreta u parku, do umornih svitanja sa radnicima i beskućnicima, Antonioni je maestralno dočarao zavodljivost privida, varljivost oka, moć opsesije, potragu za smislom. O postmodernističkom aspektu filma će bolje govoriti teoretičari, a meni samo ostaje da vas pozovem da ga pogledate na velikom platnu Muzeja Jugoslovenske kinoteke, ne biste li na najbolji mogući način doživeli uvećanje samo, osetili čaroliju lelujavih šezdesetih u Londonu, upoznali neke originalne hipstere i prepustili se maštanju i oblikovanju neke samo vaše poetičnije stvarnosti.