Velika jeza (Big Chill, 1983)
Treći broj filmskog mesečnika "Kinoteka" objavljen je tokom marta 2017. Svetlana Đolović je pisala o muzici iz filma "Velika jeza, koji je bio na repertoaru Kinoteke u vreme izlaska broja.

---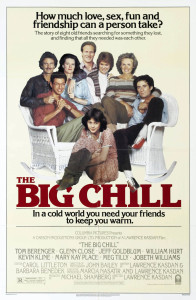 VELIKA JEZA (BIG CHILL, 1983)
Režija: Lorens Kazdan
Piše: Svetlana Đolović
Ponovni susret sa junacima Trejnspotinga podstakao me na razmišljanje o generacijskim filmovima. Šta jedan film čini takvim? Da li je dovoljno da imate veliki glumački ansambl sličnog godišta? Da li je dovoljno da se film odvija u školi, na fakultetu, u noćnom provodu, na venčanju, krštenju ili sahrani? Da li je svaki film o odrastanju na neki način generacijski film? Može li priča o samo jednom ili dvoje junaka biti generacijska priča? Može li antiheroj predstavljati generaciju? Da li su prostor i vreme podjednako važni akteri filmske priče kao i ljudi u generacijskim filmovima? Da li su svi generacijski filmovi pomalo sentimentalni? Da li možemo da se identifikujemo sa filmskim generacijama koje nisu naša? I to nas dovodi do priče o univerzalnosti svih tema u umetnosti, ma o kojoj generaciji da se radi – sve se svodi na eros i tanatos. Pa ipak, pored te univeryalnosti, ono što to putovanje kroz vreme (čak i kada je ono sadašnjost) čini neodoljivim je, pored mesta gde smo izlazili, frizura ili odeće koju smo nosili – muzika koju smo tada slušali. Tako da je u generacijskim filmovima muzika često jedan od najvažnijih elemenata prepoznavanja.
Američki grafiti, Briljantin, svi filmovi Džona Hjuza, većina filmova Kamerona Kroua ili Ričarda Linklejtera, već spomenuti Trejnspoting, ne bi bili toliko snažno generacijski da nije muzike. Malo toga može tako brzo da nas vrati u sopstvenu mladost kao muzika koju smo tada slušali, jer kako kaže Nik Hornbi 'muzika poznaje najdirektniji put do srca'.
Zato ćemo se u ovom broju podsetiti jednog generacijskog remek-dela, koje je pored sjajnog glumačkog ansambla i nadahnutog scenarija, nezaboravnim učinila i muzika.
Lorens Kazdan, u to vreme uveliko cenjen holivudski scenarista (Ratovi zvezda, Indijana Džouns) i zapažen po svom rediteljskom prvencu, neo-noar trileru 'Telesna strast', snimio je 1983. veoma ličan omaž svojoj generaciji – film Velika jeza (Big Chill), koji je postao jedan od sinonima za ovaj filmski nadžanr i inspiracija za mnoge kasnije filmove sa sličnom tematikom.
Ova gorko-slatka priča o susretu sedmoro prijatelja sa fakulteta na sahrani svog klasića koji je izvršio samoubistvo, postala je instant klasik zahvaljujući fantastičnom izboru soul i rok hitova iz perioda kada su u naši junaci išli na fakultet (druga polovina šezdesetih). Saundtrek filma Big Chill smatra se i danas jednim od najboljih svih vremena, najviše zbog toga što je muzika na besprekoran način uklopljena u radnju, bojeći u potunosti atmosferu filma, te emotivne uspone i padove naših junaka. Počev od uvodne scene u kojoj se čuje Marvin Gejova 'I Heard It Thru The Grapevine' koja nas upoznaje sa svim likovima pošto saznaju za tužnu vest, preko legendarne scene pripreme za sahranu (u kojoj vidimo u ulozi pokojnika telo Kevina Kostnera, ali ne i njegovo lice) dok svira 'You Can't Always Get What You Want' Rolling Stonesa, preko jedne od najlepših kuhinjskih scena u kinematografiji – kada raspremaju ostatke večere plešući uz 'Ain't Too Proud Too Beg' grupe Temptations, do melanholičnih introspektivnih scena uz 'When A Man Loves A Woman', 'Whiter Shade Of Pale' ili (You Make Me Feel Like) A Natural Woman, teško je ne zavoleti ove likove, njihove zapitanosti, slabosti, kajanje, izgubljenost, teskobu, nadu, radost, čestitost, koji su dočarani sa toliko topline upravo zahvaljujući muzici.
Malo je filmskih družina tako skladnih i sjajnih kao što je ova koju čine Kevin Klajn, Glen Klouz, Vilijem Hurt, Džobet Vilijams, Tom Berindžer, Džef Goldblum, Meri Kej Plejs i Meg Tili.
Možda je razlog za to što su nekoliko nedelja pre početka snimanja filma proveli zajedno na nekoliko lokacija, kako bi se bolje upoznali i zbližili, a i što spontanije snimili scene bez puno ponavljanja. Dokaz koliko je muzika bila važna za film je to da je Kazdan znao unapred koja će pesma ići uz koju scenu i za te scene tražio je da glumci pričaju glasnije nego inače da bi se jasno čuli kad se podvuče muzika.
Pored scene sa Kevinom Kostnerom koja nije ušla u film, postoji još jedna ključna flešbek scena, predviđena za sam kraj filma u kojoj je trebalo da vidimo celu družinu iz vremena studiranja dok spremaju zajedno večeru za Dan zahvalnosti. Iako kultno sledbeništvo priželjkuje da Kazdan napravi verziju filma sa svim izbačenim scenama, on je decidno odgovorio da se to neće desiti i da je ovo što gledamo finalna director's cut verzija filma. Ako ste se pitali šta znači velika jeza, reditelj je objasnio da je to 'hladna stvarnost odraslog čoveka u odnosu na toplu bezbrižnu ušuškanost školskih prijateljstava'. Big Chill je prva priča u trilogiji Kazdanovih intimnih generacijskih filmova, pored Velikog kanjona (1991) i Darling Companion (2012).
Iako s pravom kritikovani kao generacija koja se od hipija pretvorila u japije i sve svoje mladalačke ideale zamenila unosnim i praktičnim životnim izborima, ovi predstavnici te generacije tokom jednog turbulentnog vikenda dobijaju priliku za iskupljenje i pomirenje sa tim ko su postali kao ljudi, uspevajući da i nas i sebe još po koji put iznenade, baš kao kad su bili omladinci na Univerzitetu Mičigen. Vraćajući se svojim životima, ohrabreni ponovnim susretom, i isceljujućom moći koju ima prijateljstvo, rastaju se vedri i umereno optimistični, pevajući 'Joy To The World' grupe Three Dog Night.
A mi kroz ovaj susret starih prijatelja koji se dugo nisu videli dobijamo priliku da se podsetimo sopstvenih raskrsnica, bivših i sadašnjih prijateljstava, izneverenih ili ispunjenih očekivanja i da se prisetimo pesama koje su oblikovale našu mladost, te muzički i životni ukus.