Rokenrol na Dorćolu: Operators i King Khan & The Shrines nastupaju 8. juna!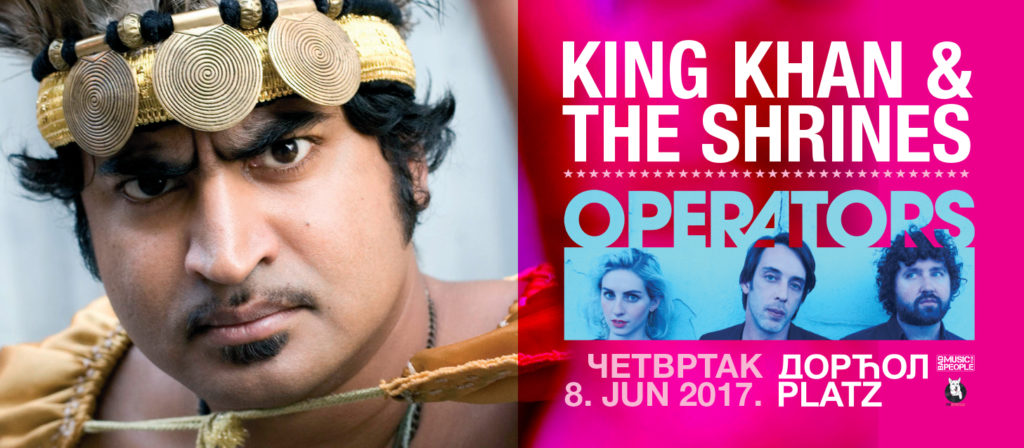 Bad Music For Bad People i Pop Depresija vas pozivaju na double-bill iz snova: King Khan & The Shrines + Operators u Dorćol Platzu u četvrtak 8. juna! Jedan od najharizmatičnijih frontmena današnjice, svakako broj 1 kad je garažni rok u pitanju, bludni sin Jamesa Browna, Littlea Richarda, Screamin Jay Hawkinsa, Funkadelic i The Sun Ra Arkestra – King Khan – po drugi put u Beogradu izvodi zadivljujući nastup sa pratećim bendom The Shrines, a posle sedam godina Dan Boeckner se vraća u Beograd! Tri puta je kod nas svirao sa Handsome Furs, sada predstavlja svoj novi super bend, Operators.
Na modernoj garažnoj sceni ima dosta dobrih bendova čiji živi nastupi ostavljaju posetioce bez daha. Ipak, mnogi će se složiti da je jedan od najubojitijih koncerata koji se može pogledati upravo koncert King Khan & The Shrines, bend koji već deceniju i po snima albume samog vrha garažnog roka i izvodi iste još sjajnije uživo.
King Khan (pravo ime Arish Ahmad Khan) počeo je karijeru sredinom 90-tih u vrlo dobrom montrealskom sastavu The Spaceshits. Tokom prve evropske turneje 1999. Khan, tada 22-godišnjak, ostaje u Berlinu i ne vraća se sa ostatkom ekipe u Kanadu. U nemačkoj prestonici formira novi sastav King Khan & The Sensitive Shrines koji će kasnije skratiti ime na ovo pod kojim su danas poznati. Obzirom da se radi o devetočlanoj postavi: tri duvača, perkusionista, bubnjar, gitarista, basista, klavijaturista i King Khan kao frontmen na vokalu i povremeno drugoj gitari, jasno je da se radi o prilično komplikovanijoj zvučnoj slici od uobičajene garažne postave. King Khan & The Shrines sviraju brutalno žestoki Soul, Rhythm & Blues i Funk obogaćujući zvuk vrsnim psihodeličnim deonicama i to ih čini ne samo izuzetnim, već i jedinstvenim psihodeličnim soul big bendom.
Popularnost poslednjeg albuma i rastuća grupa fanova omogućila je da bend pre dve godine napokon održi prvi koncert u Srbiji i upiše Beograd na mapu evropskih prestonica u kojima zaista sviraju ozbiljno vrednovani muzički sastavi.
Pre njih kao gosti večeri sviraće Operators iz Kanade, electro dance super-grupa sastavljena od članova Wolf Parade, New Bomb Turks i Handsome Furs. Sebe opisuju kao "analog post-punk". Pitchfork ih opisuje kao "nightmare pop". Istina je, kao i uvek, tamo negde – u gitarama, sintu i čvrstom ritmu. Operators su najnovije čedo neumornog, nesmirenog i nadasve kreativnog Dana Boecknera (Den Bekner), frontmena indie zvezda Wolf Parade, glasniju polovinu fantastičnog bivšeg elektro-pank dua Handsome Furs (koji su u tri navrata prodrmali Beograd i čak mu posvetili i pesmu) i vođu kratkoživeće super-grupe Divine Fits. Operators nastavljaju tamo gde su Handsome Furs stali, kombinujući prodorni Denov vokal, indie-punk-rock gitare i bubnjeve (što ne čudi s obzirom na prisustvo Sama Browna iz New Bomb Turks za istima), sa oštrim i densabilnim elektro ritmovima i semplovima iz mašinerije kojom upravlja makedonsko devojče pod jednostavnim nadimkom Devojka.
Ono što rade Operators su pravi primer retke fuzione zverke – elektro-popa sa srcem i snagom čistog rokenrola. Iako možda na prvi pogled očigledan spoj, jasno je da ih ove osobine čine savršenim za double-bill sa King Khan-om.
Karte su u pretprodaji u Dorćol Platzu, Pabu Brod, Zaokretu i Chillton Bife-u u sledećim etapama: do kraja aprila 1300, tokom maja 1500, od 1. juna 1800 i na dan koncerta 2000 dinara.